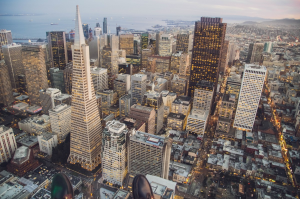 San Francisco's commercial real estate markets continue to change in the wake of the global health crisis. The impact was most obvious in the office sector, as lockdowns and the threat of new variants postponed any plans for a return to normalcy, sending vacancy rates to new highs. Other trends, such as companies' and residents' continued relocations, began to accelerate. Nevertheless, San Francisco's economy is on a recovery path, highlighted by a record-high sales volume, massive new developments and a growing workforce.
Here are the San Francisco Bay Area's biggest stories this year:
Changing landscape for office tenants
Following nationwide trends, core urban office submarkets have fallen somewhat out of favor in San Francisco, as the shift toward hybrid and remote work continues. On the upside, this has generated massive interest in re-purposing office space for specialized use, and headquarters of tech tenants sold for record prices.
Back in March, Kilroy Realty Corp. entered an agreement to sell Dropbox's headquarters at 1800 Owens St. in the Mission Bay neighborhood, to KKR. At $1.08 billion, it remains the largest office transaction recorded this year. Dropbox entered into a 15-year agreement to lease the LEED Platinum building. Currently, the tech company subleases about 134,000 square feet of the space to Vir Biotechnology.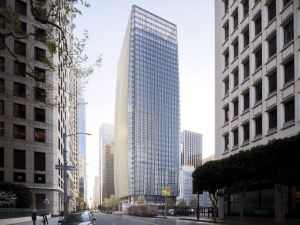 Another landmark deal was Hines' acquisition of PG&E's headquarters in San Francisco's Financial District, for $800 million. The deal was approved in September, with PG&E planning to downsize its office footprint and consolidate 4,500 employees at a new location in Oakland. Hines recently provided updates regarding the 1.6 million-square-foot campus, to be renamed 200 Mission. Plans call for a mixed-use development spanning an entire block between Market and Mission Streets, with new additions including a 1.25-acre park and a multifamily tower.
Strong foundations point to recovery
Office vacancy in the San Francisco-Peninsula market was 14.8 percent in November, according to CommercialEdge, an increase of 410 basis points year-over-year. In the Bay Area—comprising the East and South Bay—the figure was up 220 basis points, to 16 percent. Demand for office space is not diminished, but rather tenants' needs have changed drastically. Tech and life science users generated some of the largest deals in the Bay Area this year.
The newly formed parent company of Facebook, Meta, recently entered into an agreement to lease over 700,000 square feet in Sunnyvale, seven months after Tishman Speyer acquired the campus for $365 million from NetApp, which relocated to a new office. Another similar deal was the $323 million transaction of LinkedIn's headquarters at 950 W. Maude Ave. The tech company acquired the asset from RREEF Property Trust back in July and will continue to occupy it. To the North, in San Bruno, YouTube is currently working on growing its office footprint within a 92.2-acre site, working alongside local officials to guide development.
As of November, the Bay Area market recorded over $7.7 billion in office sales, while the average price per square foot was $523, the latest CommercialEdge report shows. Besides tech campuses, life science assets became one of the hottest property types, as the sector saw investments reach record levels.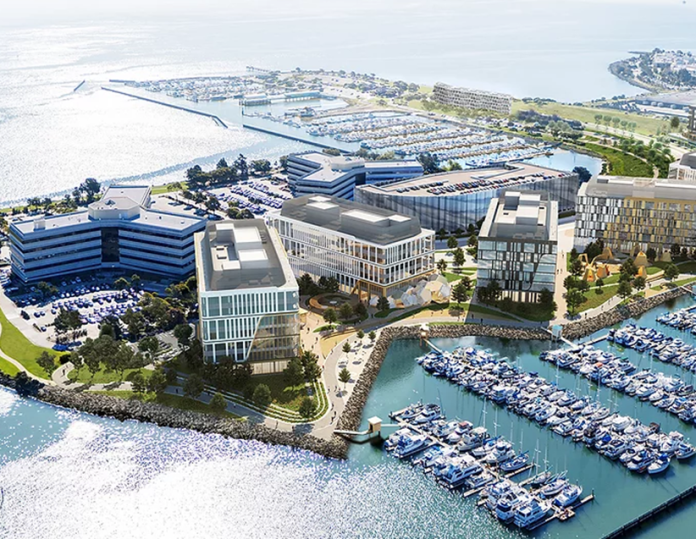 Among the latest such projects to be announced is Healthpeak Properties' $393 million project in South San Francisco, named Vantage. The first phase of development calls for 343,000 square feet of space, designed to meet LEED Silver certification. Healthpeak is pursuing construction entitlements to grow the campus to 1 million square feet. In September, South San Francsico had roughly 2.9 million square feet of development dedicated to life science use.
In June, Kilroy Realty Corp. broke ground on the second phase of its $940 million project, Kilroy Oyster Point, located just one mile to the north from Healthpeak Properties' development. Oyster Point will offer over 3 million square feet of space dedicated to life sciences. Also in South San Francisco, BioMed Realty is developing Gateway of Pacific, where SmartLabs recently announced it will occupy 140,000 square feet. The Laboratory-as-a-Service provider plans to scale its footprint to 2 million square feet over the next five years.
Insatiable need for digital infrastructure
All economic sectors generate a continuous need for more and more data, and Silicon Valley's enshrined status as a tech capital is partly due to its sizeable data center market. According to a JLL report, Northern California had 181 MW under construction by the end of 2021's second quarter, more than doubling year-over-year.
Developers are eager to meet demand, but Silicon Valley has its unique challenges when it comes to data center construction. In an interview with Commercial Property Executive, Prime Data Centers' Director of Marketing Jon Falker highlighted some of these hurdles—most of all, power entitlements play a huge role, as development is impossible without them. Securing access to the cheap electricity that Silicon Valley offers is but the first step, however. Land constraints and special requirements of the market represent other barriers of entry. New developments are usually preleased, such as Prime Data Center's upcoming 9 MW data center in Santa Clara, which will be occupied by Cyxtera once it comes online in 2022.
In April, NTT Global Data Centers Americas finished work on its first facility in Santa Clara, Calif., SV1. The 16-megawatt, 160,000-square-foot data center is a four-story building that offers power densities between 7kW and 20kW per rack. It is the provider's first U.S. location to use a proprietary base isolation system for earthquake protection. High-density and multi-story data centers are one avenue through which developers mitigate Silicon Valley's land constraints.
One of the largest deals for the sector was Vantage SDC's $539 million acquisition, also in Santa Clara. The deal closed in October and represented the investment platform's hyperscale entry into the Silicon Valley market. Vantage SDC was formed in July 2020, aided by an investor group led by DigitalBridge Group Inc.