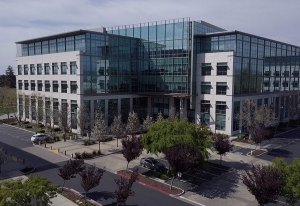 Tishman Speyer has landed a tenant for its entire office campus in Sunnyvale, Calif., executing one of the largest office leases of the year. Meta, the recently founded parent company of Facebook, has signed on for the entire 719,037-square-foot property formerly occupied by NetApp.
Newmark's Executive Vice Chairman Phil Mahoney, Vice Chairman Mike Saign and Executive Managing Director Jon Mackey acted as Tishman Speyer's listing brokers.
The deal comes seven months after Tishman Speyer acquired the campus for $365 million from NetApp. In April, NetApp agreed to a short leaseback period prior to moving its headquarters to another location.
Meta will occupy the four buildings, located at 1275, 1345, 1375 and 1395 Crossman Ave. The low-rise offices range in size from 133,021 to 189,869 square feet. Constructed between 2000 and 2012, the campus has served as NetApp's headquarters. Meta's workers will have access to a host of amenities, including a gym with basketball court, lockers, showers, outdoor volleyball court, cafeteria, break and briefing centers. Tishman Speyer's property also includes two parking structures, offering a ratio of 2.3 spaces per 1,000 square feet.
---
READ ALSO: 3 Trends Dominating CRE Today
---
Workers will also benefit from Tishman Speyer's 'ZO' suite of wellness, lifestyle and corporate services. The landlord launched the amenity service in 2017, with the aim of improving work-life balance for its tenants. ZO includes services such as backup childcare, health screenings, medical services, travel planning and ridesharing, among other offerings.
Meta's new offices are situated just a mile to the north of the Southbay Freeway and roughly 13 miles from Facebook's headquarters in Menlo Park. Downtown San Jose is within roughly 11 miles from the property. In a prepared statement, Tishman Speyer President & CEO Rob Speyer, stated that Silicon Valley's tech sector will maintain its appetite for high-quality and collaborative spaces, despite new hubs emerging.
Silicon Valley's Strong Appeal
The Sunnyvale campus also includes buildings that were sold to Google. The tech giant acquired several buildings in the campus in separate portfolio transactions, according to CommercialEdge. In 2016, Google paid NetApp $250 million for buildings 11 and 12—along with other properties not part of this office complex. In 2017, in another portfolio transaction totaling $210 million, Google bought three additional buildings.
Office vacancy in Sunnyvale reached 11.3 percent by the end of the third quarter, CommercialEdge data shows, faring relatively better than the overall 16.3 percent average for the Bay Area market—comprising the East and South Bay.
Tech continues to flourish in the Bay Area, alongside life sciences. Last month, San Bruno officials accepted YouTube's plans for a massive expansion, with development approvals calling for several million square feet of new office space.
In Redwood City, IQHQ acquired Elco Yards, a fully entitled life science and office development site. The developer is aiming to meet LEED Gold certification for the mixed-use project, which will also include 540 rental units.