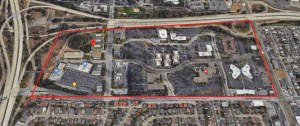 YouTube is poised to grow its office footprint in San Bruno, Calif., where it has been headquartered since 2006. Last week, city officials approved a set of ordinances, including a development agreement, that will allow the company to proceed with the construction of new office buildings at Bayhill Office Park.
The City of San Bruno's Bayhill Specific Plan is a long-term regulatory framework which aims to guide and facilitate office development within a 92.2-acre site where YouTube's headquarters is located. The site is bounded by Interstate 280 to the west, Interstate 380 to the north, El Camino Real to the east and San Bruno Avenue West to the south. Over the next 20 years, over 2.4 million square feet of new office space could be developed, according to the plan documents, which would generate up to $141 million in revenue for the city.
Currently, the Bayhill Office Park comprises 1.6 million square feet of office space, a five-building shopping center totaling 121,000 square feet and 80,000 square feet of hotel space. Occupants besides YouTube/Google include Walmart and the Police Credit Union, among several others.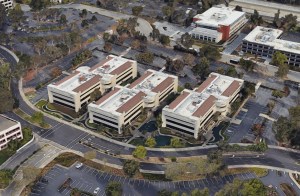 YouTube will expand its office space in several development phases. According to public documents, the first phase will see the demolition of three buildings at 1150-1250 Bayhill Drive. In their place, developers will construct two new buildings—at 900-1000 Cherry Ave.—, totaling 440,000 square feet of office space, as well as a three-level subgrade parking structure which will serve future phases as well. Developers will be seeking to achieve LEED Platinum certification for the new buildings.
According to the documents, companies involved in the development include: HLW, architect of record; SHoP Architects, design architect; Ellis Partners, development manager; BKF, civil engineer; HOK, campus planner; Niteo Lighting, lighting designer; and Surfacedesign Inc., landscape architect.
Under the development agreement terms, Google/YouTube will pay a total of $56.2 million in various fees to the city, including $22.9 million in prepaid fees. Upon completion of the first phase, the 15-year term can be extended for another five years.
In addition to the new office space, the first phase of the project will also see the construction of an off-street multi-modal transportation hub totaling 200,000 square feet, between Grundy Lane and Bayhill Drive.
In a blog post announcing the expansion, YouTube stated that the development will generate $130 million in funds and community benefits for the city across the multiple phases of development. Among these benefits are thousands of construction jobs, $25 million set aside for affordable housing and a $200,000 grant for training teachers and providing equipment for the local school district.
Years in the making
In 2015, Google bought two office buildings, at 900 and 1000 Cherry Hill Ave., in a $88 million transaction with Barings. The next year, the company acquired five more buildings—comprising 530,000 square feet of office space—within Bayhill Office Park from Hudson Pacific Properties, in a $215 million transaction, CommercialEdge data shows. Finally, in 2019, Google paid $220.5 million to Gap for the acquisition of 901 Cherry Ave.
YouTube's parent company currently owns more than 920,000 square feet of office space in San Bruno, all located within the Bayhill area. The company first approached San Bruno with the proposal for its expansion in 2017, when the initial Bayhill Specific Plan started to take shape. Beyond the first phase of development, YouTube could potentially construct an additional 1.4 million square feet of office space.
Development activity in the San Francisco-Peninsula market has been driven mostly by tech and life sciences. As of September, the market had a total of 6.4 million square feet of office space underway, over 3 million of which is slated to come online this year.
Besides the Bay Area, Google has recently stepped up its real estate game in other markets as well, with several significant investments completed. Last month, the tech giant announced it will purchase St. John's Terminal in Manhattan for $2.1 billion. The property, a 1.3 million-square-foot office building, is currently under development by Oxford Properties Group and the Canada Pension Plan Investment Board. The sale is expected to close in the first quarter of 2022. And in March, Google announced it will invest more than $250 million in the state of New York, as part of a $7 billion nationwide commitment to its data center and office presence.