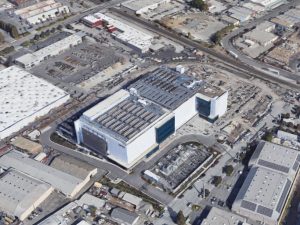 DigitalBridge Group Inc. has expanded its Vantage Stabilized Data Centers platform with the acquisition of CA22, a 24-megawatt data center in Santa Clara, Calif., for $539 million. TD Securities arranged a $105 million loan on behalf of the buyer, who also funded the purchase through cash.
Vantage SDC was formed in July last year, when Vantage Data Centers and an investor group led by DigitalBridge formed a partnership valued at $3.5 billion, with the purpose of accelerating Vantage's expansion in North America and Europe. The Santa Clara facility is the platform's first hyperscale acquisition since it was created.
---
READ ALSO: Why Developing Silicon Valley Data Centers Is So Challenging
---
CA22 is part of Vantage's 9-acre Santa Clara II campus (CA2), which comprises three data centers. The four-story buildings span across more than 541,000 square feet of raised floor space. The campus has a planned 77 MW of critical IT load and features three on-site power substations, each providing 50 MW. Tenants benefit from power densities of up to 200 MW per square foot and N+1 redundancy across all systems.
Vantage Data Centers will continue to manage and operate CA22. The company's campus is situated at 737 Mathew St., about 2 miles from its Santa Clara I property—which also provides 77 megawatts of IT load. Several technology and digital infrastructure companies operate nearby, including nVidia Corp., Qualcomm, Palo Alto Networks and others.
Growing in key markets
With this latest acquisition, Vantage SDC owns 13 stabilized hyperscale data centers in North American markets, totaling 177 megawatts. Earlier this year, Vantage spent $40 million on a 113,600-square-foot property in Santa Clara, adjacent to its CA1 campus.
Last month, the company announced its entrance into the Asia-Pacific market through two acquisitions—Agile Data Centers and the data center portfolio of PCCW Ltd. The transactions were funded by DigitalBridge Investment Management, which contributed $1.5 billion in equity capital.
Vantage Data Centers was acquired in 2017 by a consortium which includes Digital Bridge Holdings, Public Sector Pension Investment Board and TIAA Investments, an affiliate of Nuveen.
In Silicon Valley, low power costs and limited availability of developable land combine to create a competitive market, Jon Falker of Prime Data Centers noted in a recent interview with Commercial Property Executive. Prime Data Centers inked a full-building prelease in Santa Clara earlier this year. Among other major moves this year, NTT entered the market with the completion of a 16-megawatt facility, while Digital Realty announced a 48-megawatt expansion at its Santa Clara campus.