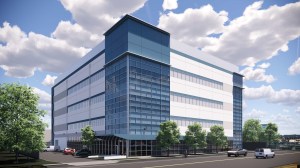 Prime Data Centers has agreed to pre-lease its entire upcoming data center in Santa Clara, Calif. Cyxtera will occupy the turnkey facility—which will offer 9 MW upon completion—and use the space to advance its colocation portfolio.
Prime Data Centers announced the development of the 121,000-square-foot project in October of last year. Once completed, it will be the third building occupied by Cyxtera at its SFO4 campus, which currently offers 9 MW across 30,000 square feet of raised floor space.
---
READ ALSO: What's Ahead for Data Centers in 2021
---
The Santa Clara data center will be a four-story facility located at 1111 Comstock St. The carrier-neutral facility will feature three stories of raised floor space averaging 24,500 square feet. Silicon Valley Power will provide electricity via three dedicated 4.5 MW utility feeds, with the possibility of adding a fourth. The upcoming facility will support densities up to 35 kW per rack and will provide access to top long haul and metro fiber routes.
Nicholas Laag, CEO of Prime Data Centers, told Commercial Property Executive that the facility is currently designed for 9 MW, but the option to scale up exists should greater capacity would be needed in the future. Prime expects to complete its part of the development process by 2022's second quarter.
The company also secured access to dark fiber routes to interconnect the upcoming facility with its two other data centers in Sacramento and Hayward. Prime Data Centers is also "actively evaluating opportunities in other North American markets, as well as Western Europe," while Asia and South America might also present good opportunity, Laag said.
The company will target markets that have relatively constrained supply, high demand and attractive data center variables such as connectivity, stability, power reliability and costs, among other criteria.
Advantages in a tight market
According to Prime Data Centers, the upcoming data center benefits from up to 40 percent lower utility rates than other Bay area providers due to its location outside of the San Francisco metro, which will provide a competitive advantage.
However, as Laag pointed out, land and development approvals can present a high barrier for data center providers looking to enter this market. "Silicon Valley is very land-constrained and even for developers who can secure land, getting power entitlements is quite difficult. Developers who can both secure the land and secure the go-to-market development approvals are in an excellent position," he added.
Silicon Valley continues to be one of the most active U.S. data center markets. By the end of 2020, the vacancy rate for data centers reached 2.3 percent, the lowest among North American markets, according to a CBRE report.
Earlier this month, Equinix announced plans to expand its Great Oaks campus in San Jose, adding 61,000 square feet of colocation space in a $142-million investment. In April, NTT completed SV1, its first hyperscale facility in Santa Clara.
At the end of last year, Silicon Valley had more than 50 MW underway, according to the same CBRE report, 72 percent of which had already been preleased.