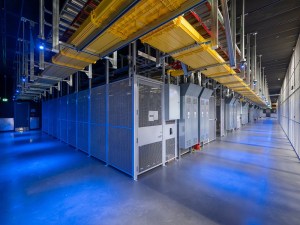 By the end of this month, Equinix will expand its Great Oaks campus in San Jose with the opening of SV11, its newest International Business Exchange data center in Silicon Valley.
---
READ ALSO: Post-Pandemic Comeback Predicted for CRE
---
The first phase of the $142 million, two-story data center will add more than 61,000 square feet of colocation space and include space for 1,450 cabinets. At full build, it will provide capacity for 2,950 cabinets.
SV11 reportedly is targeting LEED Silver certification with an ultra-low design average annual Power Usage Effectiveness of 1.17.
In addition, with expansion of its Bloom Energy fuel cells, the campus is planned for 20 MW of capacity, and this will be the first time Equinix will use the system as primary generation, with the utility electrical grid and generators as backup sources.
With the opening of SV11, Equinix will operate 14 Silicon Valley data centers, from Palo Alto to South San Jose.
The addition of SV11, which is adjacent to SV1, SV5 and SV10, provides additional capacity to meet the growing need for interconnection, multicloud deployments and connectivity to a broad range of network, cloud and content services, according to Equinix.
As of press time, Equinix had not replied to Commercial Property Executive's request for additional information.
Recognition and expansion
Separately, Equinix also announced that it has been named — for the first time — to the Fortune 500 list, ranking at #461 among the United States' largest companies.
In addition to building up its presence in Silicon Valley, Equinix last June delivered the first phase of its ninth data center in Dallas.
And the company's expansion overseas has been aggressive. Over a period of less than 30 days late last year, Equinix:
Although "demand for wholesale data centers in primary U.S. markets fell by 11 percent year-over-year in 2020," investor interest remained steady, according to a second-half 2020 report from CBRE.
"The strong performance of the publicly traded data center REITs helped to spur an uptick in investor interest in buying assets directly. With more investors targeting data centers and limited opportunities of scale, yields compressed," CBRE reported.
Meanwhile a slower rate of deliveries (a 5.9 percent supply growth) compared with 2019 allowed prices to stabilize in primary markets.