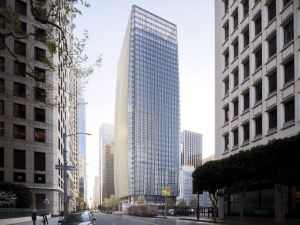 Hines has updated its plans for a full-city-block-sized development in downtown San Francisco, adding a multifamily tower with about 800 units. Now fully fleshed out, the plans for the former Pacific Gas & Electric headquarters site also call for the redevelopment and renovation of about 1.6 million square feet of existing office space and a new 1.25-acre park, components that were announced in September.
The transit-oriented site in the Financial District encompasses a full city block between Market and Mission streets.
The 85-story multifamily component is at 50 Main and will feature a 20.5 percent share of affordable apartments, within an overall mix of studio and one- and two-bedroom units. London-based Foster + Partners is the master-plan architect and the design architect for 50 Main.
Previously announced components of the project comprise the 200 Mission office tower redevelopment, a historic office complex renovation and a new 1.25-acre park that will feature redwood trees.
---
READ ALSO: What's Ahead for Office in 2022
---
The first of the two office projects will be the restoration and renovation of the 600,000-square-foot early-1900s office complex currently on the site. The historic building facade and original lobbies will be retained, as Hines upgrades the building's systems to 21st-century Class A office standards.
The second office project will involve the repositioning of an existing 1 million-square-foot, 34-story tower. Currently designated 77 Beale, it will be re-oriented toward Mission Street and will be renamed 200 Mission.
The repositioned building will feature improvements to its structural systems to minimize the likelihood of damage or injury during a seismic event and the addition of increased air filtration and touchless building entry to address a post-COVID work environment.
200 Mission will also seek LEED Platinum certification, by way of high-performance MEP systems, glass technology and façade-integrated solar panels.
The entitlement process for the overall development continues, and construction is expected to begin in 2023.
Ready to recover?
Between mid-2020 and mid-2021, the San Francisco office market saw a historically low level of leasing, according to a third-quarter report from Kidder Mathews. The current situation is a bit mixed, as sublease vacancy has decreased, even as some companies continue to give back space, pushing the overall vacancy up to 18.9 percent.
And alongside a flight to quality, total net absorption remained in negative territory in the third quarter. Average asking rents continue to decline, to $63.00, though the slowing pace of the decrease suggests that the market might be recovering, again according to Kidder Mathews.