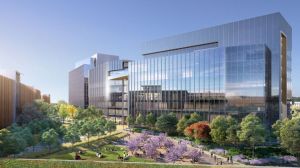 SmartLabs, a Boston-based Laboratory-as-a-Service leader in the life sciences sector, said it's tripling its West Coast presence with the launch of the world's largest multi-modality and multi-product cGMP center for cell and gene therapies at BioMed Realty's Gateway of Pacific campus in South San Francisco.
The SmartLabs research center will occupy about 140,000 square feet at 750 Gateway Blvd., the 440,000-square-foot second phase of the planned 22.6-acre, 2.2 million-square-foot biotech campus. Phase II is fully leased, with Amgen as the anchor tenant.
---
READ ALSO: Top Projects That Will Reshape the San Francisco Bay Area
---
Amgen agreed two years ago to lease all 240,000 square feet in the north tower of the Phase II building. Phase III, which is also set for a fourth quarter delivery, will add 350,000 square feet of Class A lab and office space to the campus in a 12-story building. Construction of Phases II and III are among the top 5 office projects under construction in the San Francisco market.
SmartLabs offers flexible lab and office spaces that are customizable to accommodate research groups from fewer than 10 to more than 200. The company can turn around space for a client group within two to four weeks, drastically reducing the time and cost of launching a research program. SmartLabs currently operates four locations in the Boston market—Kendall Square, East Cambridge, Boston Landing and the Seaport District. It also has one West Coast location at the Genesis development, also in South San Francisco, and plans to be ready for its first clients at Gateway of Pacific starting in late 2022. Founded in 2015, SmartLabs plans to scale its operations on the East and West Coasts to 2 million square feet within five years.
Gateway details
The 750 Gateway space will offer 28 product suites of state-of-the-art cGMP manufacturing in ISO 5 and ISO 7 clean room environments. It will be the third site capable of end-to-end drug development with cGMP/pilot-scale for SmartLabs clients. SmartLabs said it will offer benchtop to 500L manufacturing that supports multiple modalities, including allogenic and autologous cell therapies. In addition to cGMP, 750 Gateway will offer private innovation suites, corporate R&D suites, in vivo research suites and process development suites.
Amrit Chaudhuri, CEO & co-founder of SmartLabs, said in a prepared statement the company has developed a global outsourcing platform that incorporates advanced scientific infrastructure and resources for biotech companies of all sizes and approaches. The company claims research firms can save as much as 45 percent in the first three years of a launch and be more nimble.
Scott Altick, BioMed vice president of leasing, said in prepared remarks the Gateway of Pacific campus will be the third location for SmartLabs in BioMed's portfolio.