Check out our other articles in the series to discover the top projects reshaping Tampa, Los Angeles, Austin, Phoenix and Queens.
---
The San Francisco Bay Area has established itself as a place for innovation and creativity, giving birth to major businesses and tech companies. Although the most recent downturn has put some pressure on the local economy, the region is bound to thrive in the long turn thanks to its well-established culture and proximity to major higher-education institutions such as Stanford University, the University of San Francisco and San Jose State University.
Developers continue to push forward with plans to remodel the region through major mixed-use projects that are taking shape on former parking lots, shipyards, Navy bases and alleyways. Once completed, these projects will add millions of square feet of commercial space and thousands of apartment homes to the area's stock.
The list below includes some prominent commercial real estate developments and infrastructure projects that have the potential to change the future of the San Francisco Bay Area.
1. Pier 70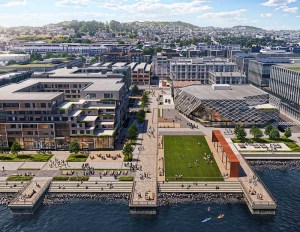 Spanning 28 acres, Pier 70 is set to breathe new life into the historic shipyard along San Francisco's Central Waterfront near the Dogpatch neighborhood. Developed through a public-private partnership between the Port of San Francisco and Brookfield Properties, the project will provide access to an area of the city that's never been available to the public before due to its industrial past.
Plans for the $3 billion redevelopment of the historic site call for the construction of nearly 2,150 residential units, around 1.7 million square feet of office space, up to 240,000 square feet of retail, arts and light industrial space, and 9 acres of new parks and open space. Plans also include the rehabilitation of three historic structures, as well as new infrastructure, a pedestrian-oriented street network and sea level rise protections.
The City of San Francisco Board of Supervisors approved the project in 2017 and broke ground in May 2018, making it the fastest large development in San Francisco to go from entitlement to construction in the city's history, according to Brookfield Properties.
The first phase of the project is slated for completion next year and will include seven restored or new structures, 3.4 acres of the total of 9 acres of parks and open space as well as new infrastructure and street grid. This phase also includes the rehabilitation of Historic Building 12, a structure constructed in 1941 to support ship building efforts during World War II. The restored building will encompass office, retail and event space.
"There is this incredibly rich and unique context of the site that brings together Dogpatch's past, present and future with its maritime industrial history, creative culture and innovative thinking. It will be a new place to reflect, recreate and relax that simultaneously offers the best of urban life and a respite from it," Kelly Pretzer, vice president of development at Brookfield Properties, told Commercial Property Executive.
Pier 70 was also set to include the West Coast's largest mass timber building, but due to market conditions and material costs, Brookfield Properties pivoted to building a structure suitable for life science purposes. The company plans to break ground on this development early next year, with the megaproject expected to be delivered in phases between 2022 and 2028.
2. Power Station
Right next to Pier 70, another megaproject is taking shape within San Francisco's Central Waterfront. Power Station is being built on the 29-acre site that used to house the Potrero Power Station, which supplied a substantial portion of the city's energy. However, as a coal-powered facility, it was also a considerable source of pollution, ceasing operation in 2011. Associate Capital acquired the Potrero Power Station in 2017. The project was approved in early 2020 and broke ground this spring.
"Power Station is the first megaproject to emerge from San Francisco's extensive public planning process and break ground since the pandemic began," PJ Johnston, project spokesperson, told CPE.
Developed in collaboration with architecture companies Foster + Partners and Herzog & De Meuron, the megadevelopment is set to rehabilitate historic structures and bring 14 blocks of office, hotel and retail, more than 2,000 homes at a variety of income levels as well as 7 acres of open space to the city's eastern waterfront. Power Station is projected to accommodate more than 10,000 new residents and employees, according to Johnston.
The first phase includes the repurposing of Station A, a 300-foot industrial-era stack structure, into a creative office space. This phase also includes significant infrastructure works for the new neighborhood and the construction of the first 735 homes. Vertical construction on new buildings is set to begin in 2023, with the first developments slated for completion by 2026. The project is expected to reach full completion by 2035.
3. The Central Subway T Third Line
The San Francisco Municipal Transportation Agency began construction on the Central Subway extension in 2010, with the intent to deliver the project within eight years. After several delays, the roughly $1.6 billion project is now set to open in 2022 and serve around 35,000 customers per day.
The new subway line is an extension of the T Third street light rail line from its existing Fourth Street and King Station, running under Fourth and Stockton streets, terminating at Chinatown Station.
"The Central Subway project is critical in connecting the southern to the northern part of San Francisco, supporting economic vitality and cultural growth in these neighborhoods," said Erica Kato, chief spokesperson at SFMTA.
Once in operation, the new extension will substantially reduce travel times and ease congestion on Stockton Street, while also providing enhanced connections to BART, Muni Metro, Chase Center, Oracle Park and Caltrain. The T Third line will also improve access to the new Chase Center and Mission Bay, as well as to the existing T Line service to Visitacion Valley, the Bayview and Dogpatch neighborhoods, Kato added.
San Francisco is projected to grow to nearly 1 million residents by 2049, according to SFMTA, so the city is in great need of efficient public transit options. Reflecting on this need, SFMTA might extend the Central Subway beyond Chinatown Station, to North Beach, Fisherman's Wharf, the Marina, Cow Hollow and Presidio.
---
READ ALSO: Top 5 Office Transactions in San Francisco
---
4. Mission Rock
The San Francisco Giants, in partnership with Tishman Speyer and the Port of San Francisco, are developing Mission Rock, a waterfront neighborhood in Mission Bay, across from the Giants' Oracle Park. Taking shape on a former parking lot, the 28-acre project is valued at $2.5 billion, several media outlets reported.
Work on the megaproject began in 2020, with completion scheduled for 2026. At full build-out, Mission Rock will feature 1.4 million square feet of commercial space and approximately 1,300 residential units, including 480 apartments available to households earning between 45 percent and 150 percent of the area median income.
The development is also set to feature 8 acres of parks and open spaces, and around 240,000 square feet of space for retail and light industrial uses. Furthermore, plans call for sea level rise protection, on-site wastewater treatment and the rehabilitation of the historic Pier 48. Several public transit options will also be easily accessible, including the new Central Subway and Caltrain.
Mission Rock will be developed in four phases. The first phase—currently underway—includes 537 residential units, around 600,000 square feet of office space, the China Basin Park and paseos. This phase is slated for delivery by mid-2024.
5. The San Francisco International Airport Harvey Milk Terminal 1
Aimed at improving passenger experience, the $2.4 billion redevelopment of the airport terminal project broke ground in 2016. The first three phases were completed according to the original pre-pandemic schedule, but the final phase, which will include a North check-in lobby, was delayed due to COVID-19 challenges. Currently, work has resumed, but instead of the original completion date—spring 2023—the project is expected to reach full completion one year later.
The third phase of the project opened in May 2021 and features seven new departure gates, a new post-security connector to the International Terminal, a new museum gallery and a new display of exhibit content dedicated to Harvey Milk. The terminal originally opened in 1963 and was renamed as Harvey Milk Terminal 1 in 2018.
"The terminal supports a very different and unique role, as it is the first in the world to be named for an openly gay elected official. Harvey Milk Terminal 1 honors the legacy of a pioneering civil rights leader, and our goal in this facility is to illuminate, educate and inspire action at a time in our history when we need to be clear and outspoken about human rights," Doug Yakel, public information officer at SFO, told CPE.
Harvey Milk Terminal 1 supports around 46,000 on-airport jobs and generates $10.7 billion in on-airport business activity. Beyond this, looking at all businesses that rely on air service from SFO, the airport supports around 330,000 jobs and $72 billion in business output, Yakel noted.
As severe travel restrictions are lifted around the globe, airport traffic is beginning to see a notable uptick. According to the latest traffic reports, SFO handled nearly 13.5 million passengers year-to-date through August, up 8.1 percent compared to the same period of 2020. Nonetheless, these numbers are still far behind pre-pandemic levels, when the airport handled more than 57 million passengers per year.
6. The 5M Development
In partnership with Hearst Corp., Brookfield Properties is also developing 5M in downtown San Francisco, a mixed-use development transforming 4 acres of underutilized parking lots, alleyways and existing buildings into a highly walkable neighborhood with open spaces, mixed-income housing, offices, retail spaces and arts and community-oriented venues.
Nestled between Fifth, Mission and Howard streets, the $1 billion mixed-use development is set to encompass 640,000 square feet of office space, 856 apartments, including 245 affordable homes for middle-income renters, seniors and formerly unhoused families.
The restoration of the San Francisco Chronicle, Camelline and Dempster buildings—three historic signature assets—is also part of the 5M project. The Dempster Building will house the Community Arts Stabilization Trust, Camelline will host retail tenants, while the San Francisco Chronicle newspaper will remain on site after renovations are completed.
Furthermore, plans call for 49,000 square feet of parks, rooftop gardens, play areas and open space for art displays and cultural events. The mixed-use project will also feature around 50,000 square feet of ground-floor retail space.
"The project's design is inspired by a network of alleyways that weaves together neighborhood history, arts and business with new public space at the center. The cluster of office, retail, residential and arts buildings, with interior areas that open to park space, will create a hub of community activity that intersects with business," said Swathi Bonda, senior director of development at Brookfield Properties.
The developer kickstarted the project in 2019, with the first phase scheduled for delivery early next year. This phase will feature the 640,000-square-foot office building at 415 Natoma St. and 302 market-rate and affordable units in a 20-story building at 434 Minna St.
---
READ ALSO: San Francisco Market Update: Construction Activity Slows Down in Q3
---
7. Alameda Point
Alameda Point is a megaproject set to transform 68 acres of the former U.S. Navy base occupying more than 1,500 acres on the western end of Alameda Island. Redevelopment plans first sparked more than 20 years ago, when the Navy base ceased operations. However, environmental concerns and aging underground infrastructure led to failed attempts and delays.
In 2014, Alameda Point Partners, a joint venture of Cypress Equities, Trammell Crow Residential, Eden Housing and srmERNST, was chosen to develop the $1 billion mixed-use project. The partnership received approvals in 2015 and broke ground in 2018.
Plans call for the construction of 800 units, including 200 affordable homes, around 600,000 square feet of commercial space, 15 acres of parks and open space and new transit options. So far, Eden Housing has completed Corsair Flats, a 60-unit senior housing facility, with 28 units reserved for formerly unhoused veterans. The non-profit developer also constructed a 70-unit affordable housing property set aside for low-income families, earning 30 percent, 50 percent and 60 percent of the area median income.
Another major milestone of Alameda Point includes the recent completion of the Seaplane Lagoon Ferry Terminal, a transit hub that brings together several modes of transportation, including ferry service, bike access, bus stops, 400 parking spaces and EV charging stations.
The rest of the project is scheduled to be completed in three phases over the next 15 years. Alameda Point is projected to generate around 2,500 construction jobs.