Check out our other articles in the series to discover the top projects reshaping San Francisco, Tampa, Los Angeles, Austin and Queens.
---
Despite countless factors working against economic development, Greater Phoenix continued to see growth over the past year. Thanks to its highly skilled, diverse workforce and pro-business climate, the Valley is a magnet for relocating businesses across the country, as well as large investments. From mixed-use to major infrastructure projects, Greater Phoenix has several transformative developments in the pipeline. We highlighted some of the notable projects that have the potential to reshape Phoenix's skyline and economy in the years to come.
---
READ ALSO: Top Projects That Will Reshape Austin
---
1. Novus Innovation Corridor
Situated in the heart of Tempe, Ariz., adjacent to Arizona State University's largest campus, Novus is part of ASU's seven Innovation Zones dedicated to advancing Phoenix's economic growth. Developed through a public-private partnership between ASU and Catellus Development Corp., Novus is expected to become Tempe's central point for innovation.
At complete build-out, the Novus Innovation Corridor will occupy 355 acres and will feature nearly 10 million square feet of offices, apartment communities, hotels, retail and restaurants. The project is currently in Phase III of seven phases. Early stages of Novus encompass the 2.1-million-square-foot Marina Heights, the $307 million remake of the Sun Devil Stadium, 777 Tower—a new Class A, multi-tenant office building currently owned by a partnership between Ascentris and Cypress Office Properties—and a 259-key Hyatt Place/Hyatt House hotel. 
The third phase of Novus is well underway on the northwest corner of Rural Road and University Drive, spanning across 19 acres. Despite pandemic-induced disruptions, developers were able to complete several projects within this phase last year, including the 1,801-space Novus Place Parking Garage that will accommodate office workers, visitors and hotel guests. Novus' first multifamily development, the 316-unit Piedmont, is slated to welcome residents this summer. Phase III will also include two more Class A, mixed-use office buildings, a micro-unit apartment community, restaurants, shops, urban parks and the Novus Place Retail District.
Dedicated to sustainability, the Novus Innovation Corridor earned LEED-ND Gold certification earlier this year from the U.S. Green Building Council. The LEED-ND program is designed to create sustainable and well-connected communities, and Novus includes certified green buildings, compact development, walkable streets and it's located near transit facilities.
"Novus has a commitment to providing an adaptive, urban environment that is sustainably powered by smart city elements and encourages the introduction of new ideas and methods to promote environmentally sensitive, carbon-neutral strategies along with integrating smart city technology," Charley Freericks, senior vice president of Catellus Development Corp., told Commercial Property Executive.
The Novus Innovation Corridor is expected to reach full completion by 2035. By then, Novus is projected to have created 33,734 jobs related to operations encompassing every sector and industry in the Novus' geographic footprint, according to Freericks.
---
READ ALSO: Top Projects That Will Reshape Los Angeles
---
2. Valley Metro Light Rail and Streetcar extensions
The Valley Metro rail lines have been shaping Phoenix and its economy since construction began on the original line in 2005. Beyond providing greater access and regional mobility, the Valley Metro rail projects encourage economic development and keep Phoenix competitive, Madeline Phipps, public information specialist at Valley Metro, told CPE. As of fall 2020, a total of $14.4 billion worth of public and private projects have been developed along the light rail and Tempe Streetcar corridors over the past 15 years, Phipps added.
Current Valley Metro projects include the Tempe Streetcar, the South Central Extension/Downtown Hub and the Northwest Extension Phase II, which will serve the rapidly expanding city. "Light rail and streetcar are essential to providing a balanced, multimodal transportation system that will serve the more than two million people expected to move to the Phoenix area in the next 15 years," Phipps said.
The 3-mile Tempe Streetcar line consists of 14 stops, running from Dorsey Lane on Apache Boulevard to Marina Heights, and linking various parts of the city's downtown and ASU's Tempe campus. Construction on the $200 million project started in 2018 and it is currently in the testing phases, with service expected to begin this summer.
The South Central Extension/Downtown Hub is a 5.5-mile extension that will connect South Phoenix to the regional light rail system, running from downtown Phoenix to Baseline Road. The $1.3 billion project broke ground in 2019, and it's expected to be operational by 2024. "The opening of the South Central Extension/Downtown Hub will mark a major milestone, since it will create a two-line system. One line will travel from the Metrocenter area in northwest Phoenix to south central Phoenix, the other from downtown Phoenix to east Mesa," Phipps explained.
Construction on the 1.6-mile Northwest Extension II began in late 2020 and it's scheduled to be completed in 2024. The Northwest Extension Phase II will feature the system's first light rail-only bridge over Interstate 17 and the system's first elevated station, according to Phipps. The total value of the project is estimated at $400 million.
3. The Cubes at Glendale
Strategically located within the Loop 303 corridor, The Cubes at Glendale, an industrial park featuring 5.5 million square feet, will be part of the dynamic industrial market in Phoenix's West Valley region. The industrial park will occupy 335 acres at the intersection of Reems Road and Northern Avenue in Glendale, Ariz.
"One of the main reasons we focused on this site over others was its size and lack of existing easements or interior roads, providing maximum development flexibility to meet users' specific needs. That's something that will make our location very valuable to a great variety of potential users," Mark Sonnenberg, founder of Bird Dog Industrial & senior vice president at CRG, told CPE.
The Cubes at Glendale—a strategic partnership between CRG, the real estate development and investment arm of Clayco, and Bird Dog Industrial—is already underway with a 1.2-million-square-foot speculative warehouse. The facility will feature 40-clear heights, 213 dock doors, 50 by 56-foot column spacing, 740 car parking spaces and 470 trailer parking spaces.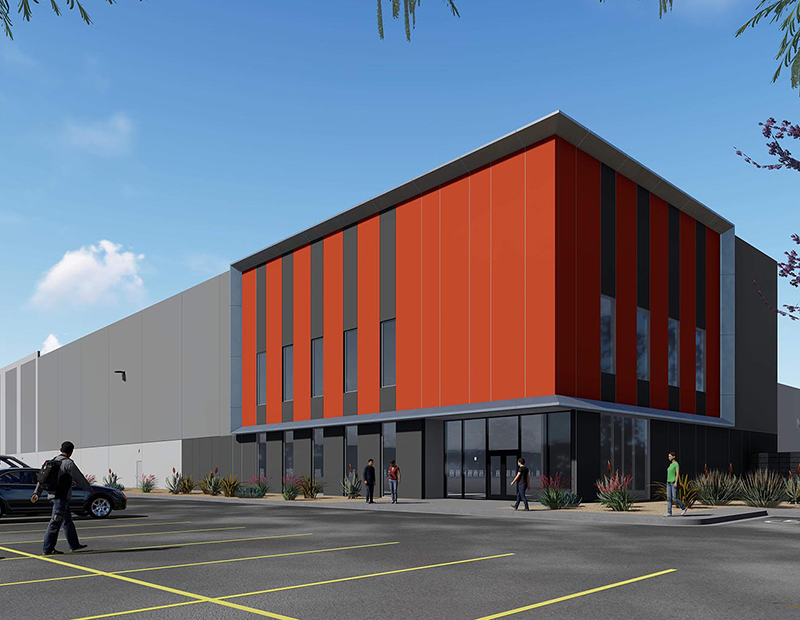 The first phase of the project is slated for completion by the first quarter of 2022. The partnership also plans to begin construction on an additional 637,000-square-foot speculative building in July. The overall project is estimated to be completed over the next five years.
According to JLL, Phoenix's West Valley has become an industrial hotspot that continues to grow. Phoenix attracted around 22 million square feet of industrial commitments in 2020, with around 75 percent of overall activity happening in the West Valley area. The Cubes at Glendale is a response to the pandemic-induced demand for industrial space.
On the short term, the industrial park will impact the West Valley region by expanding road and utility infrastructure, creating construction jobs and tax revenue for the City of Glendale, Sonnenberg pointed out. Over the longer term, the development will attract a wide range of users, including manufacturers, which typically provide higher wage job opportunities. "Job creation creates a ripple effect through all layers of the local economy," Sonnenberg concluded.
4. The Innovation Centre
A 224-acre master-planned development is set to take shape at the intersection of Interstate 10 and Loop 303, in Goodyear, Ariz. The vacant parcel, initially entitled for a mobile home/RV park, was rezoned for the development of The Innovation Centre, a mixed-use project by Keystone Equities.
Designed by Butler Design Group, the Innovation Centre is divided into three different districts. The first one is Commerce Park District, a 139-acre lot, which will house seven light industrial buildings, ranging from 80,000 square feet to 735,000 square feet, and totaling roughly 2.1 million square feet.
The second district is designated to become the Commercial/Retail and Entertainment District, featuring a fitness center, a hotel and a larger entertainment area across 12 buildings on 26 acres. Finally, the third district is planned for office and employment uses. The 59-acre lot in the southwest portion of the property will include eight buildings and two parking areas featuring 1,875 spaces.
---
READ ALSO: Spotlight on Arizona's Pioneering Timber Office Project
---
Besides filling a gap in Goodyear's industrial market, the project is also advancing the city's 2025 General Plan to create job opportunities, reduce commute time for its residents and alleviate traffic congestion. According to the project narrative, around 93 percent of Goodyear residents work outside the city.
Over the next 10 years, The Innovation Centre is projected to create 600 direct jobs, while another 764 jobs will be created during the construction period. The master-planned development is estimated to generate $80 million in tax revenues for the City of Goodyear, Maricopa County and the State of Arizona, combined.
5. The I-10 Broadway Improvement Project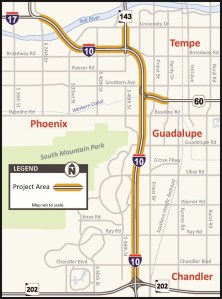 Maricopa County's first major urban freeway reconstruction project, the Interstate 10 Broadway Improvement Project, runs along 11 miles of I10 between Loop 202 and I17 near Phoenix Sky Harbor International Airport, and includes the Broadway Curve area between Baseline Road and 40th Street.
Last year in November, the Arizona Department of Transportation, together with the cities of Phoenix and Tempe, and the Maricopa Association of Governments selected a joint venture of Pulice Construction, FNF Construction and Flatiron Constructors to develop the project. ADOT finalized a nearly $616 million contract with the developers in January this year, with construction expected to begin by this fall and conclude by late 2024.
"We're conducting geotechnical surveys now and we'll soon begin removing asphalt in preparation for construction. We have divided the 11-mile project area into three segments and we'll work each segment," Tom Herrman, public information officer at ADOT, told CPE.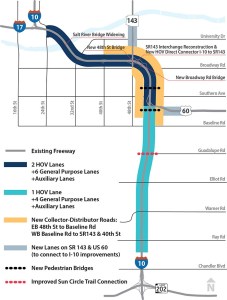 Some of the planned improvements include the widening of I10 to six general-purpose lanes and two high-occupancy vehicle lanes between 24th Street and US 60 Superstition Highway. The Broadway Curve Area is exposed to roughly 300,000 vehicles daily, and this number is expected to increase, as Phoenix continues to grow demographically and economically.
"The additional travel lanes will save drivers 2.5 million hours annually, totaling $130 million a year in time savings," according to Herrmann.
The project is expected to generate $2.9 billion in total economic benefits over the next 30 years, according to a study by the Maricopa Association of Governments, Herrmann pointed out. "Interstate 10 is a key commerce corridor that carries significant commercial travel every day. The improvements will benefit not only the more than 4,600 businesses in the project area but also commercial carriers across Arizona and the southwest U.S.," Herrmann anticipates.
6. The TSMC and Intel semiconductor factories
Amid President Biden's push to strengthen the country's chip manufacturing ecosystem, Phoenix has established itself as a major player in America's semiconductor manufacturing industry. With an already existing hub, the city attracted investments from giants such as Taiwan Semiconductor Manufacturing Co. and Intel Corp. over the past year.
TSMC is set to invest $12 billion for the development of a mega-site that will include six factories on a 1,128-acre site in north Phoenix. The first phase, encompassing 3.8 million square feet, is already underway, and by 2024 it's expected to produce 5-nanometer computer chips. The TSMC factories will ultimately employ more than 1,600 engineers.
Earlier this year, Intel also announced its plans to invest $20 billion to build two additional semiconductor factories at its Ocotillo campus in Chandler, Ariz. The company already has more than 11,000 employees in Greater Phoenix and the new investment will add 3,000 jobs.
Beyond the nearly 5,000 direct, high-wage jobs the TSMC and Intel investments are expected to create, the projects are anticipated to generate thousands of indirect positions for suppliers and other companies within the semiconductor industry. Furthermore, these suppliers will also create demand for adjacent services such as accounting, legal and consulting.
7. The Paradise Valley Mall redevelopment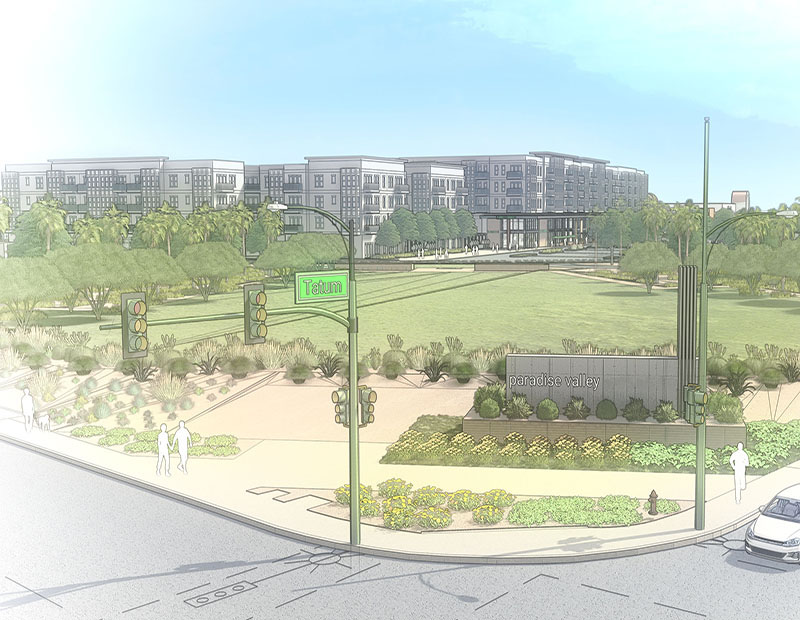 Having been part of Northeast Phoenix since 1978, Paradise Valley Mall is set to revitalize the region, strengthening the area's economy. Macerich and RED Development received rezoning approval from the City of Phoenix in February to transform the 1.2 million-square-foot shopping center into a 6.5 million-square-foot mixed-use development, combining the nearby Desert Ridge Marketplace and Kierland Commons.
Since then, Macerich has sold 95 percent interest in the project, generating $95 million in net proceeds for the company. Macerich retained a 5 percent interest in the multi-phased project, led by RED Development.
Plans call for a substantial transformation of the 92-acre site at Cactus Road and Tatum Boulevard, some 16 miles northeast of downtown Phoenix, within the Paradise Valley Village Core. The mixed-use project, envisioned to promote walkability and connectivity with pedestrian paths and common areas, will feature retail, grocery destinations, restaurants, office spaces, 2,500 multifamily units across 3.3 million square feet and self storage facilities.
RED Development started work on the project, with demolition now underway to clear the site for the first phase of the development, which will include a Whole Foods, 347 residential units, 53,000 square feet of retail space and a five-level parking structure. The project will also be dedicated to sustainability, with xeriscape plants and trees, and water-efficient appliances within the multifamily development.