When considering sustainable construction materials, cross-laminated timber (CLT) has emerged as an increasingly more viable option in recent years. Lightweight, yet strong, this prefabricated material can be used in floors, walls and roofing as a load-bearing element which can also be left exposed in building interiors for additional aesthetic effects.
In Arizona, Mortenson recently started work on the state's first office development with a CLT structure: The Beam on Farmer, a five-story structure in downtown Tempe. The developer is building the 184,000-square-foot project in partnership with PGIM Real Estate and Urban Development Partners, with delivery slated for May next year. George Forristall, director of real estate development with Mortenson's Phoenix office, shares details about the healthy building taking shape on a 3-acre parcel at 401 S. Farmer Ave.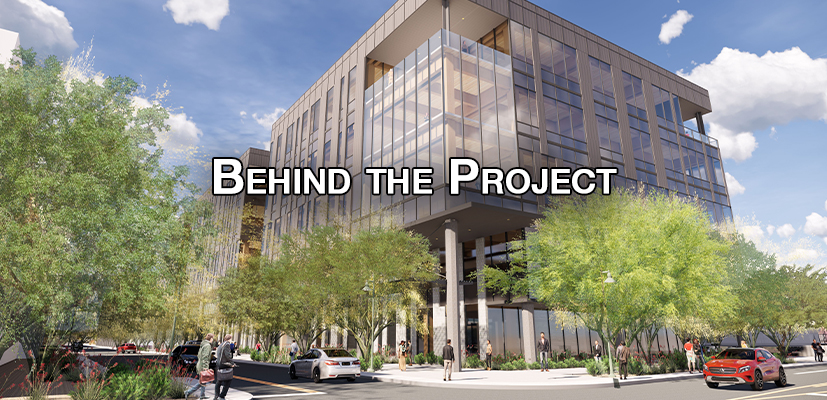 What inspired you to take on this kind of project? Is this your first to use CLT or mass timber as a structural element?
Forristall: We wanted to develop a unique offering that was not just the typical concrete and steel, Class A office building, but a differentiator in this competitive market landscape. CLT construction offers a responsible and durable construction method that is more innovative than the standard process, with the structure offering a sustainability element, while also creating a warm and welcoming feel in the building.
CLT at The Beam juxtaposes modern design and amenities with vintage, natural character. The name pays homage to the natural, sturdy timber that will frame each space, with exposed flexible interior layouts. We are hopeful this building will be more than just an office through the use of CLT, a one-of-a-kind experience where there is a natural balance between life and work.
This CLT project is a first for Mortenson and we are eager to continue this model across our geographical markets. In fact, our team in Seattle is moving forward with the firm's second CLT project already.
What are the main advantages of CLT?
Forristall: There are many advantages. CLT eliminates the possibility of on-site waste because there is no cutting. The material or mass timber is fabricated off-site with machines per spec and delivered as designed. The wood for The Beam is coming to our site from Austria and Germany. When they arrive on site, the materials are all marked in place, making the construction go very quickly, essentially like you are building with Lincoln Logs. There is no welding or detailing needed so this ensures higher quality and less opportunity for safety hazards among our on-site crew as well.
While many might tend to believe a disadvantage would be that the wood creates higher risk for fire, through our investigations, this is actually not true. In the instance of fire, the CLT only chars but does not completely burn because it is insulated. It also maintains structural integrity. With CLT, no fire proofing is needed for the wood structure itself, allowing for a faster schedule and enhanced natural aesthetic.
You initially announced the project in 2019, with a 2020 estimated completion. However, the groundbreaking just took place. What obstacles kept things from going as initially planned?
Forristall: Correct, we initially were going through the development process in 2019. Once COVID-19 hit at the onset of 2020, the pandemic put a pause on the project and development. Since we have started to emerge from the COVID-19 threat, with the state of Arizona and much of the nation figuring out how to get back to work, we are very confident in the Tempe market as well as our unique product offering, advancing the project as a spec development.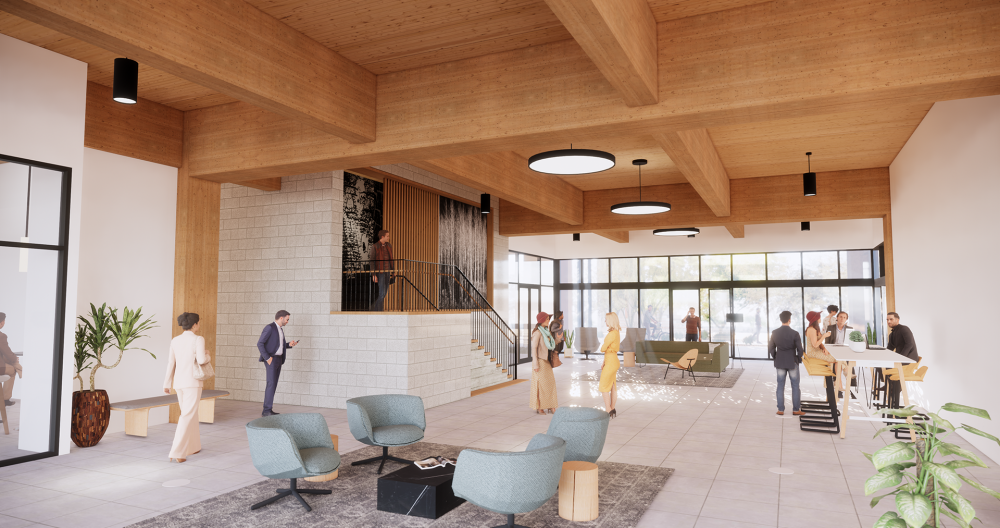 According to the project description, plans call for "a contactless experience from car to cube." What does this mean exactly?
Forristall: In our new world, employee confidence in a clean, safe and healthy work environment is essential to the continuity of business operations. Through thoughtful design enhancements, the building will be equipped with key features to allow you to control your own environment, enabling you to avoid touching surfaces like doors, knobs, elevator keys or restroom fixtures. We worked with our design partner, RSP Architects, to integrate these features into all facets of the facility. Tenants will have the option to include touchless features in their respective office spaces.
In addition to the contactless experience, in an effort to create a truly healthy medium, The Beam will feature a GPS-iMOD system which purifies the air and removes 99.4 percent of SARS-CoV-2 virus pathogens. This first-of-its-kind technology further purifies and filters the building's air supply, which reduces particles, neutralizes odors, kills pathogens and saves energy.
What sustainability features are you planning to integrate into the building?
Forristall: CLT is not only flexible and strong but it also offers many natural sustainable advantages. For starters, CLT construction uses young trees—a sustainable forestry practice—to build the structure itself. Specifically, the timber used on The Beam on Farmer will capture 3.5 tons of carbon dioxide. Also, the material creates zero waste, with scrap going towards other products or biofuel.
In addition to incorporating all-LED lighting, motion-sensored appliances, among other sustainable practices, a key feature is our under-floor air distribution system, which provides a more energy-efficient system and healthier air quality for tenants. While traditional HVAC systems mix supply and return air above the occupants, wasting energy and contaminating the air supply, UFAD uses the walking surface as a plenum to distribute air more efficiently. The air is dispersed from the floor and returns through the ceiling, naturally rising as it heats. As a result of this direct upward flow, the UFAD system's air is cleaner and uses less energy to provide a healthier work environment.
With UFAD, the indoor air quality is tested on an annual basis at minimum, with increased frequency as needed to address tenant/occupant concerns. Additionally, low volatile organic compounds materials are used all across the building, specifically in the core and shell, and the mechanical systems maintain a humidity range of 30 to 60 percent. Furthermore, The Beam is in a walkable location, near many modern amenities, and close to biking and walking trails.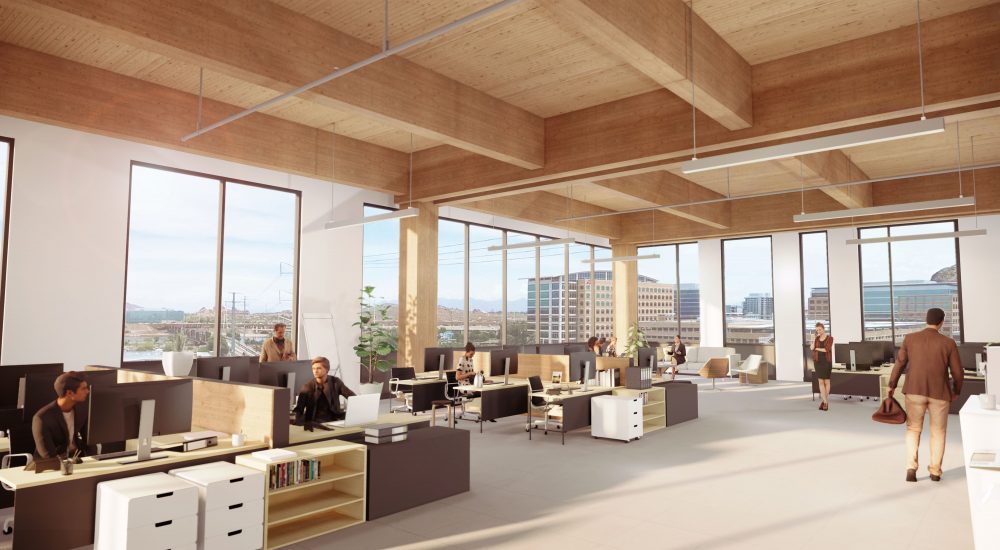 Have you begun preleasing/leasing negotiations?
Forristall: We have engaged JLL as our exclusive broker for the leasing assignment. We are eager to partner with them to connect with employers from a wide range of industries to attract and retain the highest level of talent. To date, we have been leasing the project, but we are not ready to announce the leases at this point.
Public records show you took out a $50 million loan from Bank OZK to finance the project's construction. Is there any other kind of financing involved?
Forristall: While debt is provided by Bank OZK, equity for this project comes from PGIM Real Estate, Mortenson Development and Urban Development Partners.
Why did you choose Tempe for the implementation of this project? And why the Farmer location?
Forristall: Known as a historic arts district and home to Arizona State University, the city of Tempe has long been considered one of the most vibrant towns in the nation. From one-of-a-kind restaurants, cafes and microbreweries to unique entertainment, shopping and nightlife, Mill Avenue offers everything you would expect in a world-class neighborhood. Not to mention the Tempe submarket is booming with new businesses. Additionally, we are confident in the market's economics and adjacency to the highly educated workforce.
In our site investigation, we realized this location had a Walk Score of 78, making The Beam within walking distance of hundreds of amenities, while close to the light rail and streetcar. It also offers easy and quick access to Loop 202 via Priest Drive, which avoids traffic that other office locations in the area encounter.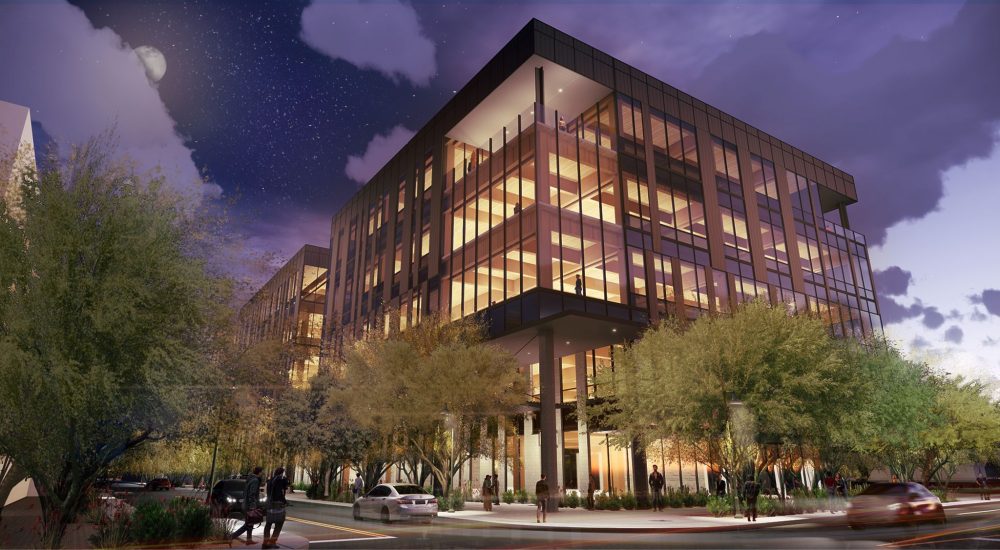 How do you expect The Beam to impact the metro's office market?
Forristall: We are confident The Beam will offer a unique product to the office market, not only in Tempe but across the Valley and nation. We believe this product will be easily absorbed in the Tempe submarket, which has some of the lowest Class A office vacancies in the metro area.
Will this project spark a trend in the company's future development activity?
Forristall: Absolutely. Mortenson has already been looking for additional development and building opportunities with CLT for a variety of product offerings across all of our geographical markets.