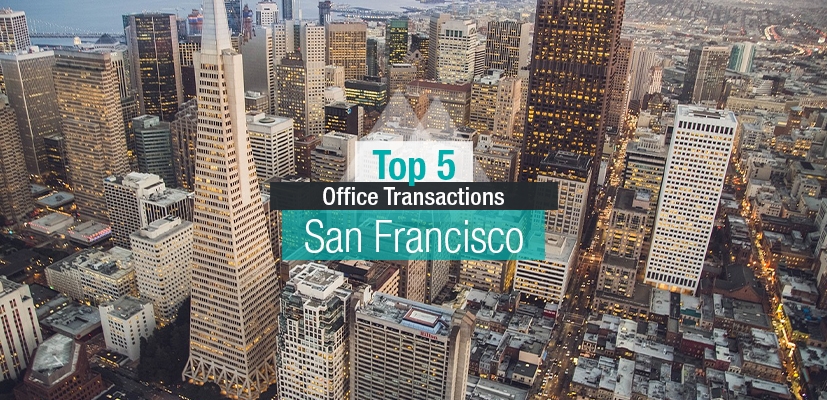 San Francisco's strength continues to be rooted in high-growth sectors such as life sciences and technology. According to data provided by CommercialEdge, office investment sales in the first eight months of the year amounted to $3 billion and 4.4 million square feet. This translates into a 112 percent increase from the $1.4 billion recorded during the same interval last year, when investors showed precaution due to pandemic-induced economic uncertainty.
Demand for lab space continues to bolster office investment; As a result, investors poured their money into biotechnology and R&D assets. Other sales involved headquarter buildings, trophy assets and amenitized office campuses. The list below highlights the largest deals closed in the metro between January and August 2021, based on CommercialEdge data. The top five office transactions amounted to $2.4 billion, 92 percent of the metro's total sales volume.
| | | | | | |
| --- | --- | --- | --- | --- | --- |
| Rank | Property Name | Sale Price (MM) | Square Footage | Buyer | Seller |
| 1 | The Exchange on 16th | $1,080 | 750,370 | KKR | Kilroy Realty |
| 2 | PG&E Headquarters | $800 | 1,390,000 | Hines Interests | Pacific Gas and Electric Corp. |
| 3 | South San Francisco Business Center | $215 | 112,384 | BioMed Realty | PSAI Realty Partners |
| 4 | Bay Park Plaza I & II | $170 | 261,955 | Barings | EverWest Real Estate Investors |
| 5 | 2001 DC Station | $168.6 | 383,123 | Phase 3 Real Estate Partners | Harvest Properties |
5. 2001 DC Station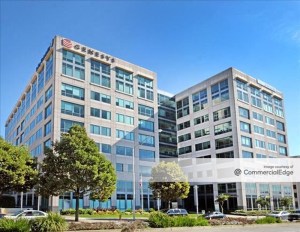 In May, Phase 3 Real Estate Partners acquired 2001 DC Station, a 383,123-square-foot office building at 2001 Junipero Serra Blvd. in Daly City, Calif. The LEED Silver-certified asset changed hands in a $168.6 million deal, with TPG Capital providing $215 million in acquisition financing.
The seller was Harvest Properties, which purchased the asset in 2018 and subsequently converted half of the space to life science use. The tenant roster includes a wide array of biotech, medical and health-care providers, including Genesys, Kaiser Permanente and Satellite Healthcare.
4. Bay Park Plaza I & II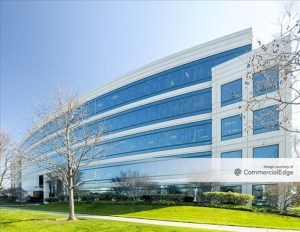 Barings entered the Bay Area market with the $170 million acquisition of Bay Park Plaza I & II, a pair of Class A office buildings at 555 and 577 Airport Blvd. in Burlingame, Calif. EverWest Real Estate Investors sold the 261,955-square-foot assets in July, after purchasing it from H&Q Asia Pacific for nearly $102 million three years ago.
Upcoming redevelopment plans call for a 536,001-square-foot project targeting tech and life science tenants. Current tenants include Barulich Dugoni & Suttmann and Stonesfar Financial. The building served as Virgin America's headquarters until 2018, when the airline company merged with Alaska Airlines.
3. South San Francisco Business Center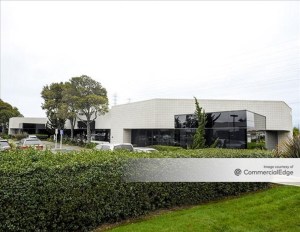 BioMed Realty paid $215 million for South San Francisco Business Center, a three-building flex office campus at 800 Dubuque Avenue in South San Francisco, Calif. Seller PSAI Realty Partners acquired the 112,384-square-foot asset in 2018 for $47.5 million from Buchanan Real Estate Partners, which converted underperforming industrial space within the buildings into laboratories and other life science uses.
The 1986-built complex also features 30,315 square feet of retail space. Tenants include Parvus Therapeutics, Triad Isotopes, RevMAb Biosciences and Linkage Biosciences, among others.
2. PG&E Headquarters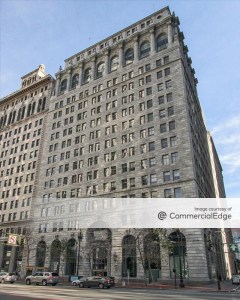 After a decade-long ownership, PG&E recently sold its corporate headquarters building at 245 Market St. for $800 million to Hines. The San Francisco asset was built in phases between 1923 and 1996 and encapsulates two distinct structures rising 16 and 34 stories, respectively. The campus includes an additional 16,864-square-foot component.
PG&E will relocate to a new location in downtown Oakland, Calif., in the first half of 2022. The building at 300 Lakeside was originally constructed in 1960 as the headquarters for Kaiser Industries. Upon PG&E's move, it will accommodate approximately 4,500 employees, including the 3,200 currently located at the San Francisco complex.
1. The Exchange on 16th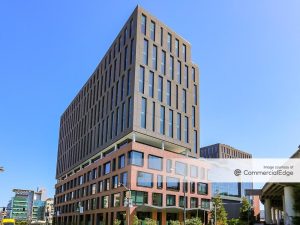 In the metro's largest office sale between January and August, KKR acquired The Exchange on the 16th, a LEED Platinum building in San Francisco. The 750,370-square-foot property traded for nearly $1.1 billion, or $1,439 per square foot, representing the highest price per square foot ever paid for a major commercial property in the city. The sale was funded by a $600 million loan provided by Goldman Sachs.
The seller, Kilroy Realty, developed the 13-story property in 2019. The Exchange on 16th is located at 1800 Owens St. in the city's Mission Bay neighborhood, with Dropbox occupying its entire office component under a lease through 2035.