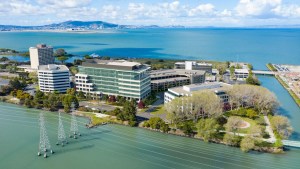 Global investment manager Barings has entered the San Francisco Bay Area life science market with the acquisition of an office campus and adjacent development site in Burlingame, Calif. According to public records, Barings paid $170 million for the property. EverWest Real Estate Investors sold the asset.
The office campus previously changed hands in 2018, when a joint venture of EverWest Real Estate Investors and Partners Group acquired the property for $109.7 million.
Barings targeted the asset for the potential of multiple execution strategies that can be applied to maximize its value. The investment management company did not reply to Commercial Property Executive's request for additional information.
The new owner plans to redevelop the entire waterfront campus into a 536,001-square-foot project, targeting tech and life science tenants, and rebrand it as Peninsula Innovation Point. Barings hired DES Architects + Engineers for the design. The upcoming project will be designed to meet LEED certification, as well as ESG-specific features.
Property characteristics
The campus comprises two existing buildings and a 260,255-square-foot pad that is in a predevelopment stage for the construction of a Class A building, specialized for lab and tech use. The two office buildings—previously referred to as Bay Park Plaza I and II—are located at 555 and 577 Airport Blvd. The offices were constructed in 1983 and 1998, respectively.
Bay Park Plaza I is a 149,327-square-foot, eight-floor building. In 2019, EverWest completed a range of building improvements, including the addition of a new, 7,862-square-foot spec suite on the top floor. Renovation work also included upgraded common areas, a new fitness center and outdoor amenity space. Barings plans to continue improving the facility. CommercialEdge data shows the building is currently 13.8 percent vacant.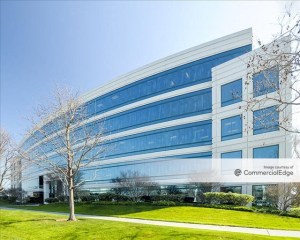 Bay Park Plaza II comprises 126,419 square feet of office space, with floorplates averaging 23,870 square feet. The five-story building has a 60 percent vacancy rate, according to CommercialEdge. Barings stated that this property will undergo a full conversion to life science or tech space.
The upcoming Peninsula Innovation Point is situated at the heart of the booming Peninsula life science market, 3 miles south of San Francisco International Airport. The waterfront location provides views of the Bay Area and is within a short distance from BART and other transport options, as well as Highway 101. Downtown Burlingame is roughly 3 miles away.
Confidence in life sciences continues
Metro San Francisco is poised for a banner year in office construction activity, with 10.9 million square feet underway, of which approximately 3 million square feet of space was designed specifically for life sciences. Barings is not the only investor to take advantage of the opportunities one of the hottest life science markets in the U.S. presents, as some of the market's largest deals this year targeted such properties.
Across the Bay, GI Partners recently paid $155 million for an office campus it plans to fully convert to life science space. The deal was the largest office transaction recorded in June, CommercialEdge data shows. In San Carlos—roughly 10 miles south from Barings' new project—another life science project of 174,000 square feet was acquired for $177 million by the Florida State Board of Administration.