What's Ahead for the Coworking Sector in 2023
Experts weigh in on this sector's expanding role.
It goes without saying that the COVID-19 pandemic has brought a paradigm shift in workspaces. Demand for traditional offices has fallen off in most major cities across the U.S., while coworking spaces gained a rising profile. Companies want more flexibility with their lease terms because they were forced to veer to hybrid work, which has reduced their office space needs. This, coupled with tenants' flight-to-quality trend, has resulted in an uptick in demand for flexible office space, according to a recent CommercialEdge report.
Whereas many company leaders are clear with their desire to have more employees back into the office, according to CBRE's Spring 2022 U.S. Office Occupier Sentiment Survey, not all industries require their physical presence, so hybrid alternatives have been rapidly gaining momentum. Many businesses have already decreased the size of their offices, while others have firm plans to do so in the future.
---
READ ALSO: From Traditional Office to Coworking—Making the Switch
---
The new work dynamic is pushing office landlords to adapt to new market dynamics, most of them focusing on expanding their coworking portfolio or even opening new divisions dedicated to coworking, such as CP Group's initiative, worCPlaces.
According to the CBRE survey, 59 percent of respondents said they expected their office portfolio to include a sizeable to a very sizeable amount of flexible office space in the future.
"Hybrid work adoption, talent strategy and economic pressure are the top drivers for adoption," said CBRE Americas Agile Practice Leader Christelle Bron.
Peter Kolaczynski, senior manager with CommercialEdge, told Commercial Property Executive that coworking is a growing niche that is worth watching going forward as companies look for ways to be flexible in their real estate. The need to diversify portfolios and adapt to workers' newfound needs fueled several noteworthy moves in the past 12 months.
Major players in the coworking sector have formed strategic partnerships to meet the increasing demand for flex space. At the beginning of the year, WeWork partnered with Upflex, aiming to create a network of more than 5,500 locations in 80 countries. WeWork also teamed up with Yardi and launched WeWork Workplace, a platform allowing individual office workers to make use of interactive floor maps, reserve space, manage visitor access and automate overflow management.
Market dynamics
CBRE data shows that despite the overall supply of flexible office decreasing by 2.1 percent in the U.S. in the first half of 2021 compared to the same period of last year, the pace of decline has been moderating in the past four quarters. Bron told CPE that big players in the industry are still expanding their portfolios. Industrious added 729,000 rentable square feet this year, while Varispace also boosted its portfolio by 167,000 square feet.
According to Bron, overall market penetration is at 1.7 percent today, dropping from an average of 2 percent pre-pandemic. "What the numbers are not necessarily showing here is the increased investment from building owners into this space and the emergence of hybrid flex products, such as old e-suites and alike, which are much more difficult to track", she said.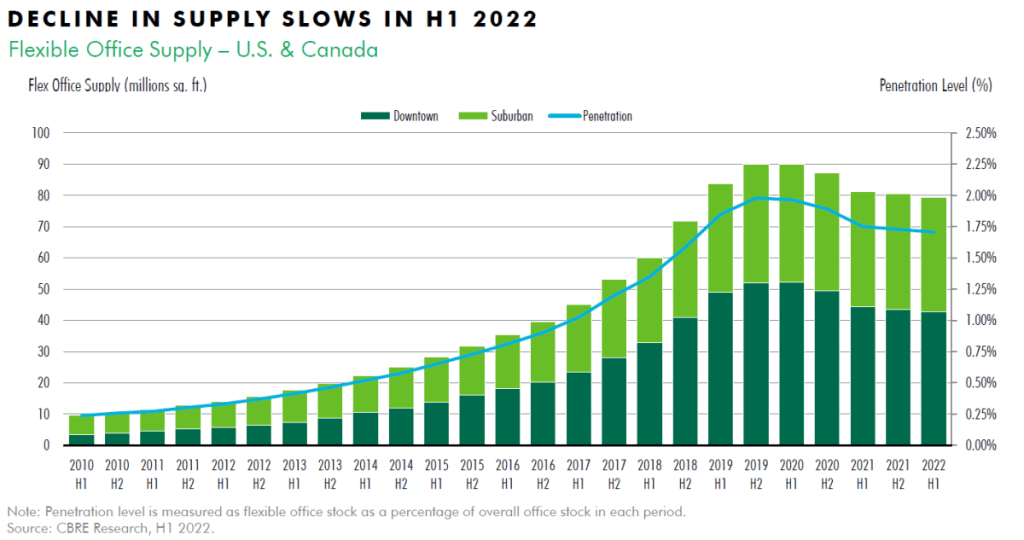 Industrious CEO Jamie Hodari believes that the coworking market in general is currently growing at a healthy rate.
"It was white hot—perhaps even overheated—in the first half of the year, but right now demand is growing at a high, yet sustainable rate as many small businesses get sick of only working from home and many large companies are exiting their large long-term leased space and looking for more appropriately sized options," Hodari pointed out.
The biggest annual coworking growth is concentrated in secondary markets, such as Miami, Phoenix, Las Vegas and Atlanta, per CBRE data, because of the lower impact of the pandemic and employees' growing interest in hybrid work. Primary markets, such as San Francisco, Dallas, Manhattan or Boston, saw inventory decreases.
Several recently closed deals show investors' increased appetite for secondary markets. Flexible workspace provider Expansive added 20,000 square feet to the firm's Phoenix footprint with Expansive Mesa at Newberry Station, a new location in Mesa, Ariz., while WeWork opened WeWork The Interlock, a new 39,000-square-foot coworking location in Atlanta.
Chairman & CEO of Serendipity Labs John Arenas also noticed that there is increased demand for suburban and secondary markets, while opportunities in urban areas have been scarce due to the slower return to work.
Emerging coworking industry trends in 2022
While everyone is trying to figure out what their best office space footprint is, one thing is for sure: Flexible workspaces are here to stay. Head of Americas of Flex by JLL Jacob Bates noted that there are at least two major trends shaping the U.S. coworking market today: Occupiers are implementing a Core + Flex strategy, and owners are taking more control over flex and coworking operations in their own assets.
Landlords are now focusing on adding coworking spaces as a key, must-have product in their leasing strategy, leading to revenue-sharing agreements between landlords and flex office space operators. Owners are looking to partner with entities that have substantial commercial real estate experience, a long history of operating the sector, and a strong technology stack, Bates said.
Bron spotted another emerging trend in the coworking industry: distributed workforce and on-demand solutions, particularly for companies that have a smaller employee count and need to occupy an office for just a day or conduct monthly meetings.
"This is especially popular as companies are looking to move away from having dedicated space for employees when the number of employees is fewer than 15 in a market," Bron mentioned.
President Jason Anderson of Office Evolution also noticed the increased interest in on-demand solutions. "The flexible office market is ready for on-demand booking for many and possibly most of our product offerings. We want to eliminate the need for consumers to call or visit a location and for our staff to track and provide access to those spaces."
Anderson believes that booking a coworking space should be similar to booking a hotel or Airbnb, so his company focuses on using technology to reduce the friction related to payment, access and booking the spaces.
The commute factor is also important in the bigger picture. Metropolitan centers are slowly regaining ground, yet suburban demand remains high because of workers' decreased tolerance for lengthy commutes, coupled with a lesser need to report to work every day, Bron noted. A survey recently conducted by Industrious showed that 62 percent of the respondents would be willing to go to the office more often if their commute was less than half an hour long. This is one of the reasons why Industrious is looking to open workspaces in low-commute locations, such as Boston. The company recently opened Industrious Legacy Place, encompassing a total of 400 seats, 35,441 square feet of private offices and suites, and 13 conference rooms.
How a recession could impact the coworking sector
The potential economic downturn expected next year is one of the hottest topics in real estate now. Undoubtedly, some sectors will be affected more than others, but experts remain optimistic about the coworking sector. Anderson believes that economic instability will push the already high demand for flex office spaces even further, mainly due to companies not willing to commit long term when the economic environment is unstable.
Kolaczynski is also convinced that companies will try to reduce their traditional office footprints and turn to hybrid or coworking solutions instead, especially in tech industries that are undergoing massive job cuts. With coworking spaces, companies can close short-term deals, easily expand or contract when needed, and also open multiple locations across the country, he added.
Most flexible workspaces providers actually intend to continue to grow their portfolio in the year ahead. Industrious plans to focus on "mixed-use, low-commute submarkets," with a goal to add 1 million square feet of flex office space in 2023.
Serendipity Labs already expanded its portfolio by 25 percent in 2022, but it intends to add even more space next year. The firm opened new locations in Charleston, S.C.; Rochester, N.Y.; Charlotte, N.C.; Dallas, as well as in the San Francisco Bay Area. Arenas told CPE that the company also debuted new coworking spaces in Manchester, Glasgow and London, U.K., intending to keep targeting city centers where landlords want to grow the market share of tenants abandoning traditional office spaces over coworking spaces.
---
READ ALSO: A Glimpse Into NYC's Booming Boutique Coworking Scene
---
When it comes to amenities in the coworking space, Bates noted there is a shift toward more agility, flexibility and experience. To meet the changing needs of tenants, Serendipity Labs is offering workspaces that foster connection, collaboration and focus, while avoiding commutes. The company provides team spaces that can host between 10 and 200 people, ranging from 10 to 50 desks, and meeting rooms for two to 14 people, equipped for hybrid meetings. Other type of spaces include meeting rooms for 15 to 100 workers, used on a pay-as-you-go basis.
What is the future of coworking spaces?
Most experts believe that coworking will outperform traditional office spaces and maintain its growth going forward, forcing landlords to find flex office solutions for vacant inventory.
"We also anticipate many building owners will make a bet on flex space as a key amenity and tool in asset repositioning. Flex office and shared meeting space seem to have become the new lobby renovation," Bron said.
Anderson expects to see more on-demand office inventory and easy booking, as well more creative flex spaces such as photo, video and podcasts studios. Bates anticipates that flex suites will take center stage as the primary flex product over coworking.
Amid recessionary and inflationary pressures, Kolaczynski believes that demand for flexible office will only increase as more companies embrace hybrid work patterns, even though this will not be a linear progression.
"The long-term outlook doesn't change. Companies will continue to evaluate their relationship with their office space, of which a portion we'd expect to see footprint reduction. With this occurring, the flexibility and simplicity of coworking will continue to make it an attractive option," Kolaczynski concluded.