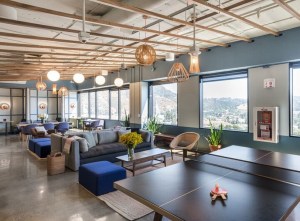 Flexible space provider WeWork is teaming up with 11 cities and organizations across the globe to help businesses create and implement hybrid workspaces and foster post-pandemic economic growth in some of the world's major urban markets.
As part of its global program, WeWork launched five new city partnerships with London, Singapore, Los Angeles, Boston and Seattle, offering incentives to local businesses to help them develop hybrid solutions as more employers and employees seek flexible workplaces. The program also calls for WeWork to provide the city partners and organizations key data and insights into how their cities are returning to work and support each city's specific dynamics, industries and needs. The goal is to create resources for cities and businesses of all sizes so they can analyze the data and make informed decisions about future workplace issues.
WeWork also refreshed incentives for its earlier partnerships in New York, Paris, Miami, San Francisco, Chicago and Washington, D.C. Those partnerships were announced throughout 2021 and were designed to aid post-pandemic economic recovery.
---
READ ALSO: Why Office REITs Still Face Some Risk
---
The incentives come as it becomes increasingly clear the pandemic spurred a fundamental shift in the purpose of workspace and that businesses need to be more flexible in meeting market demands. JLL's Future of Work survey released in August found 77 percent of respondents agree offering remote or hybrid work options will be critical to attracting and retaining talent going forward. The executives noted mass adoption of hybrid work will have a lasting impact and successful implementation of it will be the most important strategic priority for the next three years. More than half of the organizations (53 percent) said they will make remote working permanently available to all employees by 2025. Nearly a quarter of the companies (24 percent) already offer remote work.
Flexible space options also figured prominently in the JLL survey, with 43 percent of companies planning to accelerate investment in flexible space now through 2025, and 51 percent saying they will lease flexible space through a third-party provider.
Local partnerships lauded
Some of the partnerships are with local business groups like the Los Angeles Chamber of Commerce and the Greater Seattle Business Association, where the strategic partnerships were dubbed WeWork X LA and WeWork X Seattle, respectively.
Ilona Lohrey, president & CEO of GSBA, said in a prepared statement Seattle's workforce brings vibrancy to the city's neighborhoods and builds a strong sense of community among the local businesses. Lohrey credited WeWork with offering flexibility for workers, as well as a strong foundation of inclusivity.
WeWork noted enthusiasm for hybrid workspaces was especially pronounced in Seattle, where demand for WeWork All Access, one of WeWork's offerings, was up more than 100 percent in August 2022 compared to January 2022. In Los Angeles, demand for WeWork All Access was up 43 percent in active members in August compared to January.
For cities renewing their partnerships, several city and business leaders said in prepared remarks the initiatives are boosting office and local life, while helping companies find the flexible space they need to navigate the changing workplace dynamics, which increasingly include hybrid options.
James Rooney, president & CEO of the Greater Boston Chamber of Commerce, said incentives like those with WeWork are providing meaningful ways to strengthen the region's competitiveness and drive downtown revitalization.
Washington, D.C. Mayor Muriel Bowser noted its partnership with WeWork is helping the city adapt in real time to workplace trends and position the District of Columbia as a leader in the future of work, whether it is in the office, telework or anything in between.
WeWork is offering businesses incentives, including discounts on WeWork All Access monthly memberships and WeWork private office spaces, which can handle up to 49 people in some locations.
Growing a flex platform
The partnerships with cities and business organizations around the globe comes as WeWork made several key moves this year to grow its flex office platform. In July, WeWork and Yardi launched WeWork Workplace, a platform which brings together a variety of tools to help manage hybrid work strategies. The platform draws on Yardi's experience in developing software for real estate operations, including its Yardi Kube software for coworking property management. Among its features, WeWork Workplace enables individuals and businesses to use interactive floor maps, reserve space for teams, manage visitor access and automate overflow management. As more companies use coworking and flexible solutions, managing employee overflow is becoming a priority.
Also this year, WeWork announced an alliance in February with Upflex, which created an 80-country, 5,500-location network. In January, WeWork acquired Common Desk, which operates flexible workspaces in three major Texas markets and two North Carolina cities.