Countdown to 30: CPE Celebrates 30 Years
In the month leading up to our special anniversary issue of CPE, stick with us as we reflect on how the industry has changed, and we along with it. You can also follow along on social media using the hashtag #CPETurns30.
2016
When Marriott International Inc. announced its plans to acquire Starwood Hotels & Resorts for $12.2 billion in November 2015, industry experts knew the hospitality industry was in for a change. While a last-minute $13.2 billion bid from a consortium led by Anbang Insurance Group Co. presented a roadblock, Marriott finally came back with a counter-offer of $13.6 billion to seal the deal in September 2016. At the time of the deal, Marriott International President & CEO Arne Sorenson said the firm planned to accelerate the growth of Starwood's brands by leveraging Marriott's worldwide hotel development organization, as well as its owner and franchisee relationships. He also said the buy would help Marriott expand its global footprint and strengthen its frequent traveler programs. The merger created the world's largest hotel company, operating or franchising more than 6,000 properties and 1.1 million rooms, representing 30 brands from the moderate to luxury tier in more than 120 countries. 
---
2015
Emblematic of the consolidation and M&A activity taking hold in the commercial real estate industry, Cushman & Wakefield's $2 billion merger with DTZ closed in September 2015, creating one of the world's largest commercial real estate services firms. Prior to the merger, a TPG-led private equity consortium purchased DTZ in 2014, following that up with its purchase of U.S. commercial real estate firm Cassidy Turley in early 2015. Cushman & Wakefield had also scooped up New York-based investment sales firm Massey Knakal Realty Services in early 2015. The combined company, operating under the Cushman & Wakefield name, allowed the firm to speed up its growth plans, while providing DTW a stronger foothold in U.S. markets and Cushman & Wakefield a larger presence in international markets. Following the merger, the new Cushman & Wakefield had more than $5 billion in revenue, 43,000 employees, more than 4.3 million square feet under management and $191 billion in transaction value.
---
2014
With a more than 60-year history as a tenant-focused brokerage firm, New York-based Studley went global in 2014, when it merged with London-based Savills PLC, a leading international player in commercial real estate occupier representation. The $260 million merger created a combined company operating under the name Savills Studley, with its headquarters in New York. At the time of the purchase, Savills Studley CEO Mitchell Steir told CPE that the reason for the combination was largely the demand from U.S. clientele for assistance in Asia and other international markets, as "organizations increasingly approach real estate as a global activity." Savills' purchase of Studley increased the latter's footprint from 25 U.S. offices to more than 600 locations around the globe, with a strong presence in Asia and Europe. Prior to the merger, Studley had been assisting clients with international needs via its Paris-based affiliate, AOS Partners Holdings SAS. As the Savills Studley merger was closing, Studley sold off its 49 percent stake in AOS. For the more than 150-year-old Savills, the merger increased the firm's U.S. presence and the opportunity to spread the Savills name. The merger reflected a growing trend of M&A activity among commercial real estate service firms that has yet to slow down. 
---
2013
After surviving the Great Recession and a change in partnerships, one of the most ambitious mixed-use developments in the country finally broke ground on Manhattan's Far West Side in 2013: Hudson Yards. Announcing a 12-year timeline, The Related Cos. and Oxford Properties Group initiated a project that would transform a 28-acre site into an 18 million-square-foot complex at a cost of more than $20 billion, making it the largest private real estate development in U.S. history. Stretching between 10th and 12th avenues, from 30th to 33rd streets, Hudson Yards will ultimately encompass 4,000 residences, an Equinox-branded luxury hotel, a new public school, a cultural center, as well as 14 acres of public parks and plazas. Significant progress has already been made, with 10 Hudson Yards as the first 52-story office building, serving as Coach Inc.'s headquarters, opening its doors in June 2016. The 1 million-square-foot The Shops & Restaurants at Hudson Yards, which will be anchored by the city's first Neiman Marcus, and 15 Hudson Yards, the complex's first residential tower, will open in 2018. Set to be the second-tallest office building in New York, 30 Hudson Yards is planned for completion in 2019, but it's already fully committed to major tenants Wells Fargo, KKR and Time Warner Inc. The 58-story 50 Hudson Yards is planned for completion in 2022, with BlackRock already set to move its headquarters there. The project's proponents say the development will give New York City a major economic boost, bringing more than 55,000 jobs and contributing nearly $19 billion per year to the city's economy.
---
2012
Commercial Property Executive celebrated its Silver Anniversary in June 2012. During those 25 years, there were many changes for the publication (first as Real Estate Times, then Commercial Property News and in our current iteration since 2009), and for the real estate industry. The U.S. and world economies were still recovering from the Great Recession, and many new developments were occurring in the real estate market: demographic shifts, innovations in green practices and building technology, and more precise tools for tracking various types of data relevant to the industry. These advancements opened up the field for new investment, leasing and development opportunities. For CPE, our Silver Anniversary also marked the beginning of a new era—our June 2012 issue was our last edition in print. Today, CPE is a completely digital publication, providing our readers with news, data and analysis that is available on various platforms and in a timely manner.
---
2011
Industrial sector giants ProLogis and AMB Property Corp. caught the attention of the real estate industry when they announced their intention to join forces in January 2011, marking one of the biggest real estate deals since the Great Recession. The $17.2 billion merger created a company with a total market capitalization in excess of $24 billion, and gross assets owned and managed totaling $46 billion. The merger closed in June 2011, when the company began operating under the Prologis name. ProLogis CEO Walt Rakowich and AMB Chairman & CEO Hamid Moghadam worked as co-CEOs until year-end 2012, when Rakowich retired. Moghadam, who co-founded AMB in 1983 and led the company through its IPO in 1997, still holds the title of chairman & CEO of Prologis today. The company remains a leading global logistics real estate company with $67 billion in assets under management and a portfolio of 3,322 buildings totaling 678 million square feet.
---
2010
One project that has continued to set records and make headlines in the past decade is Manhattan's 11,200-unit Stuyvesant Town/Peter Cooper Village. When a venture led by Tishman Speyer bought the 56-acre property in 2006 for $5.4 billion from MetLife, that was the most ever paid for a single property. But when the investment group's strong projections for rent increases didn't come to fruition as the global financial crisis loomed, it defaulted on $4.4 billion worth of debt in 2010. A group of creditors led by CWCapital Asset Management, which is owned by Fortress Investment Group LLC, stepped in that same year and assumed control of the community. CWCapital was able to convert more apartments to higher rents, keeping 5,000 units with rent-stabilized leases. By 2015, the special servicer was looking to sell the property again, which required coordinating with the city. Blackstone and Ivanhoe Cambridge surfaced as the buyers, shelling out $5.3 billion, another top-ranked price for a single property. As part of the transaction, Blackstone agreed to the city's condition of keeping nearly 5,000 units below market rents until at least 2035. Most of the units are allotted to middle-income families, and about 500 are for lower-income families. To secure those guarantees, the city gave Blackstone a $144 million loan through its Housing Development Corp.
---
2007-2008
The end of 2007 into 2008 brought on what many consider to be the worst financial crisis since the Great Depression in the 1930s. The more recent crisis can be viewed as the perfect storm of problems: the housing market crashed, brought on by rising rates on subprime and ARM offerings; some collateralized mortgages were repackaged into MBS and CDO offerings that were incorrectly risk-assessed; and banks with insolvencies being called into question damaged the stock markets, already under stress from the bursting of the housing bubble. The full-blown financial crisis began with the collapse of investment bank Lehman Brothers in September 2008, leading to a series of events culminating in the Great Recession, which the U.S. economy and real estate market has been recovering from for the last eight years. In the aftermath of the crisis, the Dodd-Frank Act and other financial regulations were put in place that have caused lenders, investors and other real estate players to largely be more cautious in recent years, contributing to a slow but steady economic recovery. 
---
2005
In the summer through fall of 2005, the U.S. faced a record hurricane season, crippling South Florida and the Gulf Coast, including New Orleans. Hitting in late August 2005, Hurricane Katrina had the greatest impact of any hurricane in history, taking more than 1,000 lives and displacing hundreds of thousands more. The Gulf Coast region's infrastructure, particularly in New Orleans, also took a major hit. Some 90,000 square miles of the U.S. were affected by the storm, which left more than $100 billion in total property damages in its wake. The storm also had a disastrous effect on the region's economy and real estate, damaging more than 1 million housing units in the Gulf Coast region and removing more than 40,000 hotel rooms from U.S. inventory. A year after the hurricane hit, CPN reported that the New Orleans metro area had 31 million square feet of operational retail space pre-Katrina, compared to just over 21 million in 2006. In the office sector, 2 million square feet of space was lost in the city's central business district. In 2015, the New Orleans-based Data Center estimated the federal government spent $120.5 billion related to Katrina response. While today New Orleans is again a thriving tourist hub with a unique culture and traditions, topping Forbes' list of the 10 fastest-growing U.S. cities in 2013, more than a decade after the storm, the rebuilding efforts continue.
2003
Known for its complex mixed-use developments, Forest City Ratner (which became publicly traded REIT Forest City Realty Trust last year) announced its plans in late 2003 for the multibillion-dollar, 22-acre Atlantic Yards development in Brooklyn, N.Y. The long-term, skyline-altering project would bring retail, office and residential space, as well as parks and an arena for sports and concerts to the borough. At the time of the announcement, the firm estimated the project would take 10 years from the time of city and state approval, which was received in 2006. A decade later, the mega-project is not yet complete due to several delays, but Greenland Forest City (a joint venture between Forest City and China-based Greenland Group Co.) has made significant progress on what was rebranded Pacific Park Brooklyn in 2014. The Barclays Center has been open since 2012, and the six residential buildings are in various stages of development. Three of them—COOKFOX's 550 Vanderbilt (luxury condos) and 535 Carlton (affordable rentals), as well as SHoP Architects' 461 Dean (market-rate rentals) are all open to residents. SHoP Architects' 38 Sixth Ave. (mixed-income rentals), Marvel Architects' 664 Pacific (luxury rentals) and Kohn Pederson Fox's 615 Dean (condos) are currently under development. The $6 billion Pacific Park will comprise 16 buildings in all, including residential, office, community and possible hotel uses, 8 acres of public open space, and a variety of shops. The full development is expected to be complete by 2025.
---
2001
Less than two months after Silverstein Properties signed a 99-year net lease at the World Trade Center for $3.25 billion, then New York City's largest real estate transaction to date, terrorists attacked the buildings on Sept. 11, 2001. They not only destroyed 10 million square feet of office space and 300,000 square feet of retail space, they took 3,000 lives and caused irreparable change to the world and the Lower Manhattan community. The attacks also shook up the real estate industry, leading to stepped-up security measures and new insurance policies, eventually resulting in the creation of the Terrorism Risk Insurance Act that was signed into law in 2002. Over the last 14 years, Silverstein Properties, headed by Chairman Larry Silverstein, has been focused on rebuilding the office component of the World Trade Center site, a $20 billion project. Silverstein Properties opened the 52-story 7 World Trade Center in May 2006, the first office tower to be rebuilt at the site and the first LEED-certified office building in New York City. The company then opened the 72-story 4 World Trade Center in November 2013. The company is currently  developing 3 World Trade Center, which it expects to complete in 2018, and 2 World Trade Center, which will serve as 21st Century Fox and News Corp.'s headquarters in 2020. One World Trade Center, also known as the Freedom Tower and developed by The Durst Organization and The Port Authority of New York and New Jersey, opened in November 2014. In 2015, 1 WTC became the tallest building in the Western Hemisphere. World Trade Centers 1, 2, 3 and 4 will frame the 9/11 Memorial Park. 
---
2000
The U.S. Green Building Council awarded the first LEED Platinum certification in March 2000 to the Philip Merrill Environmental Center in Annapolis, Md., headquarters to the Chesapeake Bay Foundation. The certification confirmed that the center was the most environmentally friendly building in the country at the time it was built, and the building reflects the nonprofit organization's mission to protect and restore the bay. Opened in 2001, the 32,000-square-foot center was built atop the foundation of a defunct beach club and included cutting-edge features at the time, among them: natural air ventilation, recycled materials, passive solar power, composting toilets and a rainwater catchment system, which treats water onsite to be used by employees for hand washing, laundry and irrigation. Designed by architect SmithGroupJJR, the building continues to be a founding example of LEED, which has since achieved broad adoption in the real estate industry. Today, LEED has several iterations and is the most widely used third-party verification for green buildings, with nearly 80,000 projects participating in the program across 162 countries, including more than 32,500 certified commercial projects.
---
1999
The March 1999 combination of Jones Lang Wootton and LaSalle Partners marked the largest international real estate industry merger to date, forming what is now Jones Lang LaSalle. The firm went on to bring many more companies into the fold, including Spaulding and Slye, a major East Coast industry player, in 2006. The next year, 15 mergers and acquisitions created Jones Lang LaSalle India, the largest real estate firm in India. In 2008, the firm increased its presence in China and Germany, and acquired The Staubach Co., a U.S. leader in tenant representation. Each of these acquisitions expanded the firm's global presence, services and core businesses. Shortening its name to JLL in 2014, the firm remains a leading global commercial real estate services and investment firm, with more than 78,000 employees as of the first quarter of 2017, as well as $6.8 billion in revenue and 4.4 million square feet under management in 2016.
---
1998
In April 1998, CB Commercial and REI Ltd. merged to form CB Richard Ellis Inc. (now CBRE Group Inc.), giving the firm a global presence and marking a growth strategy that the firm has continued for almost two decades. In the early '90s, CB Commercial's then CEO James Didion challenged his firm to start building a global platform. A subsequent decade-long string of acquisitions ensued: the 1995 acquisition of Westmark Realty Advisors expanded CB's investment advisory services; the next year, CB acquired mortgage brokerage firm L.J. Melody & Co. and expanded into third-party management services with its acquisition of Koll Real Estate Services. The acquisition of REI Ltd., the holding company for Richard Ellis' operations outside its U.K. home base, took the firm global, creating a real estate giant with 8,000 employees in 29 countries. With other significant acquisitions including Insignia Financial Group (2003) and Trammell Crow Co. (2006), today CBRE is the largest commercial real estate services and investment firm, with 2016 revenues of $13.1 billion and more than 75,000 employees.
---
1997
Changing our name from Real Estate Times to Commercial Property News in 1989, we celebrated our 10th anniversary in June 1997. As the real estate industry went through many changes throughout the decade, so too did our publication. The real estate industry continued to recover in 1997, and as development picked back up and capital sought U.S. real estate, CPN's platform expanded, as well. The twice-monthly tabloid CPN underwent changes in format, frequency and color, with spin-offs including newsletters; conferences; a corporate real estate magazine; and an array of annual guides covering the broader real estate industry as well as a multitude of market niches. Today, the editors of what is now known as CPE still work to provide insights and analysis on the commercial real estate industry and its niche sectors through our website, newsletters and digital monthly magazine.
---
1996
The second half of the '90s brought a wave of mergers and acquisitions across the commercial real estate industry, and the retail sector was no exception. A shift to value retailing began, and bankruptcies from anchor tenants in malls and power centers fueled consolidation activity in the market. One notable merger was between Simon Property Group and DeBartolo Realty Corp., which created a $7.5 billion retail REIT. First called Simon DeBartolo Group, the combined firm owned 183 retail projects totaling 110 million square feet. By 1998, the REIT officially became Simon Property Group, which has gone on to become the largest mall owner in the U.S. Today, Simon has a market cap of more than $50 billion, and the REIT owned or held an interest in 206 properties in the U.S. as of Dec. 31, 2016, consisting of 108 malls, 67 Premium Outlets, 14 Mills, four lifestyle centers and 13 other retail properties.
---
1994
The real estate market's next recovery began in 1994, as markets began to stabilize nationwide and sale prices rose, leading investors to gain interest in buying again. One such firm was AEW Partners LP (now AEW Capital Management), which purchased a portfolio of 110 assets of nonperforming loans and REO properties with a book value of $310 million from Chase Manhattan Bank. Another notable transaction was its purchase of Sears, Roebuck & Co.'s iconic tower in Chicago. Now called Willis Tower, the property is owned by The Blackstone Group, which is in the process of completing a $500 million renovation. The retailer also sold its Homart portfolio for $1.9 billion to General Growth Properties at the end of 1994. While retailers like Sears were in high demand in the '90s, the changing face of the industry has put this category at risk. Sears is just one of several retailers that have closed hundreds of stores in the past few years due to declining sales as consumer preferences continue to change.
---
1993
Following the 1989 market crash, the hotel industry faced uncertainty as well. Institutional owners wanted to liquidate their hotel assets and hotel managers were put under a lot of pressure to come up with solutions. But as the economy recovered and revenues began to rise in the early '90s, investors again became more interested in the hotel market. By the end of 1993, buyers were adding hotels to their portfolio, taking advantage of the record-low prices of many assets. Barry Sternlicht formed Starwood Capital Partners in 1991, and went on to partner with The Blackstone Group in fall 1993 on the $100 million acquisition of a 15-hotel portfolio from Westinghouse. Starwood then acquired 16 hotel loans and REO properties valued at $109 million from Atlantic Bank. Sternlicht was attracted to hotels because of the lack of new supply, and he felt that prices and industry performance had no where to go but up. He was right: the end of '93 and into '94 started the real estate market's next upcycle. Now known as Starwood Capital Group, the private investment firm has more than $51 billion of assets under management and has raised more than $40 billion of equity capital since its inception.
---
1992
In 1992, Sam Zell helped revive the office sector by making major investments in distressed properties. While other investors were being cautious as they waited for clarity on the state of the market, Zell decided to make the first move. He was able to raise $900 million from pension funds to invest in real estate at a time when returns were diminishing. He argued that buying properties at half their replacement cost minimized risk and provided a great payoff. His predictions, which earned him the moniker "Grave Dancer," proved to be correct: These early investments became the origin of the largely successful Equity Office Holdings LLC (now Equity Office Properties Trust, which The Blackstone Group bought out for $39 billion in 2007). At the time of the purchase, Equity Office was the largest office landlord in the U.S. Since Blackstone bought out Equity Office, the firm has been selling off its office holdings as the real estate market continues to recover. A large recent transaction was its $3.5 billion office portfolio sale to Hudson Pacific Properties.
---
1991
In November 1991, Kimco Realty Corp. launched the Modern REIT Era with its IPO, spearheaded by Founder & Chairman Milton Cooper. Prior to the IPO, the commercial real estate industry was dealing with the effects of the 1989 stock market crash, leaving many real estate companies in debt. In need of fast capital, Cooper made the bold move of taking his company public. The decision proved successful, with the IPO raising $128 million and kicking off a wave of REIT IPOs through 1993 and 1994. Today, equity REITs are a commonly accepted investment vehicle for commercial real estate. With a market capitalization of more than $8 billion, Kimco is one of the leading retail REITs, touting a 517-property portfolio totaling 84 million square feet of leasable space across 34 states and Puerto Rico.
---
1990
Beginning in the 1990s, assisted living emerged as its own category of senior housing. During the decade, assisted living was estimated to generate revenues of $7 billion to $10 billion with growth of 30 to 40 percent over the next 10 years, according to data from Alex. Brown & Sons Inc. (now a division of Raymond James). Since the '90s, the U.S. population has continued to age considerably. By 2050, the population of those age 65 and older is projected to be 83.7 million, nearly double its estimated population of 46 million in 2016, according to U.S. Census Bureau data. The aging population provides significant opportunities for senior housing developers, owners and investors.
---
1989
In October 1989, Tokyo's Mitsubishi Estate Co. purchased a 51 percent stake in New York City's Rockefeller Center, indicative of the $10 billion per year in Japanese capital that was being invested in U.S. real estate, according to figures from Arthur Andersen (now Andersen Tax). Today, foreign investment in U.S. real estate continues to increase, with China passing Canada for the first time in 2016 as the most active foreign investor. Japanese investors are also becoming more active—trading conglomerate Mitsui & Co. acquired a 20 percent stake in Los Angeles-based investment firm CIM Group this February, investing $450 million to $550 million in CIM that will be used to fund projects in the U.S. Nearly $49 billion worth of foreign acquisitions took place in 2016, with Asian capital accounting for 34.7 percent of full-year foreign U.S. acquisitions, according to JLL research.
---
1988
In February 1988, Chicago Mayor Eugene Sawyer revived the Navy Pier entertainment project idea with the creation of the Navy Pier Redevelopment Authority. The Authority requested the Urban Land Institute send an advisory services panel to Chicago to generate plans for the pier's future redevelopment. Reaching its 100th birthday in 2016, the pier attracts millions of visitors to its 50-plus acres of parks, gardens, restaurants and attractions, and a Centennial Vision redevelopment plan is in the works, including construction of the Pier's first-ever hotel.
---
1987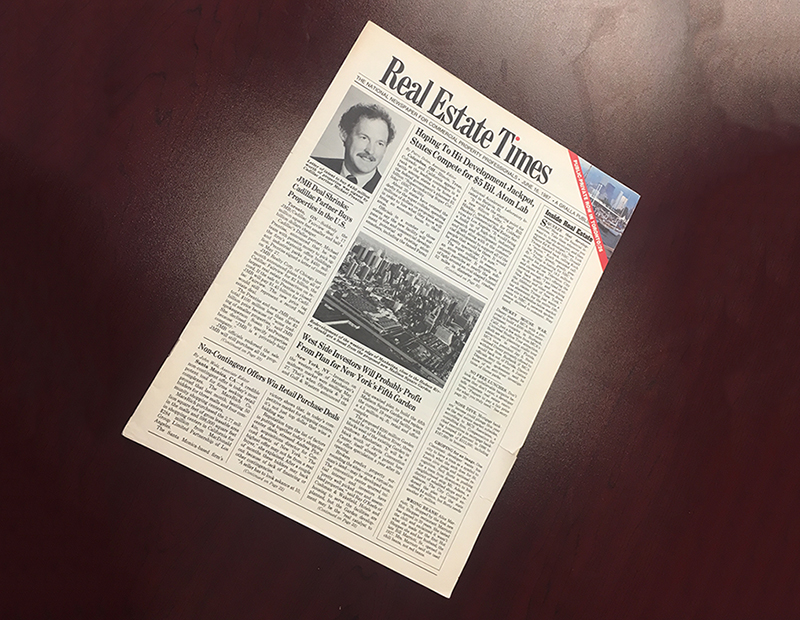 To ring in CPE's 30th anniversary, we're taking a look back at some of the most significant events of the last 30 years—for the real estate industry and for this publication! Originally called Real Estate Times, we released our first issue in print on June 1, 1987, a time when the real estate industry was still booming, although that was about to change. In the month leading up to our special anniversary issue of CPE, stick with us as we reflect on how the industry has changed, and we along with it.
You can also travel through the years with us on your favorite social media channel using the hashtag #CPETurns30