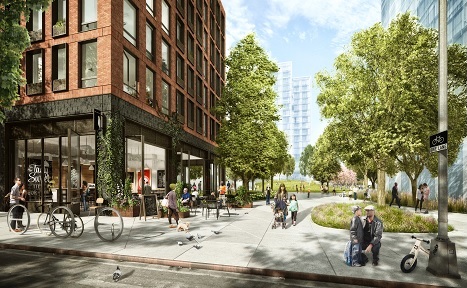 By Barbra Murray, Contributing Editor
What's in a name? Quite a bit, apparently, from the perspective of Greenland Forest City Partners, the partnership behind the $4.9 billion Atlantic Yards project in Brooklyn, N.Y. Greenland Forest City—a joint venture of New York City's Forest City Ratner Cos. and Greenland USA, a subsidiary of Shanghai-based Greenland Group Co.—has just changed the name of the 22-acre mixed-use development to Pacific Park Brooklyn.
The 8 million-square-foot Pacific Park Brooklyn will have all the makings of a live-work-play destination, with 6,430 residential units, 247,000 square feet of retail space and 336,000 square feet of office accommodations.
The new identity of the gargantuan undertaking was revealed almost precisely one month after Forest City and Greenland closed on the joint venture to develop the massive project. Per terms of the partnership agreement, Greenland USA holds a 70 percent ownership stake, and the two companies will share all project costs of the development proportionally—excluding the two-year-old, 675,000-square-foot Barclays Center arena and the first housing tower—going forward.
Greenland Forest City has its reasons for making the name change one of its first moves. The joint venture decided that the project should be identified with one of its most prominent features:  the eight-acre public open space to be known as Pacific Park. Thomas Balsley Associates has been brought aboard to design the park.
But Greenland Forest City has additional news to share: The joint venture has chosen the architectural firm of COOKFOX to spearhead the design of two residential structures at Pacific Park Brooklyn. The 300-unit multi-family building at 535 Carlton Ave. will be fully designated as affordable housing, while the tower at 550 Vanderbilt Ave. will feature 275 condominium residents.
"We understand greatly the need to bring housing to market quickly, especially affordable housing, and are very excited by the preliminary designs," MaryAnne Gilmartin, president & CEO of Forest City Ratner and president of Greenland Forest City, noted in a prepared statement. Ultimately, Pacific Park Brooklyn will encompass 2,250 residences reserved for low-, moderate- and middle-income families, including the 300 units at the SHoP Architects-designed property at 30 Sixth Ave., which is scheduled to break ground in June 2015.
With the new joint venture at the helm of the project, the development of the residential segment of Pacific Park Brooklyn is being expedited. Construction of the affordable housing building will get underway in December, and commencement of work on the condominiums will follow in short order.