By Anca Gagiuc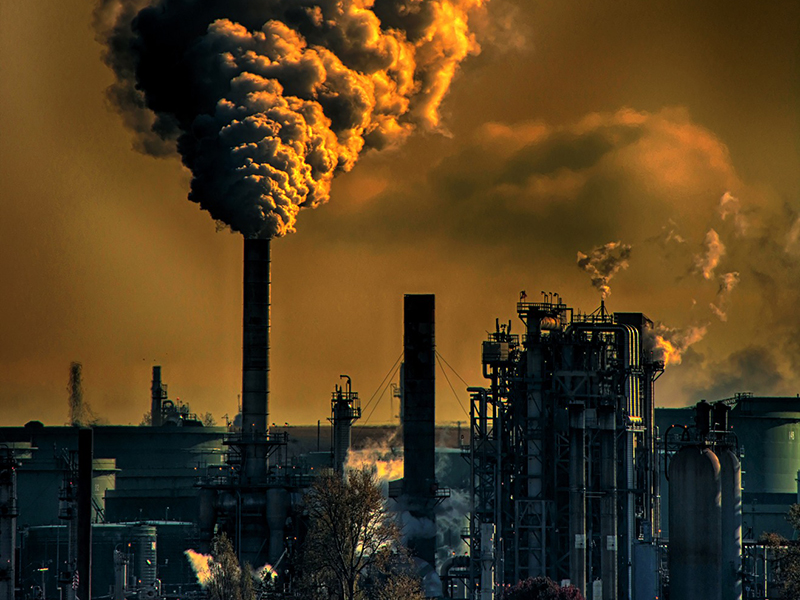 European-based producers are leading the way in the transition of oil and gas producers to a low-carbon future, outpacing their counterparts in the U.S., Russia and China. Lack of pressure to diversify accounts for the relatively low scores posted by U.S. companies.
And although leading producers have invested $22 billion in alternative energies since 2010, the overall investment in low-carbon assets will account for only 1.3 percent of their total capital expenditures for 2018.
Those are highlights of a study by CDP, a U.K.-based environmental and research organization. Formerly known as the Carbon Disclosure project, CDP based its findings on data reported by the 24 largest, highest-impact public oil and gas companies. Survey participants collectively represent 31 percent of global production and 11 percent of proven reserves.
"The shift to a low-carbon economy presents the question of what role oil and gas companies will play in this transition, and what their strategic options are in the more immediate and longer term," said Luke Fletcher, a CPD senior analyst, in a prepared statement.
Oil and gas production and consumption accounts for more than half of the global greenhouse gas emissions associated with energy consumption. Some 17 metric gigatons of carbon dioxide equivalent are released annually by the industry. Companies are under pressure to demonstrate how their business models align with a low-carbon energy transition, especially after the Paris Agreement and the recommendations from a G20 task force chaired by Michael Bloomberg.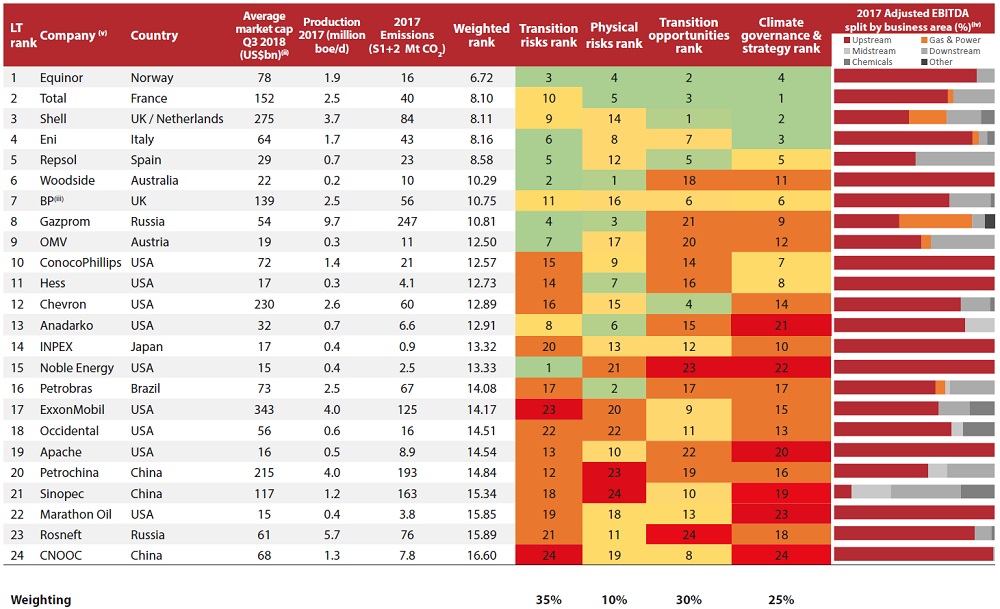 Spotty spread
European players are leading the way in most areas—Equinor (Norway), Total (France), Shell (UK/ Netherlands) and Eni (Italy) are in pole position with accelerated spending on wind, solar and battery technologies, while CNOOC (China), Rosneft (Russia) and Marathon Oil (U.S.) are lagging.
European oil producers invested as much as 7 percent of their total expenditures in low-carbon technologies. Shell, for example, has a yearly expenditure of $25 billion to $30 billion and plans to invest $1 billion to $2 billion annually in low-carbon technologies.
Equinor plans to spend 15 percent to 20 percent of its budget on renewables by 2030, with an emphasis on offshore wind. The company's recent rebranding, which took "oil" out of its name, is symbolic of a wider shift stemming from regulatory pressure and increased investor scrutiny, Fletcher noted. The leader in investment is Total, which has poured more than 4 percent of its budget into low-carbon energies since 2010.
In contrast, Russia's state-owned Gazprom and Rosneft have less capital flexibility, making them less agile in their responses. The trend persists across Chinese national oil companies, such as Petrochina.
Greener future?
CDP's analysis shows that the companies surveyed have 7.7 gigawatts of renewable capacity in operation, and another 10.2 gigawatts under development. Europe's producers are outpacing their peers in this area, as well, accounting for 70 percent of current capacity and 94 percent of the pipeline.
On the minus side, the 24 participating companies are wasting 3.3 percent of their natural gas production on average at a total cost of $5 billion annually.
"With improved efficiency, lower costs and higher prices, free cash flow for the sector is at its highest level since the first quarter of 2012," Fletcher said. "However, companies are now facing increasing scrutiny from investors to look beyond the current cycle and deliver value in the long-term. As well as diversifying into clean energy assets, oil and gas companies are shifting focus to multi-staged developments and shorter-cycle opportunities to improve their capital flexibility and resilience for the changes ahead."
Image courtesy of CDP