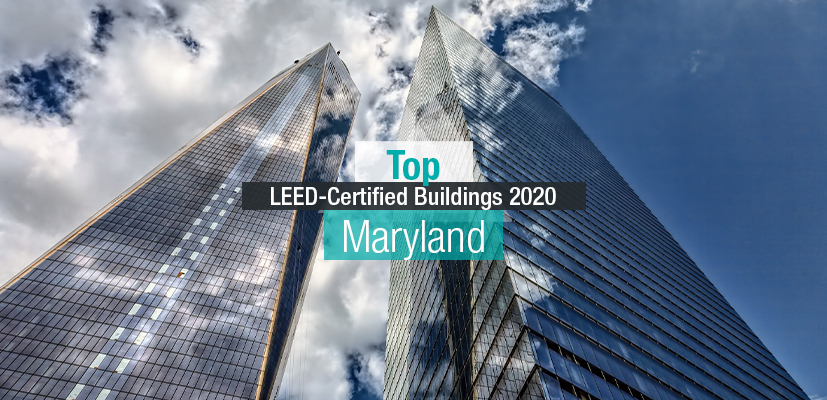 In 2020, the U.S. Green Building Council awarded LEED certification in Maryland to 88 projects across some 13 million square feet. This maintained the state in the sixth position achieved in 2019, with a total of 15 million square feet.
Of the 88 projects certified to one of LEED's levels last year, 34 were office assets totaling 3.3 million square feet. On the list below, we've highlighted the top office buildings awarded LEED in 2020, using data provided by USGBC, ranking projects from largest to smallest based on square footage.
| | | | | | | | |
| --- | --- | --- | --- | --- | --- | --- | --- |
| Rank | Project Name | Rating System | Address | City | Gross Area (sqft) | Date Certified | Certification Level |
| 1 | Silver Spring Metro Plaza – 201 | LEED-EB:OM v2009 | 8403 Colesville Road | Silver Spring | 507,681 | 11/10/2020 | Gold |
| 2 | 6100 Merriweather | LEED-CS v2009 | 6100 Merriweather Drive | Columbia | 340,421 | 7/24/2020 | Gold |
| 3 | Pike & Rose Block 3A | LEED-CS v2009 | 11950 Rockville Pike | North Bethesda | 243,546 | 11/5/2020 | Gold |
| 4 | Silver Spring Metro Plaza – 101 | LEED-EB:OM v2009 | 8401 Colesville Road | Silver Spring | 185,847 | 11/10/2020 | Gold |
| 5 | 810 Bestgate | LEED-CS v2009 | 810 Bestgate Road | Annapolis | 100,800 | 11/20/2020 | Gold |
| 6 | Hoen Lithograph | LEED-CS v2009 | 2101 E. Biddle St. | Baltimore | 80,921 | 7/26/2020 | Gold |
| 7 | Silver Spring Metro Plaza – 301 | LEED-EB:OM v2009 | 8405 Colesville Road | Silver Spring | 66,941 | 11/10/2020 | Gold |
| 8 | Host Hotels & Resorts | LEED v4 ID+C: CI | 4747 Bethesda Ave. | Bethesda | 45,372 | 11/25/2020 | Gold |
Source: USGBC
---
READ ALSO: Top 10 States for LEED Certification
---
1, 4 & 7. Silver Spring Metro Plaza, Silver Spring — LEED Gold
All three Brookfield Properties properties in Montgomery County boast the LEED-EB: O&M Gold certification. The awards are actually recertifications, maintaining the LEED Gold status achieved in 2014. In addition, Silver Spring Metro Plaza began benchmarking through Energy Star in 2004.
Built in 1986, the three-building property rises 17 stories at 8403, 8401 & 8405 Colesville Road and benefits from an optimum location, with direct access to the Silver Spring Metro station, adjacent to MARC trains and a 30-minute drive from Ronald Reagan Washington Airport.
The implementation of real-time energy management—providing live information on how the building systems are performing, so that adjustments can be made right away—has been a game-changer for the development's sustainability focus. This has helped the property operator save energy and money, as well as reduce maintenance. The owner also used utility incentive programs for retrofitting lobbies, restrooms parking garage and stairwell lighting with LED technology, and the most recent modernization updates will include pedestrian walkways and gathering spaces surrounded by greenery.
Notable tenants at the property include Regus, Bailey Wealth Advisors, AMDEX Corp., Dunkin Donuts and National Bid Network, according to CommercialEdge data.
2. 6100 Merriweather, Columbia — LEED Gold
Spanning nearly 350,000 square feet, The Howard Hughes Corp.'s office development broke ground in 2018, targeting a LEED certification. The project reached completion one year later and received LEED-CS v2009 certification in 2020.
The owner's commitment to sustainability is reflected in the $5 billion, 30-year redevelopment of downtown Columbia, which, in addition to transforming the suburban hub into a third city between Baltimore and Washington, D.C., has made the Merriweather District the first LEED Neighborhood Development v4 in the state and the second East Coast development to achieve it.
The new office building, located in the famed area, boasts a façade that incorporates glazing throughout to maximize views and natural light. Amenities include a rooftop terrace, indoor bike storage and direct access to more than 100 miles of trails. The structure, like all others in the Merriweather District, includes STEER technology—a self-parking solution that transformed the neighborhood into the first area in the country to be built for automated, self-parking cars.
Cybersecurity company Tenable anchors the building. In early 2021, Howard Hughes Corp. announced that five companies have committed to opening new offices in the 12-story tower—Advarra, Ames Watson, Applied Network Solutions, Insperity and Olive AI.
---
READ ALSO: Port Covington's Impact on the Baltimore Office Market
---
3. Pike & Rose, Block 3A, North Bethesda — LEED Gold
The office component of Federal Realty Investment Trust's mixed-use development was completed in 2020 and achieved LEED-CS v2009 Gold status in the same year. The 212,000-square-foot, 12-story Pike & Rose is near the White Flint Metro station and interstates 270 and 495.
The building features an expansive curtain wall and punched window glazing, paired with a shallow core depth to optimize natural light and access to exterior views. Dedicated outdoor air ventilation delivers 100 percent outside air into the property, filtered to levels appropriate for operating rooms. Moreover, occupants benefit from 30 percent more fresh air than required by code.
The mid-rise also includes a Wi-Fi-enabled rooftop amenity space with an outside terrace, bike storage and a touchless elevator system with PORT technology that automatically limits the number of occupants. Tenants at the property include Federal Realty Investment Trust, Industrious and United Solutions.
5. 810 Bestgate Road, Annapolis — LEED Gold
The four-story, 100,000-square-foot medical office building was designed to achieve LEED-CS v2009 Gold upon completion, which occurred in 2020.
Maryland Oncology Hematology selected the St. John Properties-owned asset as the site of its inaugural entry into the Anne Arundel County marketplace due to its proximity to the Anne Arundel Medical Center.
Green activities at 810 Bestgate Road include sustainable site selection and development, an energy-efficient design, enhanced indoor environmental quality, and responsible materials selection and waste management, as well as water use reduction.
---
READ ALSO: 10 Top Projects in LEED's Leading States
---
6. Hoen Lithograph, Baltimore — LEED Gold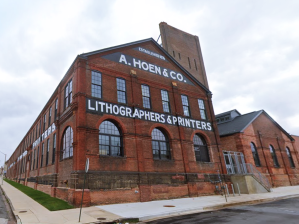 Developed from 1885 to 1963, the site is the only one that survives to illustrate The Hoen & Co. legacy. The historic property, at 2101 E. Biddle St., is known as the Hoen Lithograph building—between 1902 and 1981, Hoen & Co. occupied the building. In 2019, after laying unoccupied for more than 35 years, the 85,000-square-foot building entered a substantial renovation process, which was completed last year with financial aid from various public sources. The work included new automated building and HVAC controls, high-efficiency lighting upgrades and efficiency upgrades to the windows and roofing.
The property—renamed The Center for Neighborhood Innovation—has been repurposed as a mixed-use development comprising three historic structures and two warehouses/storage buildings. An internal courtyard serves as a community event space or outdoor seating for a cafe. Tenants include The Outlook Co., Morgan State University School of Architecture & Planning, Cross Street Partners and City Life Community Builders.
8. 4747 Bethesda Ave., Bethesda — LEED Gold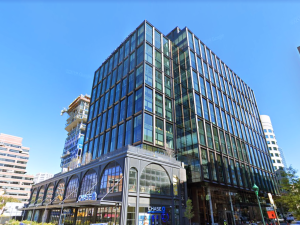 JBG Smith's 15-story, 280,000-square-foot asset broke ground in 2017 and opened in 2020, targeting LEED Gold. The 45,372 square feet leased by Host Hotels & Resorts was awarded LEED Gold certification for Interior Design and Construction in late November last year. In early 2021, the entire project received LEED Gold certification for Core and Shell.
Boasting a striking curved bronze and glass façade and floor-to-ceiling windows, occupants at the property enjoy abundant natural light throughout the day. The building is ideally located adjacent to the Capital Crescent Trail, which connects Georgetown to Silver Spring for commuting and recreation. It is also close to the entrance of the future Purple Line Station and just three blocks to Bethesda Metro Station on the Red Line. The rooftop terrace offers panoramic views of downtown Bethesda and is also appointed with a fire pit and outdoor seating featuring Wi-Fi, which creates a suitable setting for conferences, corporate events and out-of-office work.