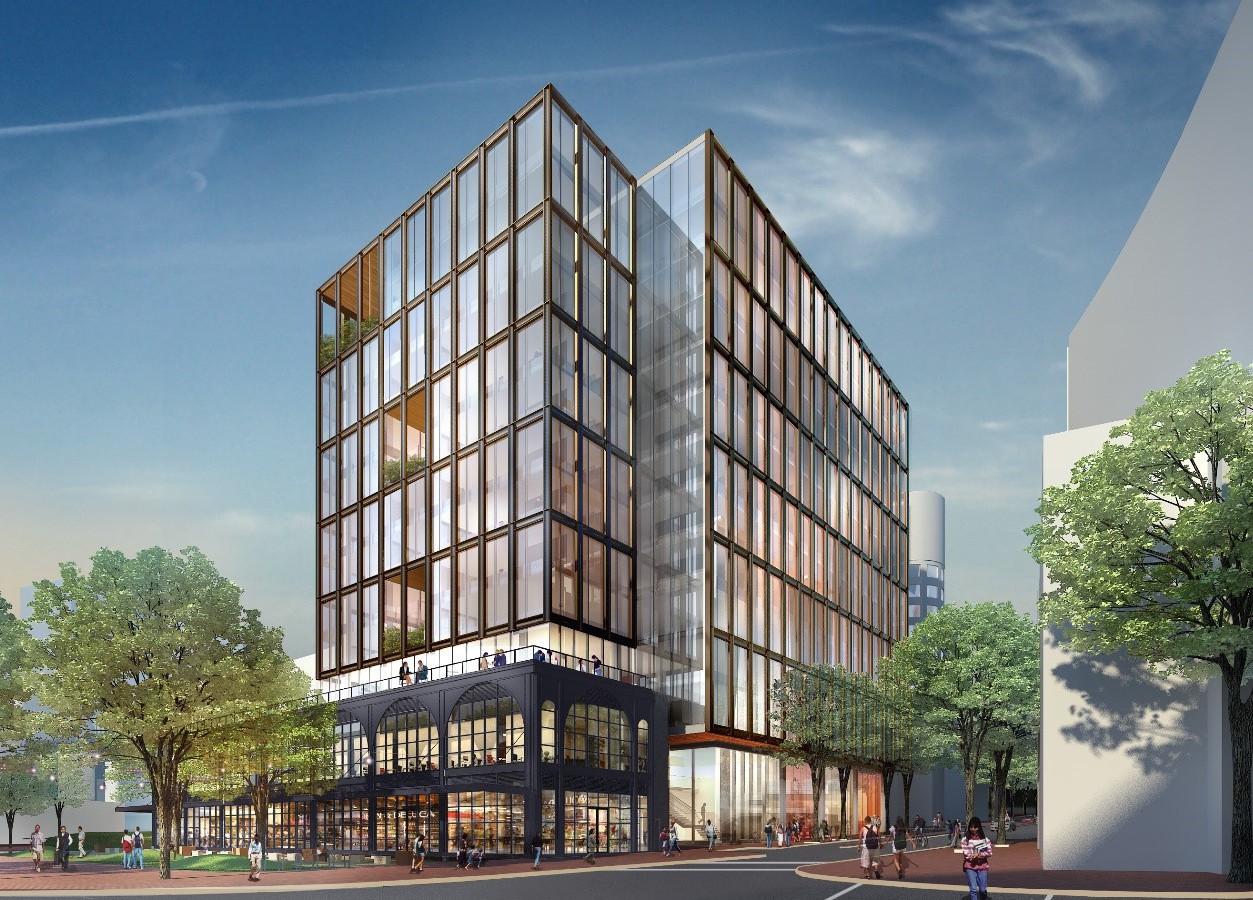 JBG Smith, the Washington, D.C.-area commercial real estate powerhouse that is being created through a merger of The JBG Cos. and Vornado/Charles E. Smith this month, will soon have a new trophy office building in Bethesda, Md., for its headquarters.
JBG is developing the 14-story, 287,000-square-foot building at 4747 Bethesda Ave. that will have 200,000 square feet of office space and 7,000 square feet of retail space. It is expected to be completed in the third quarter of 2019. JBG Smith will occupy the lower floors, taking about 95,000 square feet, according to David Petr, president & CEO of the Montgomery County Economic Development Corp.
"We anticipate the remaining nearly 200,000 square feet will be a big attraction to many companies that are looking to relocate to the county that need a larger footprint, a Metro-accessible location, and access to a diverse and highly-educated talent pool," Petr said in a prepared statement.
The building is located at the corner of Woodmont and Bethesda avenues, near Bethesda Row with over 70 boutique dining, specialty retail and entertainment options and three blocks from the Bethesda Metro station. JBG is also developing 4749 Bethesda Ave., an office building that will have a Dean & DeLuca market on the ground floor.
"Our new headquarters will reflect our corporate goals of collaboration, cutting edge design and efficiency, and environmental sustainability," W. Matthew Kelly, managing partner of JBG who will be the CEO of JBG Smith, said in a prepared statement. "The Bethesda-Chevy Chase market has been our home base for over 20 years and we're proud of the community relationships and civic partnerships we have with the county. The abundance of transit options, fine schools and robust amenities make this a terrific location in which to do business. We are excited to lease space in one of our recently commenced development projects and we are especially appreciative of Montgomery County and the State of Maryland for their efforts and the incentives that will benefit our local economy and our shareholders."
JBG has its current headquarters at 4445 Willard Ave. in Chevy Chase, Md., and Vornado/Charles E. Smith has its offices in the Crystal City submarket of Northern Virginia. The newly combined company will have a total of 425 employees.
Vornado Realty Trust announced in late October it was spinning off its Washington, D.C.-area portfolio and merging it with certain assets of JBG, a real estate company that controls more than 22 million square feet of urban infill commercial and multifamily properties in the region and a land bank for future development. Following the distribution of JBG Smith common shares and common limited partnerships on July 17, common shares of the new REIT will trade on the New York Stock Exchange under the symbol JBGS beginning July 18. It will be the largest publicly traded REIT focusing on the Washington, D.C., metro area and be worth about $8.4 billion.
Suburban and city assets
The new JBG Smith will have an operating portfolio of about 20 million square feet comprised of office, multifamily and retail assets, including 50 office assets totaling 12.1 million square feet and 14 multifamily assets with 4,232 units and another 13 percent of its portfolio listed as under construction or near term. The future development pipeline has about 18.3 million square feet of potential development density. Assets are located in some of the region's top submarkets including Bethesda and Crystal City, Pentagon City, and the Rosslyn-Ballston Corridor, all in Virginia.
In Washington, D.C., JBG is developing 500 L'Enfant Plaza, a 12-story, 212,000-square-foot building that will have the Urban Institute as an anchor tenant with 121,000 square feet. The building will be included in the JBG Smith portfolio and is part of JBG's multiyear renovation of L'Enfant Plaza, which began with construction of 900 L'Enfant Plaza, where the new International Spy Museum will open in 2018.
The firm also recently sold a D.C. office property that it had completed in 2016. The nine-story, 122,000-square-foot asset was acquired by Oxford Properties Group and Norges Bank Real Estate Management, the real estate branch of the Norwegian Government Pension Fund Global.
Image courtesu of JBG Cos.