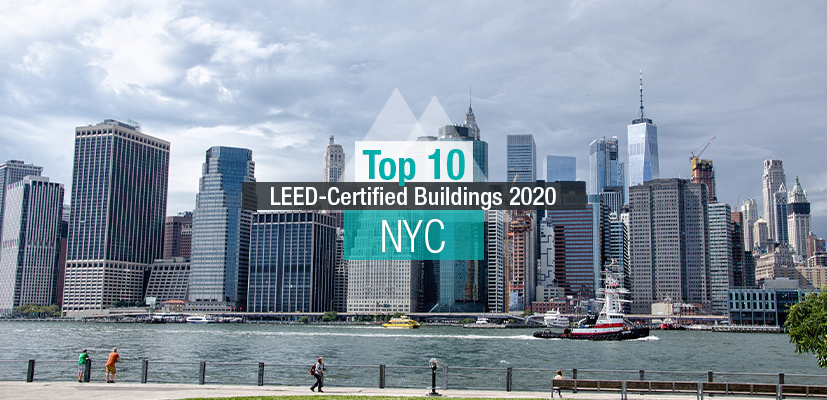 According to the latest U.S. Green Building Council data, 37 office projects across New York City received LEED certifications in 2020. That translates to some 18.4 million square feet of office space awarded a minimum of certification last year.
Unsurprisingly, Manhattan had the only three Platinum-awarded projects on the list among the boroughs, while only one entry is located outside Manhattan. The ranking firstly considered the level of certification the office building received, secondly taking into account the square footage of the project. It comes as no surprise that all entries are either Platinum- or Gold-certified in the nation's largest office market.
| | | | | | | |
| --- | --- | --- | --- | --- | --- | --- |
| Rank | Project Name | Street Name | LEED System Version | Certification level | Gross Area (sq. ft.) | Certification Date |
| 1 | One Citi NY – Greenwich St. Redevelopment | 388 Greenwich St. | LEED-NC v2009 | Platinum | 2,222,976 | 5/6/2020 |
| 2 | 441 Ninth Avenue | 441 Ninth Ave. | LEED-CS v2009 | Platinum | 593,875 | 4/8/2020 |
| 3 | 450 Park Avenue | 450 Park Ave. | LEED v4.1 O+M: EB | Platinum | 337,047 | 6/29/2020 |
| 4 | 30 Hudson Yards | 500 W. 33rd St. | LEED-CS v2009 | Gold | 2,327,546 | 2/12/2020 |
| 5 | 1271 Avenue of the Americas | 1271 Ave. of the Americas | LEED-CS v2009 | Gold | 2,021,263 | 9/2/2020 |
| 6 | One Manhattan West | 401 Ninth Ave. | LEED-CS v2009 | Gold | 1,900,000 | 2/5/2020 |
| 7 | 5 Bryant Park | 5 Bryant Park | LEED v4.1 O+M: EB | Gold | 681,575 | 6/17/2020 |
| 8 | 750 Seventh Ave. Recertification | 750 Seventh Ave. | LEED-EB: OM v2009 | Gold | 643,301 | 9/2/2020 |
| 9 | The Wheeler | 181 Livingston St. | LEED-CS v2009 | Gold | 506,175 | 9/3/2020 |
| 10 | Olympic Tower | 641 Fifth Ave. | LEED v4.1 O+M: EB | Gold | 490,724 | 11/24/2020 |
Source: USGBC
1. One Citi NY – Greenwich St. Redevelopment, Manhattan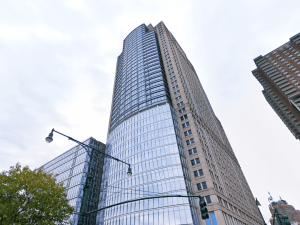 Following Citigroup's renovation of its 2.2 million-square-foot Tribeca headquarters, the project achieved LEED Platinum certification—the largest tower in New York City to receive the award in 2020. According to CommercialEdge data, the owner acquired the office in 2016 for $1.8 billion from SL Green Realty; the deal also included an adjacent nine-story building.
The banking giant tapped Skidmore, Owings & Merrill and Tishman Construction Corp. to handle refurbishments, while Gensler handled interior upgrades at the combined structures. Renovations included a 14-story high glass envelope, which provides more natural light; a new lobby with a triple-height town square and a public plaza located in front. Interior improvements also focused on sustainable features such as co-generation, smart lighting, improved air quality and enhanced water conservation.
2. 441 Ninth Avenue, Manhattan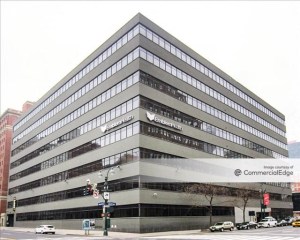 In 2016, Cove Property Group acquired a warehouse-turned-office building, with plans for significant renovations. Work on the 593,875-square-foot property—also known as Hudson Commons—wrapped up in 2019 and entailed the addition of 17 stories to the existing eight floors.
The adaptive-reuse project was awarded a LEED Platinum certification last year, as well as a Wired Score Platinum. Located at 441 Ninth Ave., the original structure was constructed in 1962 and was converted in 1983. The Kohn Pedersen Fox-designed project was carried out by Pavarini McGovern of the Structure Tone Organization.
Sustainability was the main focus of the development, as the environmental impact of adapting an existing structure is considerably less than building from scratch. The health and safety of tenants were also a top priority through high elevator cab ventilation, HEPA filters on all HVAC equipment, greater fresh air intake and circulation, as well as bipolar ionization for air purification in common areas. As an extra safety feature to minimize touchpoints, opt-in facial recognition points allowed employees to access their space without pressing a button. Peloton and Lyft are among high-profile tenants, with Brevet Capital Management most recently joining the roster.
3. 450 Park Avenue, Manhattan
The last LEED Platinum entry on the list is Oxford Properties Group's 33-story tower in the Plaza District. The 337,047-square-foot, Emery Roth & Sons-designed building was completed in 1972 and underwent improvements in 2003 and 2006. The owner acquired the property in 2014 for $546 million, according to CommercialEdge data.
The property received the LEED-Platinum certification at the end of June, with points awarded for proximity to key airports, as well as energy performance, waste management and indoor environmental quality. Located at 450 Park Ave., the landmark building is just minutes from Central Park and within walking distance of several luxury retail choices. The tenant roster includes the offices of Banco Bradesco, Merchant Capital and BDT Capital.
4. 30 Hudson Yards, Manhattan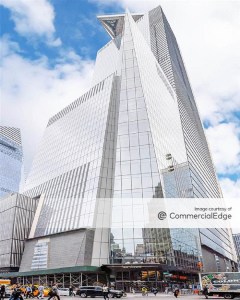 The largest project on the list, Related Cos. and Oxford Properties Group's 2.3 million-square-foot 30 Hudson Yards received LEED Gold certification at the beginning of 2020. The 101-story skyscraper is the third tallest in New York City and part of the massive $20 billion Hudson Yards mixed-use development spanning 28 acres on the far west side of Manhattan. Hudson Yards is the first neighborhood in Manhattan to receive the LEED Neighborhood Development Gold certification.
The Kohn Pedersen Fox-designed building includes the tallest outdoor observation deck at 1,100-feet. Dubbed "The Edge," it is located on the 100th and 101st floors. The project contains nine NCE escalators, on-site energy generation and other sustainable design elements, which are expected to increase energy efficiency by roughly 30 percent compared to the average NYC building. The tower officially opened in March 2019 and is home to big-name companies such as Time Warner, Wells Fargo, Related Cos. and Facebook.
---
READ ALSO: Top 10 LEED-Certified Buildings in New York State
---
5. 1271 Avenue of the Americas, Manhattan
Designed by architect Wallace Harrison of Harrison, Abramovitz and Harris, the 48-story tower opened in 1959 as the Time & Life Building. In 2016, owner Rockefeller Group selected Pei Cobb Freed & Partners to transform the 2 million-square-foot building from top to bottom. The $600 million improvement program included a high-performance perimeter HVAC system, modernized elevators with destination dispatch controls and a high-efficiency double-glazed curtain wall with roughly 60 percent more vision glass.
The tower received LEED Gold certification in 2020, after previously being awarded a LEED Silver certification in 2011. The building also holds a Platinum Wired certification with superior technology infrastructure. Notable tenants include Latham & Watkins, AIG and H.I.G. Capital.
6. One Manhattan West, Manhattan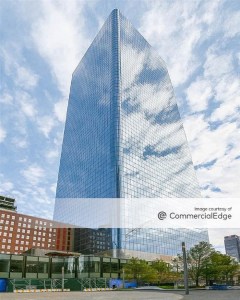 Brookfield Properties opened the 67-story tower in 2019 and received LEED Gold certification at the beginning of 2020, as well as a 2021 WELL Health Safety rating. Wells Fargo initially provided $530 million in construction financing for the project in 2018, then originated another $300 million a year later. Skidmore, Owings & Merrill was behind the design of the project and received a silver win at last year's CPE Distinguished Achievement Awards.
The tower was built with sustainability in mind, as 95 percent of waste from the construction site was recycled, and 21 percent of all new products purchased were made from recycled materials. Located at 401 Ninth Ave., the tower is part of Brookfield Properties' more than 7 million-square-foot Manhattan West mixed-use development. The tenant roster includes Skadden, Arps, Slate, Meagher & Flom, Accenture and EY.
7. 5 Bryant Park, Manhattan
Savanna acquired the property in 2018 for $640 million and embarked on a substantial capital improvement program. This included redesigning the lobby, entrance and building signage, as well as renovating bathrooms, corridors, terraces and windows throughout the property. The building received LEED Gold certification in June last year.
Located adjacent to Bryant Park, the 34-story building is within walking distance of Grand Central Station, Penn Station and Port Authority Bus Terminal. Tenancy at the high-rise includes Grubhub, HOK and Movable Ink. Last November, HOK renewed its commitment for its 34,000-square-foot space and signed a long-term lease extension, which carries through 2030.
---
READ ALSO: LEED Zero Projects From Coast to Coast
---
8. 750 Seventh Avenue Recertification, Manhattan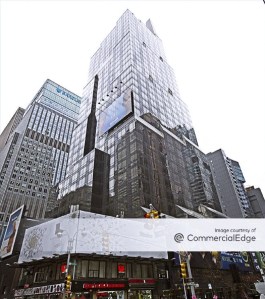 Solomon Equities developed the 36-story tower in 1990, with Kevin Roche John Dinkeloo & Associates behind the project's postmodern design. The building received a LEED Silver certification in 2015 and earned a LEED Gold certification last year thanks to its water-performance measurements and indoor plumbing fixtures, as well as fitting efficiency and best management practices for indoor air quality.
Fosterlane Realty acquired the Hell's Kitchen asset from Hines in 2011 in a $485 million portfolio transaction. Hines had owned the property since 2000 when the company acquired it in a partnership with the General Motors Pension Fund. Located just a few blocks from Times Square, 750 Seventh Avenue is anchored by Morgan Stanley's more than 400,000-square-foot offices.
9. 181 Livingston Street, Brooklyn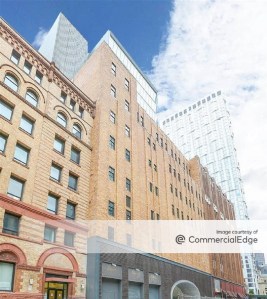 Known as The Wheeler, the redevelopment located at 181 Livingston St. in downtown Brooklyn is the only entry on the list outside of Manhattan. Originally completed in 1930 as a retail facility, the Art Deco building served as a Macy's department store. In 2015, Tishman Speyer acquired the majority stake in the property and enlisted Perkins Eastman and Shimoda Design Group to construct a 14-story addition atop the original structure, a cast-iron Second Empire-style building built in the 1870s by Andrew Wheeler. The redevelopment was named after the famous developer and received a LEED Gold certification in September.
The massive restoration comprised the addition of 10 new office floors on top of the Wheeler building, which now offers the largest floorplans in Brooklyn—90,000 square feet per floor. Located in a transit-oriented area, the building has a dedicated bike entrance and storage for more than 130 bikes, along with locker rooms and showers. The Whittle School signed a 620,000-square-foot lease at the property last February, while St. Francis College signed on for 255,091 square feet this May.
10. Olympic Tower, Manhattan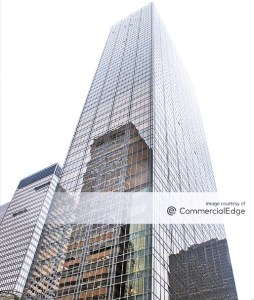 The nearly 500,000-square-foot Midtown tower was designed in 1974 by Skidmore, Owings and Merrill and was the first mixed-use, high-rise building on Fifth Avenue. In 2012, Oxford Properties, along with Crown Acquisitions, purchased a minority stake in the building from an Onassis Foundation-related entity and acquired the remaining share in 2015. The largest office space in the building serves as the headquarters of the National Basketball Association.
In 2019, the owners signed on MdeAS Architects and Turner Construction to redevelop the interior public plaza and the lobby; the project also included a curtainwall, retail storefronts, refurbishing nine elevator cabs and upgrading the existing MEP and security systems. Additionally, an indoor air-quality program was implemented to deal with dust pollution. In September, the property received a LEED Gold certification.