Tishman Speyer has inked a 255,091-square-foot lease with St. Francis College at the recently completed The Wheeler in downtown Brooklyn, N.Y. The 30-year agreement will create a fully customized campus for the new tenant.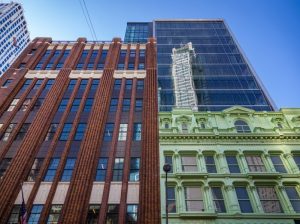 In early 2020, Tishman Speyer announced that is has fully leased the 620,000-square-foot property to Whittle School, a K-12 school with locations in Washington, D.C., and Shenzhen, China. Apparently, the deal has fallen through, as the current arrangement is not a sublease, according to Commercial Observer.
The college will relocate from its current premises at 180 Remsen St., and will occupy the fifth, sixth and seventh stories of the 10-story building that rises atop the borough's renovated Macy's department store. The newly leased space comprises 90,000-square-foot floorplates and has 16-foot ceiling heights. The upper stories of the property, encompassing a total of 360,000 square feet, are available for lease.
Slated for opening in September 2022, the new campus at 181 Livingston St. will include a 300-seat auditorium and cafeteria, a 6,600-square-foot library, as well as 5,000 square feet of programmable outdoor space comprising the terraces on the 5th and 7th floors. The school will also receive a dedicated entrance on Livingston Street.
The Cushman & Wakefield team representing the tenant included Patrick Dugan, Frank Liantonio and Jon Herman.
A mix of old and new
The Wheeler is the result of the collaboration between Tishman Speyer and Macy's. The newly constructed 10 office floors represent the vertical addition to Macy's Art Deco building from the 1930s, along with an interconnected cast-iron structure built in the 1870s by developer Andrew Wheeler. The new building's setbacks make way for outdoor spaces, intended for tenant use, while a new roof deck was also incorporated.
The Brooklyn-based college was established in 1859 by Franciscan Brothers as the first private school in the diocese of the borough. St. Francis currently enrolls roughly 2,700 students.
Tishman Speyer has recently topped out The Spiral, its 2.8 million-square-foot office tower in Manhattan. Additionally, the developer is wrapping up the construction of a 480-unit condo tower adjacent to The Wheeler, dubbed 11 Hoyt, on the site of Macy's former parking garage.