The Story Behind Florida's Largest Office Complex
CP Group executives discuss the company's redevelopment of a former IBM campus.
South Florida has become one of the most attractive places to live and work in, and even cross-border investors are betting big on the region. The exodus of tech and creative businesses created an unprecedented demand for amenitized office space—and Boca Raton Innovation Campus in Boca Raton, Fla., is designed to meet growing tenant needs.
Spanning 1.7 million square feet across 123 acres, the property is the largest office complex in the state. Owner CP Group is reimagining the former IBM campus into a mixed-use complex with tech, life sciences, dining, and culture components. The developer hired Michael Perrette, who served as director of operations at the 6.5 million-square-foot Industry City in Brooklyn, N.Y., to oversee the next phase of its work on the project.
In an interview with Commercial Property Executive, Angelo Bianco, managing partner at CP Group and Perrette, the company's general manager, share their vision for Boca Raton Innovation Campus and reveal why Industry City was a challenge on a similar scale.
---
READ ALSO: What Are Office Tenants Looking for in South Florida?
---
Give us some details about Boca Raton Innovation Campus and the reasons that inspired CP Group to start this project.
Bianco: Originally developed in the late 1960s as an R&D campus for IBM, the design by renowned architect Marcel Bruer encourages innovation. The building served its purpose—the first IBM personal computer, first smartphone and early robotics technology were all invented there.
By the time we acquired the property in 2018 for $170 million, IBM was long gone and the building had fallen into disrepair. But we saw the potential in its good bones, unparalleled infrastructure—including a hurricane-resistant design and 10-megawatt generator that can supply 100 percent of required demand—and great location between two I-95 exits, adjacent to a Tri-Rail station and 30 minutes from two major airports.
What makes the project stand out?
Bianco: Its sheer size, which enables us to implement all the best practices in office design advanced by companies such as Google, Apple and Facebook—all famous for their amenity-rich campuses—and package them at Boca Raton Innovation Campus for smaller tenants who are still seeking to attract and retain talent.
That has allowed us to add a long list of amenities, services and mix of uses to bolster and enrich the office environment. They include seven restaurants, a presentation hall, art galleries, multiple coffee shops, a bike room, valet parking, a spa, a gym, health & wellness offices, daycare and afterschool childcare, outdoor courtyards, as well as running and hiking trails.
We are currently in the midst of a $100 million capital improvement plan and have already attracted dozens of tenants to the campus—18 national headquarters and 19 regional offices—including Kroger, Modernizing Medicine, Canon and Bluegreen Vacations. Over 5,000 employees use office space at Boca Raton Innovation Campus on a daily basis.
With the campus now nearly fully leased, we are working with municipal stakeholders to expand the approved mix of uses of the property to include retail (including grocery), residential, hospitality and performance art. To that end, we've hired Perrette to oversee this next phase.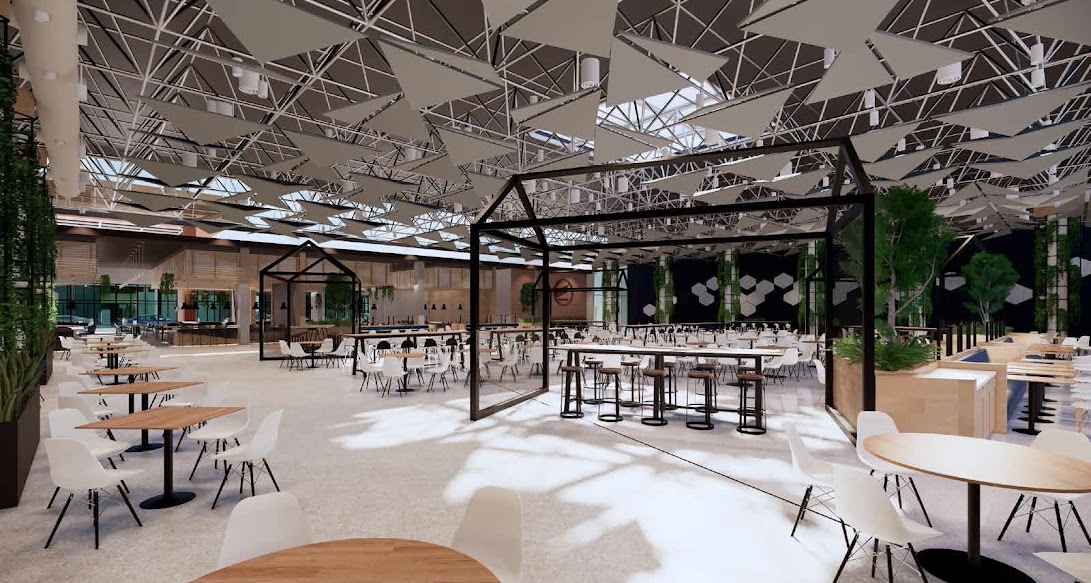 What are the challenges you encountered while working on the project and how did you overcome them? 
Bianco: The deferred maintenance and neglect Boca Raton Innovation Campus had suffered presented an enormous challenge. The building was dilapidated, with no amenities and no connection to the community. It was only 65 percent occupied, with tenants which were largely back-office service providers.
An even more significant obstacle, however, was changing the public's perception of the building as something derelict and to-be-avoided, into a beloved community destination and center of civic life.
Tell us more about the companies involved in the development and design process.
Bianco: Global architecture, planning and design firm CallisonRTKL has been instrumental in transforming the project into a town center integrated into the social fabric of Boca Raton.
In which way has your experience as former director of operations at Industry City synchronized with the vision at Boca Raton Innovation Campus? Are there any similarities between the two projects? 
Perrette: Both projects were challenging on a similar scale in terms of their size and iconic history. Both are undergoing necessary redevelopment.
Industry City is the adaptive reuse of a 16-building, 35-acre industrial manufacturing and distribution hub built in the late 19th century, which had suffered from 50 years of divestment, followed by devastation from Hurricane Sandy.
Starting in the 2010s, Industry City's owners implemented a $450 million redevelopment program. Industry City is now a neighborhood destination packed with ground floor retail, dining, amenities, art and culture that is also a base of engineering, design, manufacturing and production.
While Industry City maintains an industrial aesthetic, Boca Raton Innovation Campus draws inspiration from its 1960s mid-century modern origins as a nexus for personal computing research and development.
Despite their different past, both projects address the reality that the era of the 9-to-5 office (or factory) building is over. Both places create a dense and diverse mix of indoor and outdoor spaces and amenities that help people do their best work, socialize, collaborate and create.
While both projects had similar levels of deferred maintenance, the needed capital improvements challenges are different because they were built nearly a century apart. At Boca Raton Innovation Campus, one of the things we are doing is lifting ceilings and creating skylights to open up a style of building that was designed to be closed off.
In terms of similarities, both projects were completely cut off from their surroundings. The value creation ownership brings is helping to stitch them back together with the communities in which they are located.
How do you expect the project to impact South Florida's workforce and the region overall?
Bianco: Office buildings are derivative of the broader economy. You can build all the office buildings you want, but if the local economy does not have growing businesses willing to lease the office space, this will be a money-losing endeavor.
What are your predictions for the South Florida CRE market going forward?
Bianco: South Florida is on its fifth decade of expansion. Every day 1,000 people move into Florida and decide to call it home. Anecdotal data suggests the global pandemic has only accelerated this demographic shift, as the people arriving in Florida all need places to live, professional services, places to shop, educate their children and enjoy leisure activities. This inbound migration will continue to fuel Florida's economic growth in the years to come.