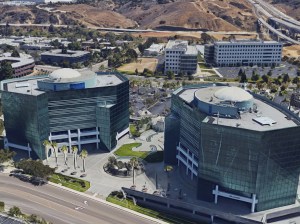 Prime US REIT is expanding its coastal footprint with portfolio additions totaling approximately 487,000 square feet. The Singapore-based office REIT has inked a deal to purchase the two-building Sorrento Towers in San Diego and One Town Center in Boca Raton, Fla., in two separate transactions valued at an aggregate $245.5 million.
---
READ ALSO: The Long, Uneven Road to Recovery
---
Twin seven-story buildings Sorrento Towers consisting of a total of approximately 294,000 square feet of Class A space carry the addresses of 5355 and 5375 Mira Sorrento Place in San Diego's coveted Sorrento Mesa submarket. The sleek, glass-sheathed buildings first opened their doors in 1989 and last changed hands in 2018, when Shorenstein purchased them for $88 million, according to San Diego County Assessor Records. Shorenstein could not be reached for comment by deadline.
One Town Center, a 10-story tower in a market of mostly low-rise buildings, has stood out as a prominent Class A destination since it made its debut in 1991 as a development project of an entity of Crocker Partners, now CP Group. Crocker brought the roughly 193,000-square-foot asset back into the fold in 2014 via an $81 million acquisition deal. CP Group declined to comment on the pending transaction with Prime US REIT.
Coveting office assets from afar
The U.S. office sector, currently inching its way back from the pandemic-induced downturn, is not precisely the darling of the domestic investment community right now. However, cross-border investors have taken a shine to America's office properties of late.
"Foreign investment in the retail and hotel sectors remained limited, but sentiment improved for the office sector," according to a first quarter 2021 capital markets report by CBRE. "Despite a 28 percent year-over-year drop in the first quarter investment volume, foreign investors increasingly allocated capital to growing office markets in the Sun Belt."
Singapore, which increased its year-over-year investment in U.S. commercial real estate by 48 percent in 2020, remains highly active in the States, and some investors haven't been at all shy about spending big in the office sector. In the first quarter of the year, Mapletree Investments acquired Uptown Station—a 397,000-square-foot, mixed-use office property in Oakland, Calif., that counts Square Inc. as its sole office tenant—in a transaction valued at a reported total of more than $400 million.