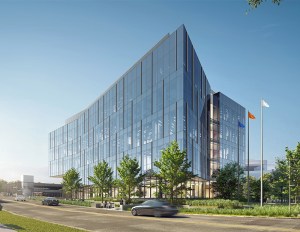 Healthpeak Properties has signed a tenant at one of its upcoming life science projects in South San Francisco. Gene editing company Graphite Bio has agreed to occupy three floors at Nexus on Grand, currently under construction and set to open in 2023.
A team of Savills brokers—led by Executive Vice President and Head of Life Sciences Austin Barrett— represented Graphite Bio in the lease negotiations. CBRE acts as leasing manager for Healthpeak's property.
Healthpeak started construction of Nexus on Grand last year, adding to its significant Bay Area footprint—over 6 million square feet according to CommercialEdge, some of which is under development.
The five-story, 148,500-square-foot building is located at 233 E. Grand Ave., in the heart of South San Francisco's massive life science cluster. On-campus amenities include a fitness facility and café, while the nearby area offers multiple other dining, shopping and entertainment options. Nexus on Grand also includes a covered parking structure with a ratio of 2.7 spaces per 1,000 square feet. Flad Architects provided architectural and design services for the developer. The building is planning to achieve LEED Silver.
Lease details
Graphite Bio plans to move its headquarters and research hub from its current location at 201 Haskins Way, a building owned by Alexandria Real Estate Equities. The gene editing company focuses on developing therapies for genetic diseases and has announced the move as its next growth phase. The larger space will be purpose-built according to the company's specific needs, according to a prepared statement from Jerry Cacia, Chief Technical Officer at Graphite Bio.
According to a document filed with the SEC, the lease agreement commenced its 10-year term in December last year. Graphite Bio will occupy a total of 85,165 square feet, roughly 57 percent of the entire building. The agreement specifies an annualized base rate of $82.80 per rentable square foot per year, subject to grow annually by 3.5 percent.
A good year for the sector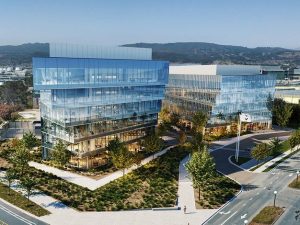 Life science clusters nationwide experienced massive growth last year in the wake of the global health crisis. Top markets like the Bay Area attracted a surge of new development. Demand remains high, with research from Savills showing that vacancy for life sciences and biotech space is less than 2 percent in the Bay Area.
Healthpeak Properties currently has three other projects under construction in the region. In November, the REIT started work on another campus, Vantage, which is also set for a 2023 completion. The 343,000-square-foot development is situated less than a mile from Nexus on Grand and is estimated to cost $393 million. In Brisbane, Healthpeak is also constructing The Shore at Sierra Point, another life science campus planned to offer 616,000 square feet.
Several other large projects are underway in the market. Some of the largest include Kilroy Realty Corp.'s $940 million Oyster Point (3 million square feet), BioMed Realty's Gateway of Pacific(2.2 million), and Alexandria Real Estate Equities' and Boston Properties' 229,000-square-foot expansion of The Gateway Campus.