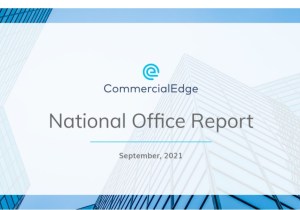 The life sciences subsector emerged as one of the winners during the pandemic, largely attributed to a wave of public and private capital invested in biotech companies situated at the forefront of the worldwide race to find a COVID-19 vaccine. According to Cushman & Wakefield, $70 billion was invested in life sciences companies in 2020, representing a 93 percent increase from the 2018 all-time high—and that record is expected to be surpassed in 2021.
These firms are concentrated in a handful of markets, with Boston, San Francisco, the Bay Area and San Diego encapsulating nearly half of the nation's lab space. The growing demand for niche space has spurred investment and development activity in nontraditional markets, while firms are eyeing out highly educated secondary markets with a more affordable cost of living such as Pittsburgh or Texas.
In the overall office market, national average full-service equivalent listing rates remained unchanged from the month prior, clocking in at $38.62 per square foot in August, up 120 basis points year-over-year. The national office vacancy rate was 15.4 percent, 210 basis points higher year-over-year as of August, but 10 basis points lower than in July 2021.
While Denver recorded one of the highest year-over-year changes in vacancy (a 600-basis point growth), the market also recorded a 5.5 percent year-over-year increase in office rents. This dynamic reflects the quality of assets being offered in the market rather than existing fundamentals, with rates being driven up by new, highly amenitized product—such as the recently completed Block 162 in the CBD, listed at a full-service equivalent rate of more than $50.
The office-using sector added 107,000 new jobs in August, up 4.5 percent year-over-year. However, there are still 647,000 fewer office-using jobs than before the pandemic hit. Only eleven of the top 50 markets have more office-using employees than in February 2020, with Austin, Salt Lake City and Raleigh-Durham seeing the largest gains.
The active pipeline totals some 156.7 million square feet of office space. More than 38.2 million square feet of new supply has been completed year-to-date in August, with 35.4 million square feet falling into the Class A or A+ category. Meanwhile, construction starts fall behind deliveries in almost every market. On the other side of the spectrum, 3.4 million square feet of new office stock broke ground this year in Austin, accounting for more than 10 percent of the nation's groundbreakings.
Read the full CommercialEdge report, here.