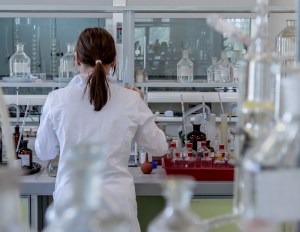 The life sciences industry is undergoing a shift, incited by the COVID-19 global health crisis.
Institutional and venture capital turned in force to the already growing life sciences industry amid the pandemic, and now life sciences real estate has become a magnet for money from all corners of the world.
"The amount of capital targeting the sector is eye-opening: from VCs fueling company growth to real estate investors looking to build a lab portfolio, there is a lot of money out there to support growth, Amber Schiada, senior director of Life Sciences Research with JLL, told Commercial Property Executive.
---
READ ALSO: Keynotes at NAIOP's I.CON West Focus on Economics, Leadership
---
JLL's 2021 Life Sciences Real Estate Outlook notes that investor competition in the longtime leading hubs—Greater Boston, the San Francisco Bay Area and San Diego—as well as in emerging secondary markets has begun to spur investment and development activity in nontraditional markets.
Recognizing that not all life sciences real estate markets are created equal, JLL takes a new approach to its cluster rankings in the 2021 Outlook. This year, the firm offers a more level comparison by benchmarking market opportunity relative to talent, industry depth, innovation and lab real estate dynamics. Any market with a score of 100 or above possesses the necessary elements for a robust life sciences cluster.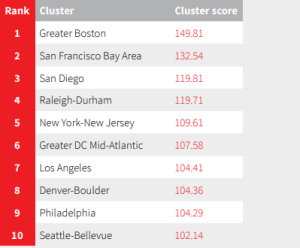 With respective scores of 149.81, 132.54 and 119.81, Boston, San Francisco and San Diego remain the top three life sciences hubs in the U.S., despite the change in the ranking system.
With a score of 119.71, Raleigh-Durham, however, moved up one position above New York-New Jersey (at 109.61, on the fourth spot), buoyed by its historically strong research institutions, competitive talent pipeline, industry depth and a viable commercial lab market that can back greater industry expansion.
Seattle-Bellevue rounded out the top 10  with a score of 102.14.
JLL observed that scoring the individual components can highlight markets poised to capture greater industry momentum, even if they don't score highly across the board.
No bubble in sight
In its report, JLL highlights three trends in the form of questions about the thriving life sciences industry, the first of which ponders the source of growth and how much further it can go. According to the report, health care and demand for therapeutics will continue to drive growth in the life sciences industry, and courtesy of technology, there will be no end to the pursuit of solutions to the conditions that plague humankind.
"There are thousands of known diseases in the world, but only 500 therapies. Scientists are using machine learning and AI software to speed up drug discovery and delivery, and there are so many more modalities than ever before thanks to technologies like CRISPR—this means scientists can focus on diseases that were once considered uncurable," Schiada said. "Personalized medicine is the way of the future, thanks to these technological advancements."
JLL also addresses the issue of overwhelming tenant demand in core markets. The firm suggests that demand will only continue in these clusters. However, competition and industry evolution are presenting new markets of opportunity. JLL points out that a physical lab can only thrive if it is supported by an entire life sciences ecosystem, which consists of several components ranging from experienced lab developers to research institutions to venture capital funding.
"A world-class industry ecosystem is important for expanding companies, but higher barriers to entry in places like Boston or San Diego is creating more opportunities in more markets—and real estate investors and developers are targeting emerging markets that are best poised to capture this demand," Schiada noted.
Finally, JLL notes that new investors are entering the life sciences real estate game to answer the increasingly loud cry for accommodations. And those new accommodations are often coming in the form of conversions in key markets or the relocation of demand to adjacent markets, particularly those with existing talent and lab product options.
JLL compared the life sciences industry's trajectory of expansion to the technology boom that grew out of Silicon Valley over the last 20 years. "The nuance of activity that drives demand for lab space may be a governing factor in how quickly and how far this industry can scale in the medium term," the report concluded.
Read the full report by JLL.