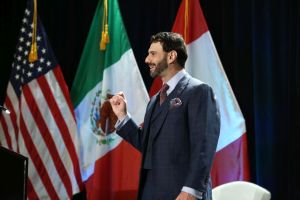 Two keynote addresses at NAIOP's I.CON West industrial real estate conference taking place this week in Long Beach, Calif., focused on critical aspects of navigating out of the pandemic and through a red hot industrial real estate market: Understanding the economics and mastering leadership skills.
The success of the market is based on a rapidly growing and expanding national economy, said keynote speaker and JLL Chief Economist Ryan Severino.
Severino's overall economic forecast shows supernormal growth, well ahead of potential, with 2021 expected to generate growth not seen since 2000 when GDP growth was 4.1 percent, or potentially as far back as 1984 when it was 7.2 percent, or 1951 when it was 8.0 percent.
---
READ ALSO: CRE Investment Surges Despite Pandemic's Persistence
---
He pointed to several factors driving the economy in the short term:
Dovish monetary policy: The Federal Reserve has cut interest rates and there is strong access to capital. Interest rates are still incredibly low.
Strong fiscal stimulus: The fiscal policy boost is much larger and faster than past downturns. From 2019 to 2020, we had +9.5 percent government spending/GDP ratio.
Pro-cyclical forces: This points to the idea that as the economy starts to regain strength and consumers begin to spend more money, sentiment rises.
Reopening: This factor is unique to this recovery, as businesses across the spectrum quickly closed and slowly reopened. Recessions are typically short and shallow, or long and deep, but the coronavirus recession has not followed that pattern. "This is the shortest recession on record," Severino said. "It only lasted two months, yet it generated the lowest unemployment rate since we have kept technical records [which were not kept during the Great Depression]."
Dry powder: Pent-up demand with consumers eager to resume some semblance of normal life by visiting restaurants, bars and traveling.
Long term, he predicted that industrial real estate would continue to benefit from the growing economy and the increased demand for e-commerce.
"I do think the industrial market is set for another strong expansion," Severino said. "It's hard to see this momentum going away."
Vacancy rates continue to fall with net absorption remaining near historic highs; vacancy fell below 5 percent this quarter. The pressure to make decisions and secure leases has contributed to asking rents hitting record highs of $6.62 per square foot on average, Severino said. JLL expects industrial rents to grow between 5 and 8 percent as more new industrial space is delivered and quickly leased, he said. In addition, online shopping has contributed to the rise in 3PL and logistics and distribution demand.
"This property type has not only weathered this downturn but is racing out of the gate ahead of the other major property types, and really entrenching itself as the darling of commercial real estate," Severino said.
The economy is moving faster than people think it is, Severino said. With predictions of somewhere near 7 percent GDP growth this year. "You don't want to get caught flat-footed" by the economy, he said.
He cited three principles of guidance moving forward in the industrial market:
Move fast: Those procrastinating or equivocating could miss opportunities. Companies should at least be thinking about big decisions, if not making them.
Expect better: Economic growth could exceed its pre-pandemic vector beyond just the next two years. That outperformance, apparent thus far, could change the way companies think about the industrial market.
Prepare: The industrial market is set for another strong expansion.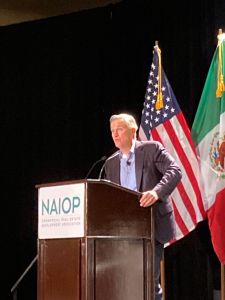 Also at the conference, which was attended by more than 700 industrial leaders, former Prologis CEO Walt Rakowich shared the leadership lessons he learned as he led a turnaround of the company following the economic downturn of 2007-2008.
"Before I could start my own leadership journey and find out how I could service others, I had to take a close look at myself and identify my own demons," he said, noting that the two most common obstacles that every leader has are pride and fear.
"We have to understand what our values are as leaders," Rakowich said. "Something that became painfully obvious to me was that the greatest leaders create trust in their organizations through transparency about everything. This goes beyond clarity in communication; it's opening a window into our souls so that every employee can see our values and virtues and know how we are going to run our companies every single day."
Rakowich shared three characteristics that he believes can best distinguish leaders:
Humility—While sometimes mistaken for weakness, real humility takes character and guts. "It's not about being weak, it's about admitting your weaknesses," he said. "The minute you admit them, you free yourself from trying to hide them. It's okay to have moments of vulnerability and showing that can be a powerful tool to let others know you're not quite as different from them as they may think."
Honesty—It's easy to be honest when you have good news but having the ability to convey the bad news as well as the good is critical, Rakowich said, citing some of the tough choices he had to make as Prologis CEO and struggling to turn the company around. "Through transparency and honesty, we created trust in the organization. Honesty always starts with the little things—if you get the little things right, you'll get the big things right."
Humanity—Rakowich shared a story about a summer job as a garbage collector on his hometown sanitation crew during his college years. Through a series of mishaps and unpreparedness, he accidentally fell off the back of the garbage truck as it barreled in between neighborhoods. Luckily, he wasn't hurt, and the rest of the crew—new coworkers who didn't even know each other's last names—helped him out. His misfortune showed that he was human, and trust and camaraderie formed among the crew. "Leadership is about being human, putting yourself in other's shoes, lifting them up and giving them credit."