By Gail Kalinoski
Clear Brook, Va., and Katy, Texas—Amazon continues rolling out fulfillment centers across the United States, announcing distribution facilities in Virginia and Texas, each expected to create more than 1,000 full-time jobs in those regions.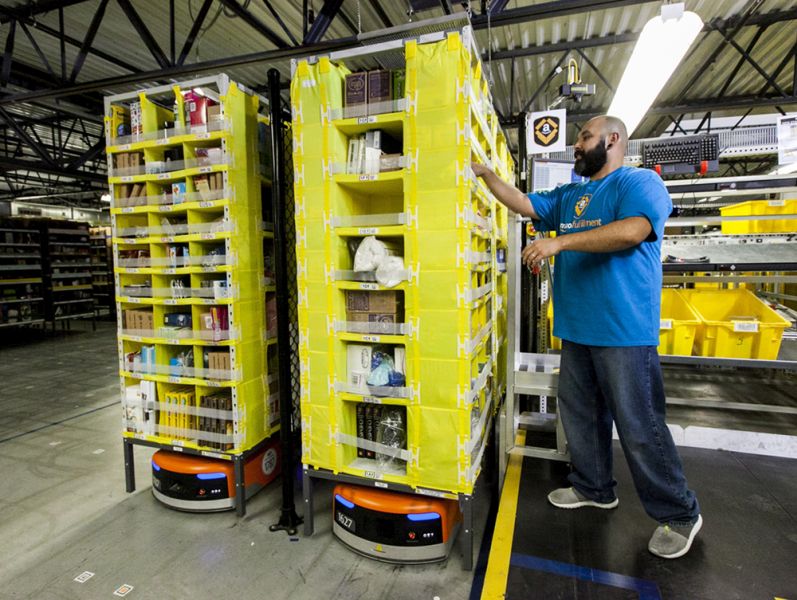 Texas will get its 10th Amazon facility and the second in the Houston area when a 1 million-square-foot fulfillment center opens in Katy, Texas. The e-commerce giant already has seven centers in Texas in Coppell, Haslet, Dallas, Fort Worth, Schertz and San Marcos and has previously announced facilities in Houston and Coppell under construction.
The workers in the Katy center, which is being developed by Duke Realty, will be handling larger-sized items including music equipment, sports gear and electronics. A date for its completion was not released.
"We are honored Amazon chose Katy to be the location for their next fulfillment center, and we know the City of Katy will benefit from this relationship through increased job opportunities for our residents and their support of local Katy businesses," Katy Mayor Fabol Hughes said in a prepared statement.
A day earlier, Amazon said it was constructing a fulfillment center in Clear Brook, Va., making it the fourth distribution facility in Virginia. The company already employs more than 3,500 full-time workers in Chester, Petersburg and Sterling. The new 1 million-square-foot fulfillment center will be built at White Hall Commerce Center in Frederick County.
"It is exciting to see the Amazon brand represented throughout the Commonwealth and continuing to grow," Secretary of Commerce and Trade Todd Haymore said in a prepared statement. "With the third-largest state-maintained transportation network, Virginia is within a one-day drive of more than 40 percent of the U.S., making the Commonwealth and Frederick County an ideal location for the distribution and global logistics industry. Amazon is a valued corporate citizen and employer in Virginia, and we look forward to watching its ongoing success.
The name of the developer of the Virginia center and its completion date were not released by Amazon. The workers at Clear Brook will ship larger items like big-screen televisions, kayaks and patio furniture.
Information released by Gov. Terry McAuliffe's office noted that the Virginia Economic Development Partnership worked with Frederick County to secure the project for Virginia. The company will be eligible to receive a Major Business Facility Job Tax Credit. Funding and services to support employee training activities will be provided through the Virginia Jobs Investment Program.
In late December, Amazon announced two new fulfillment centers in Aurora, Ill., just outside Chicago. One of the facilities was set to be about 1 million-square-feet in size and the second about 400,000 square feet.
Other facilities announced in 2016 include an 855,000-square-foot fulfillment center to be built in Jacksonville, Fla.; a facility of the same size in Kansas City, Kan., and a 600,000-square-foot fulfillment center in Braselton, Ga.
Last month, Amazon said it was going to build an air cargo hub at Cincinnati/Northern Kentucky Airport on about 920 acres. The company planned to construct several facilities on CVG land to be leased for at least 50 years. The distribution center will include a 3 million-square-foot sorting facility and space for 100 cargo jets.
Image courtesy of Amazon Inc.