You can also read our 2019 Top Development Firms, 2018 Top Development Firms, 2017 Top 50 Development Firms, 2016 Top Development Firms and 2014 Top Development Firms to see how the rankings compare.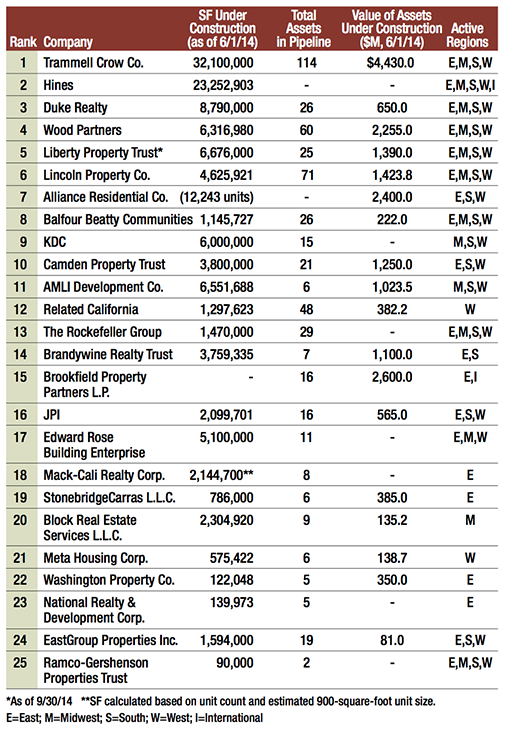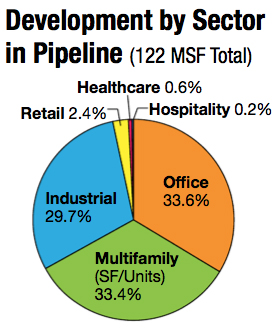 Our first ranking of 2015 takes a look at development. These companies have brought an impressive number of cranes to major metro areas over the past couple of years. It might be hard for them to beat the pace of re- cent development going forward, but that doesn't mean they won't try.
These firms disclosed details on 120.7 million square feet of space under construction that is valued well over $25 billion. Comparing the amount currently being built for each property sector against what has been delivered since Jan. 2012 brings out some interesting points.
While multifamily dominated what has been delivered since Jan. 2012—39 percent of the 175.2 million square feet of space delivered by these firms other sectors are catching up. Office was the leading sector for current construction activity with 34 percent of the space. Yet multifamily trailed in a very close second with 33 percent. While there is still plenty of ground-up luxury multifamily construction across the country, we have seen an increase in firms moving to acquire existing quality assets for value-add plays.
These developers also disclosed that they are settling into a groove, with nearly half saying they expect to deliver roughly the same amount of space over the next six quarters as the past six. In past surveys the majority of firms expressed an expected ramping up. With fundamentals breaking new records in many major metropolitan areas, some developers and investors have perhaps started to express some concern over when and how the next recession or downturn might materialize.
Methodology
We asked questions about current and future plans, levels of investment in each proposed project, preferences in location, property types and anticipated result. The strongest firms in the results have a large national presence, diversified investment sectors and aggressive plans for the future. Our rankings reflect our belief in each firm's capacity to perform as we enter a new year.