You can also read our 2019 Top Development Firms, 2018 Top Development Firms, 2017 Top 50 Development Firms, 2015 Top Development Firms and 2014 Top Development Firms to see how the rankings compare.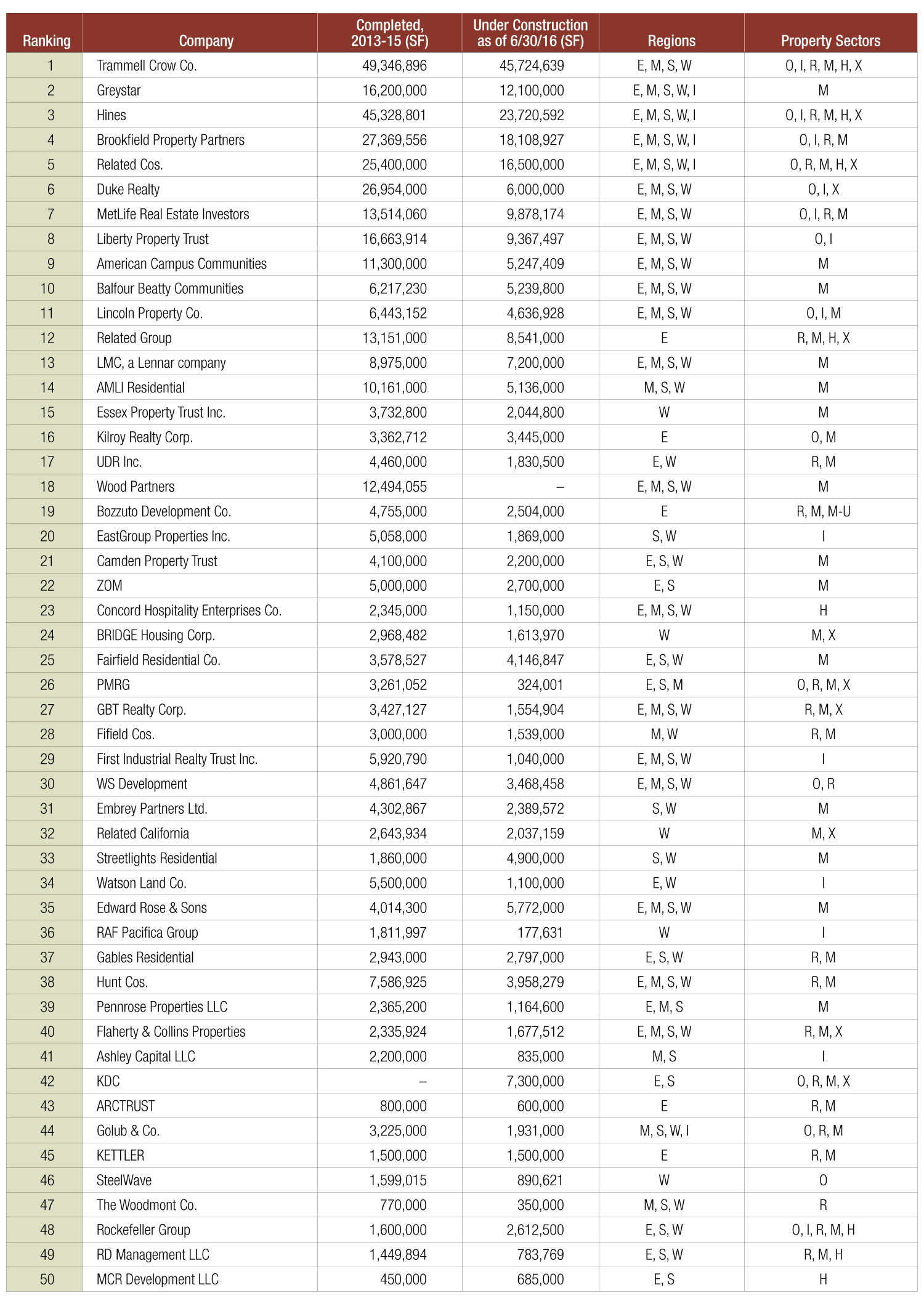 Methodology
The Year-End 2016 CPE-MHN Top Developers ranking utilized self-reported data for all firms. The ranking is a weighted formula based on a variety of factors, including current and future plans, market value of projects completed and under construction, geographic dispersion and property diversification. The strongest firms have a large national presence, diversity or specialization among investment sectors and aggressive plans for the future. Ranking factors are not limited to the data that appear on this page.
Pipeline Productivity
By Chris Nebenzahl, Associate Director of Research, Yardi Matrix
The U.S. development market has been strong in the past year, with active pipelines across property types and construction spending achieving a cyclical high—although with slower growth than in recent years—in the third quarter, according to JLL research. Such strengths showed among development firms leading the Year-End 2016 CPE-MHN Top Developers ranking, with robust construction growth and geographic and property-sector diversity common traits. Each of the top five firms had more than 12 million square feet under construction as of June 30, 2016. Trammell Crow Co. took home the No. 1 overall ranking, thanks in part to the nearly 50 million square feet completed between 2013 and 2015, as well as another 45 million square feet under construction at the midway point of this year. Firms with a national or international presence tended to perform well in the rankings, with the top 10 firms developing real estate across the country and four of them including international development projects in their portfolios. A strong mix of property sectors was also important, with half of the top 10 firms developng real estate across at least four sectors.
Many of the top 10 firms remained in similar standing to the previous ranking, produced in January, despite a number of additions to the list. Brookfield Property Partners saw strong growth in the past year, jumping from 13th in the previous ranking up to fourth as it significantly increased its new construction and geographic spread. Other notable improvements included American Campus Communities, which moved up from 11th to ninth, and Essex Property Trust, jumping from 27th to 15th.
With economic growth starting to slow, JLL is predicting a slowdown in construction starts in the coming year.
To be included in upcoming surveys, email Samantha Goldberg at samantha.goldberg@cpe-mhn.com.
Originally appearing in the December 2016 issue of CPE and MHN.