By Chris Nebenzahl, Senior Analyst, Yardi Matrix
You can also read our 2019 Top Property Managers, 2018 Top Property Managers, 2016 Top Property Managers and 2015 Top Property Managers rankings.
Value Generators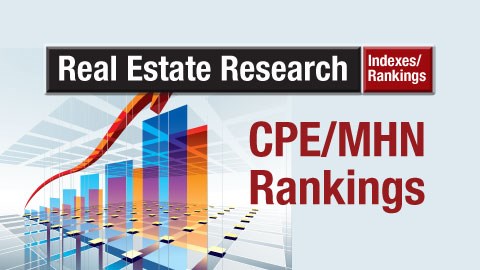 Major diversified real estate firms led our 2017 Top 50 Property Management Firms ranking, as Colliers International, Cushman & Wakefield, CBRE Group and JLL took the top spots. Portfolio size and property diversity once again ruled, as each of the top four managers had more than 1 billion square feet of managed assets, and each counted at least four distinct asset classes in their management portfolio.
Third-party property managers, in fact, comprised eight of the top 10 companies in the ranking, indicating a recognition of the significant value such firms can provide to owners as they seek to increase occupancy and drive rents. Working with a firm that also has a leasing arm further helps to expand the base of potential tenants, particularly if the firm has contracts with large corporations seeking office space in multiple markets.
But both third-party service providers and owner-managers have continued to expand their assets under management, as evidenced by the 5.7 percent average increase in total square footage among our respondents. Average vacancy for the properties managed was a healthy 7.1 percent. With vast square footage and a diversified portfolio of properties, the top managers are able to understand the local intricacies of specific markets and asset classes, while also maintaining a macro view of the global real estate industry and implementing the appropriate strategy for each firm.
Methodology
The 2017 Ranking of Top 50 Property Management Firms utilized self-reported data for all firms. The ranking is a weighted formula based on a variety of factors (only a few of which are specified here), including the total square footage and number of properties under management, property operations owned and managed, and participation in property sectors, among others. The ranking represents what we feel is a logical balance between firm growth and market share, as well as property diversity.
Originally appearing in the Mid-Year Update 2017.