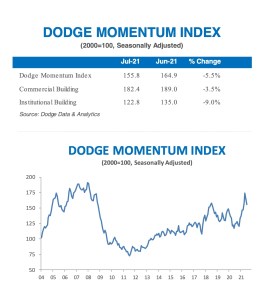 The latest Dodge Momentum Index for July marked the second month of slowdowns for nonresidential construction planning. The Momentum Index from Dodge Data & Analytics dipped to 155.8 in July, a six percent decline from June's reading of 164.9.
The index is Dodge Data's monthly measure of the first report of nonresidential building projects in planning, including commercial and institutional projects. According to the report, commercial planning saw a 3 percent decline and institutional planning fell 9 percent in July.
---
READ ALSO: Top 5 Markets for Industrial Construction
---
However, when looking at the year-over-year numbers, the report showed a strong recovery from last year when most of the construction sector was affected by the COVID-19 pandemic. This month's Momentum Index reading was 25 percent higher than July 2020's numbers, with institutional planning up 27 percent and commercial planning also 25 percent higher year-over-year.
According to the report, 11 projects valued at $100 million or more entered the planning stage during July. For the commercial side, Microsoft filed plans to build a $240 million data center in San Antonio, and Amazon is planning a $200 million fulfillment center in Woodburn, Ore. The leading institutional projects that are in planning include the $225 million Baptist Health Hardin Medical Pavilion in Elizabethtown, Ky., and the $200 million AdventHealth Narcoossee campus in Orlando, Fla.
Potential hitch for construction sector recovery
The six percent decline for July follows a five percent drop in the Momentum Index a month prior, after several months of positive momentum. In May, the Momentum Index had jumped to 178.0 due to a surge in commercial planning. The Momentum Index saw strong gains through most of the winter and spring, with the economy and construction sector starting to stabilize.
However, Dodge's latest report noted that the higher material prices and skilled labor shortage are having a strong impact on the construction sector and are unlikely to improve anytime soon. In addition, the new wave of COVID-19 cases caused by the Delta variant raises concerns about a stall in the recovery process for the construction sector.