Top 5 Markets for Industrial Construction
With close to 500 million square feet underway at the end of July, CommercialEdge highlights the top five markets for construction activity.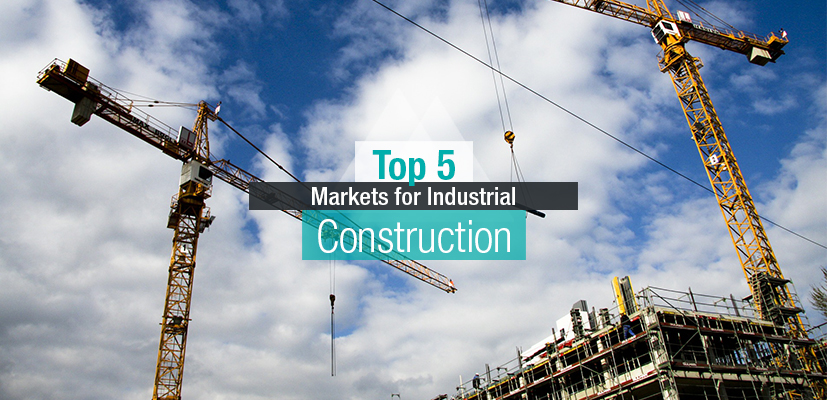 With industrial real estate continuing to draw interest, it's no surprise that development has yet to slow. At the end of July, some 483 million square feet was underway across the country, according to CommercialEdge data. Deliveries through July add up to nearly 150 million square feet. While this is a bit less than half the amount of inventory added last year, work continues, particularly on major projects: More than 100 projects of more than 1 million square feet were underway in late July.
Industrial development, historically focused on markets in key locations near major ports and shipping hubs, has become more evenly distributed, due to a lack of available land in certain gateway markets. As a result, construction activity has shifted further inland.
The table below, based on CommercialEdge data, highlights the top five industrial markets for construction based on square footage underway.
| | | | | |
| --- | --- | --- | --- | --- |
| Rank | Market | Under Construction (MSF) | Inventory (MSF) | Percentage of Stock |
| 1 | Dallas-Fort Worth | 32.6 | 810.6 | 4.0% |
| 2 | Chicago | 25.5 | 864.5 | 2.9% |
| 3 | Phoenix | 23.4 | 263.2 | 8.9% |
| 4 | Inland Empire | 20.8 | 586.3 | 3.5% |
| 5 | Houston | 15.5 | 526.2 | 2.9% |
Source: CommercialEdge
5. Houston
With more than 15.5 million square feet of industrial projects underway, or 2.9 percent of completed stock, Houston comes in fifth on our list. On its surface, the metro appears to have sufficient industrial inventory already, given its vacancy rate of 12.8 percent in June—the highest among major markets in the U.S. However, a significant portion of Houston's industrial space is dated: Fifty-one percent of the metro's space is more than 25 years old.
Twenty-six projects, comprising some 6.2 million square feet, have broken ground this year. The largest, EQT Exeter's 737,630-square-foot Uplands Twinwood Distribution Center in Brookshire, Texas, began in January, backed by $100 million in construction financing from Capital Farm Credit and Allegiance Bank. The spec warehouse features 36-foot clear heights, 185-foot truck courts and 135 loading doors. The property is slated to deliver this fall.
4. Inland Empire
Industrial space within the Inland Empire is highly sought after—and very scarce. In June, the market's vacancy fell to a record low of 1.6 percent, the lowest in the nation. This pushed year-over-year rent growth to 6.2 percent in June, second only to Los Angeles. At the same time, a shortage in available land has put a damper on development activity but, all the same, nearly 21 million square feet was under construction in July.
The first, 1.2 million-square-foot phase of Birtcher Oak Valley Commerce Center in Calimesa, Calif., was one of the largest projects underway. Birtcher Development broke ground on the two-building development in July, with delivery planned for summer 2023. The structures will feature 40-foot clear heights and include a cold storage component.
3. Phoenix
The Valley of the Sun's industrial market continues to perform well, building off its key location as a distribution hub. In July, construction on 79 projects was underway, totaling 23.4 million square feet. This adds up to 8.9 percent of completed stock, a higher proportion than in any other major market, excepting Austin, Texas.
Fifty projects totaling 16.6 million square feet have already broken ground this year alone. The largest by a wide margin is Taiwan Semiconductor Manufacturing Co.'s facility in the North Gateway submarket. The 3.8 million-square-foot project broke ground in May and is expected to be complete by early 2024. The facility will be utilized primarily to manufacture semiconductors, though the property will also have space to house some administrative and support functions.
2. Chicago
The country's largest industrial market continues to get even bigger: With 25.5 million square feet under construction across 62 projects in July, Chicago ranks second on our list. While the market's rent growth has kept positive—1.9 percent year-over-year through June—it significantly lagged the national increase of 4.2 percent during the same period. Even so, the market's key location and importance continue to attract developers.
The largest development underway in the Chicago market was Harbor Freight Tools' 1.6 million-square-foot facility within the CenterPoint Intermodal Center in Joliet, Ill. Work on the expansive warehouse began in early 2020, and completion is slated for early 2022. The project has an estimated price tag of $150 million.
1. Dallas–Fort Worth
At the top of our list, the Dallas-Fort Worth market had a whopping 32.6 million square feet of industrial space under construction at the end of July, equivalent to 4 percent of inventory. The metro's vacancy rate was 4.8 percent in June and, given the availability of developable land, has spurred a flurry of development activity.
The market had six projects of more than 1 million square feet underway in late July, four of which are located within 1.5 miles of the Union Pacific Dallas Intermodal Terminal in Hutchins, Texas. Among the largest is the third building at Logistics Property Co.'s Southport Logistics Park in Wilmer, Texas. The project kicked off in August last year, backed by $38.5 million in construction financing from Veritex Community Bank. The property is slated to deliver later this summer.