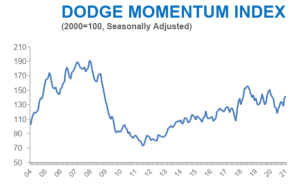 The latest Dodge Momentum Index jumped to 178.0 in May, from a revised April metric of 163.2, according to Dodge Data & Analytics. The index is benchmarked at a value of 100, as of the year 2000.
---
READ ALSO: 'Turning Point' for Office in 2022: NAIOP
---
The index is a monthly measure of the initial report for nonresidential building projects in planning, which has proven to be a leading indicator (by a full year) of construction spending for such buildings.
The surge in May resulted from a large increase in commercial (as contrasted to institutional) planning activity; commercial planning posted its strongest month-over-month increase since October 2017. As of May, institutional planning fell, though by less than 1 percentage point.
Despite these signs that the post-pandemic recovery is starting to spread into the construction sector, Dodge cautioned that "these projects are unlikely to have an impact on construction starts this year. Rising material prices and a continued shortage of skilled labor have led to project delays."
Over the past four months, Dodge reports, "commercial planning had been in a holding pattern," but it bolted forward in May because of several significant data center, office, and warehouse projects that combined to push the Momentum Index's commercial component to a 13-year high.
Year-over-year, both commercial and institutional planning were up from May 2020 (38 percent and 47 percent, respectively), as was the index overall, by 41 percent.
While institutional planning was largely flat in May, it's nonetheless at levels not seen since 2009.
Twenty-one projects valued at $100 million or more each entered planning during May. The leading commercial projects were a $500 million conversion of a coal-burning power plant in the Buffalo, N.Y., area into a data center and a $450 million office campus in Los Angeles. The leading institutional projects were the $250 million Houston Methodist Hospital Campus in Cypress, Texas, and the $250 million Landmark Center in Boston.
Steady progress
The Dodge Momentum Index has been climbing steadily so far this year. In February, for example, it rose 7.1 percent over the previous month, which was also 9.2 percent up on a year-over-year basis.
In that case, the surge was driven more by institutional planning, primarily large hospitals and lab projects, than by planning of commercial projects.
Read the full report by Dodge Data & Analytics.