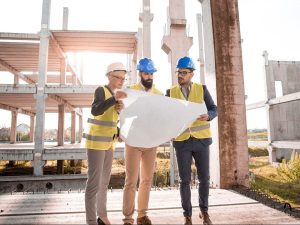 The American Institute of Architects' monthly Architecture Billings Index showed consistent growth for the seventh-consecutive month in August, as firms across the U.S. also reported receiving many inquiries for new design projects.
Kermit Baker, AIA's chief economist, said in a prepared statement that the continuing increase in design activity signals an expected upturn in construction in the fourth quarter that could also carry over into 2022. However, he noted the expected expansion will magnify problems with price inflation and the availability of construction products and materials, as well as labor shortages.
---
READ ALSO: The Logistic Sector's Record-Breaking Momentum
---
The ABI score hit 55.6 in August, up from July's 54.6. While still in positive territory, billings in both August and July were down slightly from June's ABI score of 57.1. Any score above 50 indicates an increase in billings from the previous month. Scoring for new project inquiries and design contracts in August also moderated slightly, but remained positive, at 64.7 and 56.6, respectively.
AIA noted that firms located in the South reported increasing billings in August but also expressed some concern about the impact of the already serious 2021 hurricane season. The pace of growth at Northeast firms is still up but has moderated slightly in recent months.
The West led the regional averages with a score of 57.2, followed by the Midwest (55.2), South (52.5) and Northeast (51.7). By sector, the ABI breakdown was: Mixed practice (56.0), commercial/industrial (54.7), institutional (54.4) and multifamily residential (54.3).
Return to office plans
In addition to collecting billings data, the organization took the temperature of architecture firms on their return to the office plans and any changes they have made or are considering to deal with COVID-19-related issues in the workplace.
Nearly two-thirds of firms (65 percent) stated their offices had fully reopened, with 46 percent reporting that all or most employees are back in the office and 19 percent stating that some of their employees have returned. Eighteen percent of firms indicated they had partially reopened their offices and only 3 percent said their offices were still fully closed. A small number (8 percent) stated their firms have no office or were fully remote prior to the pandemic. An even smaller number—6 percent—said they have reopened, or plan to reopen, their office in another way.
Of the firms that have not reopened or have partially reopened, 66 percent stated they do plan to eventually fully reopen the office. Nearly half of those firms—47 percent—said they expected some employees will continue to work remotely permanently. About 14 percent of firms have not decided when, if or how their offices will reopen.
The AIA data was collected before President Joe Biden announced plans to order private-sector employers of 100 or more to mandate vaccines or require regular testing, but 38 percent of firms reported they would be requiring employees coming to the office to be vaccinated and 25 percent were considering it.
Four in 10 firms stated masks were required in common areas and 27 percent indicated they were considering it. Thirty-seven percent stated they have required social distancing or limited capacity in the office. In other changes, 27 percent of firms improved office filtration and/or ventilation and 18 percent have redesigned workspaces.