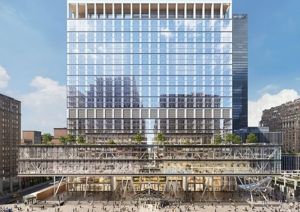 Madison Square Garden Entertainment Corp. has signed a new 20-year lease for 428,000 square feet at Vornado Realty Trust's Penn 2, which will now remain MSG Entertainment's corporate headquarters.
MSG Entertainment's portfolio of live entertainment venues includes not just New York City's Madison Square Garden, but the Hulu Theater at Madison Square Garden, Radio City Music Hall and Beacon Theatre, as well as The Chicago Theatre. In addition, the company operates two regional sports and entertainment networks, MSG Network and MSG+.
---
READ ALSO: CRE Applauds $1.5T Infrastructure Plan
---
With completion scheduled for the second half of 2023, Vornado is redeveloping the 31-floor Penn 2 as part of the company's multibillion-dollar transformation of the Penn District. The building sits directly atop Penn Station, between Seventh and Eighth avenues and 31st and 33rd streets, and is adjacent to Madison Square Garden.
Penn 2 totals nearly 1.8 million square feet, plus a 65,000-square-foot rooftop park. The redevelopment will include a new modern curtain wall with triple-pane glass and floor-to-ceiling windows, as well as an addition to the building's podium floors that will span the entire 430-foot Seventh Avenue block front, with double-height and column-free space.
New amenities will include a 280-person, 4,000-square-foot "town hall" for events such as investor conferences, product launches and banquets. A 24-hour concierge desk, 16 loggias and three terraces are among the other amenities.
Big Apple, big spaces
Vornado's $2 billion transformation of the Penn District, where it owns 10 million square feet, is anchored by redevelopments of The Farley Building (including Moynihan Train Hall), as well as Penn 1 and Penn 2. The latter two total will comprise an interconnected 4.4 million-square-foot campus. As part of the Penn 2 redevelopment, Vornado is also creating fully remodeled entrances into Madison Square Garden.
In August of last year, Facebook leased all 730,000 square feet of office space at The Farley Building, a Beaux Arts landmark and former post office.
The Manhattan office market has seen tenant demand accelerate, with leasing having risen to a post-pandemic high of almost 5.3 million square feet, according to a third-quarter report from Cushman & Wakefield. Despite this, however, Manhattan's overall vacancy climbed by 70 basis points, to a record peak of 19.0 percent.
In Midtown, asking rents edged downward to $73.67, a decrease of 5.6 percent year-over-year.
Still, as more employees return to work, Cushman & Wakefield forecast that office occupancy will top 30.0 percent in Manhattan in the fourth quarter.