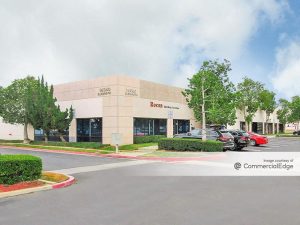 Moreno Corporate Center, a 139,015-square-foot flex/industrial park in Moreno Valley, Calif., has traded for $20.3 million, in a deal arranged by CBRE on behalf of buyer Vertical Ventures. Avison Young represented the seller, Positive Investments.
The property last changed ownership in 2020, when the current seller acquired it from Industry Capital for $17.5 million. At the time, Zions Bank provided a $12 million loan to facilitate the transfer, CommercialEdge data shows.
At the time of the most recent transaction, the property had a 4 percent vacancy rate, with occupancy provided by a diverse range of 46 tenants, including automotive businesses, schools and places of worship.
Located within 1 mile of Interstate 215, the 9-acre park encompasses five single-story buildings at 14300-340 Elsworth St. and 22620-640 Goldencrest Drive. The 1989-built Moreno Corporate Center offers 74 individual units, 17-foot minimum clear heights, three-phase electricity and roughly 3 parking spaces per 1,000 square feet.
The Avison Young team that brokered the deal included Principal Alan Pekarcik and Senior Associate Chris Smith. The latter noted in prepared remarks that in recent years the area has become home to large industrial projects, which led to rents increasing for the rarer small- and medium-sized properties of the Moreno Corporate Center type.
Earlier this year, a similar asset traded in Moreno Valley, when Rockefeller sold a two-property Inland Empire portfolio which included Centerpointe Commerce Center, a 203,944-square-foot facility completed in 2019.
The Inland Empire Keeps on Growing
Just recently, Shopoff Realty Investments and Artemis Real Estate Partners broke ground on a 1.8 million-square-foot logistics center in Riverside County, adding up to the nearly 18 million square feet of industrial space under construction in the Inland Empire as of May, according to a recent CommercialEdge report.
The Inland Empire market is performing as well as ever, with developers working hard to find large developable parcels. Meanwhile, the average rent was up 7.1 percent year-over-year through May, the largest hike among major U.S. metros, with rates in neighboring Los Angeles up 6.7 percent, according to the same report. Both were significantly above the 4.4 percent U.S. figure.