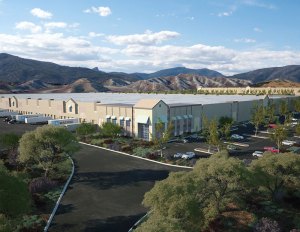 Shopoff Realty Investments and Artemis Real Estate Partners have broken ground on the I-10 Logistics Center project, a more than 1.8 million-square-foot industrial development in California's Inland Empire. The joint venture partners received a $105 million loan for the state-of-the-art project from Bank OZK in April. Construction is slated for completion in the summer of 2022.
---
READ ALSO: China-Based Firm Leases 191 KSF Inland Empire Warehouse
---
Designed by Ware Macomb, the project is located in Cherry Valley, a census-designated place within Riverside County and part of the Inland Empire East market. Situated northeast of the Interstate 10 freeway and Cherry Valley Boulevard interchange, the development will comprise two high-cube warehouse buildings, measuring about 811,000 square feet and 1 million square feet, respectively.
The project will aim for LEED Silver certification and will feature 40-foot clear heights, 300 dock-high roll-up doors and 510 trailer parking spots. The site spans a total of 240 acres, with the development accounting for around 155 acres, while the remaining 85 acres of land is to be donated to the Rivers and Lands Conservancy as an open space.
Shopoff Realty Investments and Artemis Real Estate Partners noted in prepared remarks that the property will offer direct accessibility to Interstate 10, the southernmost cross-country highway in the U.S., in an industrial market with constrained supply. The project will also bring thousands of jobs to the area.
Tight market
Industrial vacancy—including warehouse, distribution and manufacturing—across the Inland Empire tightened to a historical low of 2.7 percent by the end of the first quarter, similar to that of the neighboring Los Angeles market, according to a JLL market report. That figure stood at 3.8 percent in the Inland Empire East, which had 14.5 million square feet under construction at quarter's end.
Black Creek Group, a real estate investment management firm, announced in March its plan to add a total of 1.7 million square feet of Class A industrial space to the region by developing Etiwanda Commerce Center and Riverside Logistics Center, located in the western and eastern sides of the Inland Empire, respectively.