With the success of the industrial sector over the past year, developers are continuing to break ground on major projects across the country. A recent CommercialEdge report highlighted the nearly 370 million square feet of industrial space underway. This accounts for about 2.6 percent of existing national inventory.
With demand for modern space continually reaching new peaks—bolstered not only by the shift to e-commerce but also the soaring increases in port traffic—developing new, Class A inventory appears to be a safe play. However, not all markets have the capacity for such rapid growth, especially in markets constrained by a lack of available land. Nowhere is this more apparent than in the Inland Empire. While demand is red-hot—rents increased by 8.2 percent year-over-year through March—the metro's 16 million square feet of projects under construction accounted for 2.7 percent of existing inventory, slightly above the national average. CommercialEdge highlights the largest five industrial projects underway in the Inland Empire in the table below.
| | | | | |
| --- | --- | --- | --- | --- |
| Rank | Property Name | Total SF | Owner | Expected Completion |
| 1 | Ontario Ranch Logistics Center – Building 2 | 1,245,000 | REDA, Clarion Partners | 03/2022 |
| 2 | 728 West Rider Street | 1,203,449 | Duke Realty | 12/2021 |
| 3 | 9180 Alabama Street | 1,079,236 | Duke Realty | 06/2021 |
| 4 | Agua Mansa Commerce Park – Building 1 | 1,026,000 | PGIM Real Estate, CT Realty | 08/2021 |
| 5 | Hesperia Commerce Center One – Building 1 | 1,000,000 | EQT Exeter | 12/2021 |
5. Hesperia Commerce Center One – Building 1
The first building at Hesperia Commerce Center One in Hesperia, Calif., was the fifth-largest project underway in the Inland Empire in May. EQT Exeter's 1 million-square-foot development broke ground in April this year, and the property is slated for completion at the end of the year.
The full campus includes another two structures which have yet to break ground. At full build out, the park will have more than 2.6 million square feet. The 33.1-acre project site is located along Interstate 15, 25 miles north of central San Bernardino.
4. Agua Mansa Commerce Park – Building 1
PGIM Real Estate and CT Realty began construction on the 1 million-square-foot Building 1 at 6120 Clinker Drive in Riverside, Calif., last fall. The property is the first component of the five-building, 3.6 million-square-foot Agua Mansa Commerce Park.
The structure will offer 40-foot clear heights, 185-foot truck courts, and nearly 180 dock high loading doors upon completion later this year. The building will also have significant mezzanine space and more than 200 stalls for trailer parking. CBRE is overseeing leasing activity for the speculative project.
3. 9180 Alabama Street
The smaller of two Duke Realty projects on our list, the nearly 1.1 million-square-foot warehouse at 9180 Alabama St. in Redlands, Calif., broke ground in May last year with completion slated for this summer. The property began as a speculative project, until Pioneer Technologies inked a full-building lease with the industrial REIT in January.
The property is being constructed to LEED Silver standards and has 162 loading doors, 40-foot clear heights and 56- by 60-foot column spacing. The 55.2-acre parcel also will include 370-foot truck courts and parking for up to 330 trailers.
2. 728 West Rider Street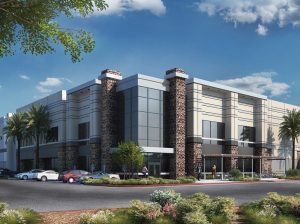 Duke Realty's largest Inland Empire property underway is a 1.2 million-square-foot project at 728 W. Rider St. in Perris, Calif. The 55.3-acre development site, located along Interstate 215 near Ramona Expressway, is within 80 miles of both downtown Los Angeles and San Diego.
The speculative cross-dock building will have 241 loading doors, four drive-in doors, two 185-foot fenced-in truck courts and nearly 13,000 square feet of office space. Like 9180 Alabama, the property is targeting LEED Silver certification upon completion. A Cushman & Wakefield team is marketing the structure, which is slated to deliver by year-end.
1. Ontario Ranch Logistics Center – Building 2
The largest property under construction in the Inland Empire is REDA and Clarion Partners' 1.2 million-square-foot second phase of the Ontario Ranch Logistics Center in Ontario, Calif. Project work began at 4810 S. Hellman Ave. in January 2020, with delivery anticipated in the first quarter of 2022.
In April last year, Uline inked a lease for the full building. The first component of the 124-acre park was completed in early 2020 and is fully occupied by Kimberly Clark. The full logistics park will include some 2.6 million square feet across six buildings once fully built out.