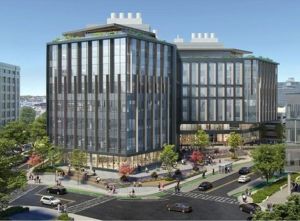 Presently in growth mode, Boston-based Vertex Pharmaceuticals has arranged to secure additional elbowroom in its hometown by committing to 20-22 Drydock Ave., a $400 million life science project that the company will develop in partnership with a joint venture of Related Beal, the Boston Real Estate Inclusion Fund and Kavanagh Advisory Group.
The joint venture submitted a winning $400 million proposal in response to the City of Boston's April 2021 RFP for a nearly 2-acre parcel in Boston's Seaport district.
Vertex announced its plan for Drydock during the May 17 dedication of its new Jeffrey Leiden Center for Cell and Genetic Therapies, also known as Leiden I, located at 316-318 Northern Ave., a stone's throw from the Drydock site. It's a convenience that could easily have eluded the company. "The remaining space in close proximity to the East Cambridge and Seaport life science hubs draws fierce competition," as noted in a first quarter 2022 report by CBRE.
---
READ ALSO: Life Science Properties Must Make ESG a Priority. Here's How.
---
Architectural firm SGA is behind the seven-story research & development facility that will sprout up on Drydock. In addition to laboratory, office and manufacturing accommodations, the building will also feature a host of amenities, including a rooftop deck, fitness facility, café, conference center and event space, as well as outdoor public seating.
The Related-Beal JV will also place a heavy emphasis on sustainability at 20-22 Drydock, with the goal of setting a new standard of green for lab buildings in Boston. The property will be built to meet LEED Platinum certification standards and designed to achieve a zero-carbon footprint through onsite solar power generation and advanced building systems and operating parameters.
Upon completion, Drydock will encompass enough room for an additional 500 Vertex employees. The building will become known as Leiden II, and along with Leiden I, the two facilities will be donned the Leiden Campus.
Still on top
While other metros emerge as life science clusters or grow stronger in their leadership, Boston continues in its long-held position as the top life science hub in the U.S. Not even challenges swirling around the industry have caused so much as a hiccup in the city's life science real estate sector, where the lab vacancy rate wasn't even in the single digits in the first quarter of 2022, at just 0.8 percent, according to the CBRE report.
"As new startups struggle to fill their C-suites in the highly competitive market for experienced talent, public capital has begun to shift away from risky, future-leaning investments given the backdrop of clinical trial disappointments and lackluster early-stage biotech public market performance, all while interest rates rise. Regardless of these obstacles, the combination of world-class research institutions, the highest concentration of biomedical degrees in the nation and the continued influx of venture capital made for a quarter that began the year as the last one ended," according to the CBRE report. And 2021 ended with falling vacancy rates, rising rents, increasing development and tenants clamoring for Class A space.
Vertex's Drydock facility is scheduled to reach completion in 2025. At that point, Vertex's occupied real estate portfolio in the Seaport district will total 1.9 million square feet, which will make the pharmaceutical company the largest biotech tenant in Boston.