The U.S. Green Building Council (USGBC) has released its annual list of Top 10 States for LEED. Combined, these regions comprise 468 million gross square feet of LEED-certified space and are home to 128 million Americans.
The top is based on 2010 U.S. Census data and includes commercial and institutional green building projects certified throughout 2018. The list was calculated using per capita figures to allow for a fair comparison of the level of green building taking place among states with significant differences in population and number of overall buildings.

Notable projects
Illinois: Willis Tower in Chicago has expanded by 300,000 square feet of new retail, dining and entertainment space—including Catalog, a five-story immersive neighborhood experience—as well as 125,000 square feet of tenant exclusive amenities and a 30,000-square-foot outdoor deck and garden to the building. The extensive overhaul represents the biggest restorative transformation in its 43 years and focused in sustainable features, which brought it LEED Gold in October 2018 with 77 score points. Chicago has also been awarded LEED for Cities Platinum certification, next to Washington, D.C., Phoenix, Arlington, Va., Lancaster, Pa., San Jose, Calif., and San Diego County.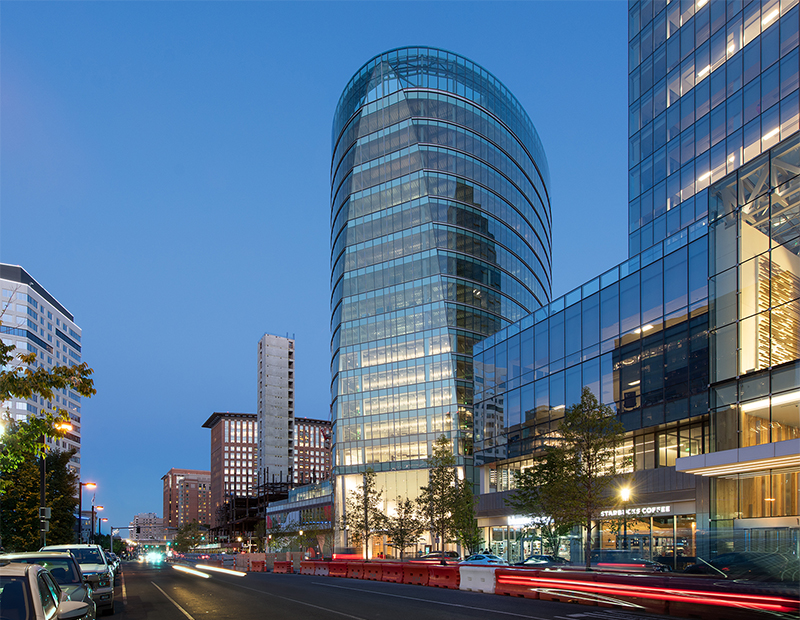 Massachusetts: Boston's 121 Seaport was awarded LEED Platinum in October with 83 score points. The 480,000-square-foot elliptical tower features rounded ends, oriented to passively minimize solar heat gain on the façade. The unusual shape also allows for a 10 percent reduction in the building's exterior skin, which in combination with an energy efficient chilled-beam mechanical system, creates an overall 15 percent reduction in the building's energy usage.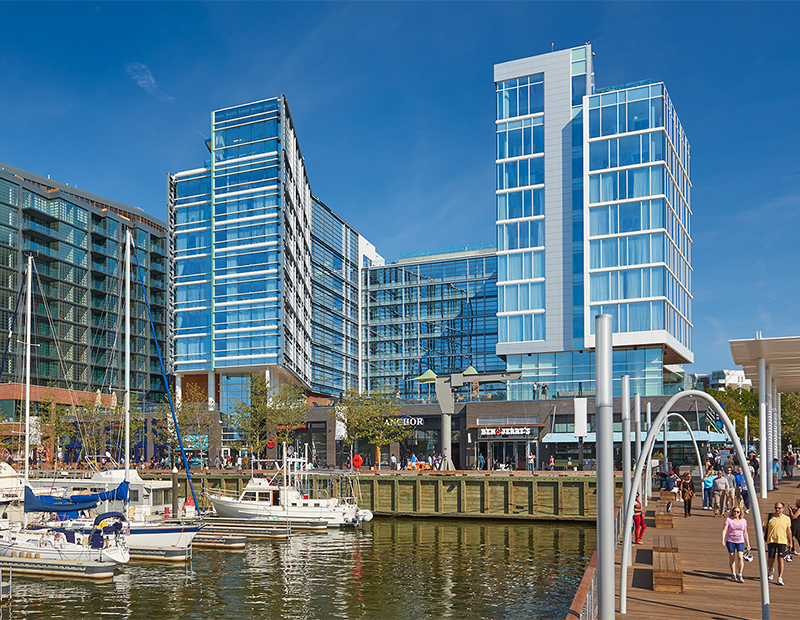 Washington: The Wharf – Parcel 5 Hotels landed U.S. Green Building Council's LEED Gold award even though the project was originally targeting the Silver level of certification. Made of a 238-key extended-stay Hyatt House hotel and a 175-key Canopy by Hilton luxury hotel, the asset is the first to open in the U.S.
Texas: The 78,700-square-foot self storage facility located at 6130 E. Ben White Blvd. in Austin, Texas won the Platinum award in December with 84 score points. This CubeSmart asset, equipped with solar photovoltaic arrays, geothermal heating and cooling, rainwater towers and regenerative drive elevator, is also participating in Austin Energy's Green Choice Program, which focuses on additional energy purchases for the property to ensure it is 100 percent sourced from wind-generated power facilities in the state.
Colorado: Jones Hall at the Colorado School for the Deaf and Blind, a historical building completed in 1911, achieved LEED Gold in December with 65 score points. The facility serves as a place for visiting families as well as a repository of resources for students across the state.
"Over the past 25 years, the U.S. Green Building Council, its member companies and the green building community have come together to make our planet stronger, greener and more sustainable through LEED," Mahesh Ramanujam, president & CEO of USGBC, said in a prepared statement. "These Top 10 states are examples of how we can create lasting, measurable change and improve the quality of life for everyone in our communities. A better future requires a universal living standard that leaves no one behind—and that future would simply not be possible without the extraordinary work being done in these states."