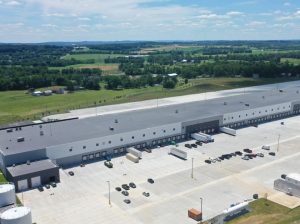 Transwestern Development Co. (TDC) and equity partner QuadReal Property Group have completed the construction of Walmart's new 412,500-square-foot high-tech build-to-suit consolidation center, located at 1625 Heilmandale Road in Lebanon, Pa. Construction of the facility is subject to a $70.7 million loan provided by Citizens Bank, according to CommercialEdge data.
The facility is Walmart's second high-tech consolidation center in the U.S., designed to receive, sort and deliver goods to the company's regional distribution centers, reducing the total number of shipments needed. Featuring 156 loading docks, this is Walmart's largest such facility to date, following the 340,000-square-foot consolidation center in Colton, Calif.
Industrial sector still strong
The new facility arrives amidst a slowdown in e-commerce growth that has yet to impact development. Logistics and fulfillment centers serving online retail have accounted for a large part of the 159.6 million square feet of new industrial space that came online in the first half of 2022, according to a recent CommercialEdge report.
Pennsylvania is seeing a revitalization of its industrial sector, with several large developments underway, including the 620,000-square-foot Hazleton Industrial Center and the 15-building, 6 million-square-foot River Pointe Commerce Park. Also, industrial vacancy in the region is tightening due to increased demand, especially from big-box retailers, according to TDC Northeast Regional Partner Brian Banaszynski.