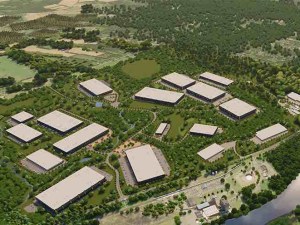 River Pointe Logistics has added two buildings and approximately half a million square feet to the design of its industrial campus in Upper Mount Bethel, Pa.
---
READ ALSO: DHL Eyes 1 MSF Pennsylvania Project
---
The developer updated River Pointe Commerce Park's design, which now calls for 15 buildings totaling 6 million square feet, from the original plans of 13 buildings and 5.5 million square feet first announced in September. River Pointe Logistics is expecting to deliver the industrial buildings starting in 2022. To lease up the new properties, the developer tapped CBRE's Jake Terkanian and Sean Bleiler to lead the leasing campaign.
The project is being developed on a 725-acre site near the border of Pennsylvania and New Jersey. Ideally built for cold storage users, the industrial park's current design plans include buildings that range in size from 125,000 to 843,600 square feet, with eight of those properties expected to offer 100-foot building heights.
The first facility to be delivered, located at 303 Demi Road, will offer 420,000 square feet, 45-foot building heights, 42 docks and two drive-in doors. The first industrial property will also be adjacent to a 168 MW high voltage substation.
River Pointe Commerce Park will also be located roughly a mile away from Interstate 80's Exit 4. The industrial park's location will put it 65 miles away from the Port of New York and New Jersey and 80 miles away from the Port of Philadelphia.
Ripe demand for industrial space
Terkanian said in prepared remarks that the developer can adjust the layout of the buildings to suit different industrial uses. He added in his prepared statement that the developer is also open to providing alternate options, including a build-to-suit lease or sale options to entitled pad site sales.
Terkanian also noted in his prepared remarks that the project has already attracted strong interest from the food and beverage and manufacturing sectors due to the lack of quality industrial space and insatiable demand from logistics and e-commerce companies. The area's demand for industrial space has also led to Amazon signing a lease for a 360,000-square-foot project that's currently under construction in Rutherford, N.J. As for River Pointe Commerce Park, the strong interest for the industrial park built up over months since CBRE kicked off the major leasing campaign in September.