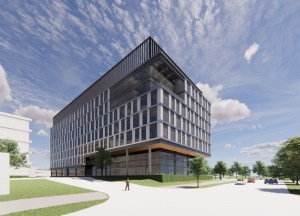 Trammell Crow Co. will be developing a life science campus on The Johns Hopkins University's Belward campus, in the Shady Grove area of Montgomery County, Md., the developer announced Monday.
The initial phase of the Labs at Belward will include 757,000 square feet of lab and R&D space across three buildings. Ultimately, the project could encompass seven buildings totaling about 1.6 million square feet.
Construction of the initial 757,000 square feet will begin in June 2023 and is scheduled for completion in early 2025. Trammell Crow obtained the 20.6-acre site through a 99-year ground lease from the university.
The Labs at Belward will support BSL-2 laboratory functions and will include 18-foot deck-to-deck ceiling heights on the basement and ground floors, with 16-foot heights on all other floors. Each of the three buildings will incorporate outdoor balconies and terraces and will target LEED Gold certification.
---
READ ALSO: What Will Future Lab Space Look Like?
---
The campus will feature secured structured parking and a 6-acre public park with an amphitheater, recreational fields, and two retail pavilions totaling about 6,000 square feet. The site also includes large, wooded buffer areas, where several miles of bike and walking trails will be installed.
Marketing and leasing for the project is being handled by CBRE's life sciences team.
Gensler is the project architect, and Clark Construction Group is the general contractor. Civil engineering is by Soltesz Inc., land use planning by Lerch Early Brewer, MEP by James Posey Associates Inc., structural engineering by Thornton Tomasetti, and landscape architecture by OJB.
Biotech beyond the Beltway
At the end of 2020, biotech company Qiagen North American Holdings announced that it will renovate and expand its U.S. headquarters and R&D/manufacturing facility in Montgomery County.
And last summer, Novavax's plans for a new 180,000-square-foot HQ and R&D facility in Gaithersburg, Md., were approved by local officials. The 15-acre site is adjacent to the campus of the National Institute of Standards and Technology.
The I-270 biotech corridor in Montgomery County has a tight overall vacancy of just 3 percent and has seen 595,000 square feet of leasing activity so far this year, according to a first-quarter report from CBRE. Top-of-market rents are in the range of $43 to $46, triple net.
A total of 1.8 million square feet of life science space is set to deliver in the next 24 months, with roughly 700,000 already preleased. That's in contrast, to say the least, with 3.3 million square feet of tenant demand, CBRE estimates.