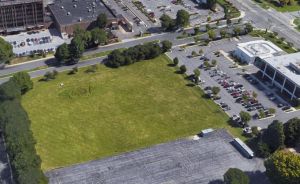 Novavax Inc. is in growth mode and the biotechnology company feted its expansion plans by hosting Maryland Gov. Larry Hogan and other prominent officials at an event at the site of its future Vaccines Innovation Campus in Gaithersburg, Md., today.
---
READ ALSO: Healthpeak Eyes 3rd San Diego Life Science Project
---
The gathering of state, regional and local figureheads and other guests comes on the heels of Gaithersburg Mayor Jud Ashman and the Gaithersburg City Council's June 7 approval of Novavax's new sketch plan for its 180,000-square-foot global corporate headquarters and campus.
Novavax's Vaccines Innovation Campus will occupy a 15-acre site at 14 Firstfield Road, adjacent to the National Institute of Standards and Technology. The property will feature offices, R&D space and integrated light manufacturing space designed to accommodate Novavax's goals under the Federal Operation Warp Speed Program, as well as any future requirements pertaining to the company's commitment to providing solutions to global health challenges.
In its approval of Novavax's sketch plan, the City Council wrote: "The ability to retain and grow a Gaithersburg company, Novavax, which is at the forefront in the battle against the current global pandemic reflects a concerted State, County and City effort. The proposed global biotech campus fulfills the true intent of the Master Plan for this area and addresses many more City policy priorities and growth sector projections."
The headquarters campus is in the earliest stages, but Novavax has already tapped KGD Architecture to design the Campus, which will be a highly sustainable development with such eco-friendly features as green roofs. JLL is providing project management services for the life sciences development.
Laying the groundwork for growth
Novavax has been making moves to accommodate its expansion just outside Washington, D.C., in suburban Maryland, for quite some time. In November 2020, the company announced it had entered into a new lease agreement to support work on its COVID-19 vaccine and influenza vaccine candidate, signing a 15-year deal for 122,000 square feet at 700 Quince Orchard Road in Gaithersburg for office, R&D and manufacturing uses.
Simultaneously, Novavax revealed it had acquired a nearly 10-acre parcel of land for its campus at 14 Firstfield as part of a $14.5 million portfolio purchase. The company is, indeed, experiencing a growth spurt; in its November 2020 announcement, Novavax noted that it was occupying only 79,000 square feet of office and laboratory space in Gaithersburg at the time.
Other life sciences firms in Maryland's bioinnovation corridor are seeking additional elbowroom. In December 2020, Qiagen North American Holdings revealed plans to renovate and expand its 146,000-square-foot U.S. headquarters and R&D manufacturing facility in nearby Germantown.