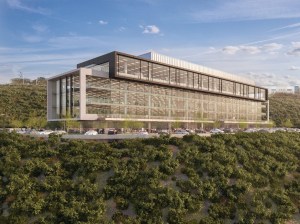 Citing demand from existing and new tenants, Healthpeak Properties Inc. is expanding its Sorrento Gateway campus in the Sorrento Mesa submarket of San Diego, Calif., with the construction of a 163,000-square-foot life science property. The Denver-based REIT expects to break ground on the five-story building in the third quarter and deliver it in the first quarter of 2023.
---
READ ALSO: Kilroy Breaks Ground on $940M Life Science Project
---
The Class A development will be adjacent to Healthpeak's fully leased three-building, 196,000-square-foot Sorrento Gateway campus. The purpose-built lab building will feature cutting-edge design, expansive views, I-805 freeway accessibility, flexible and efficient floorplans and fitness and dining amenities.
Scott Brinker, Healthpeak president & chief investment officer, said in a prepared statement strong market fundamentals and tenant relationships combined with the demand from tenants gave the company the confidence to begin its next development in San Diego.
It will be Healthpeak's third ground-up development in San Diego since 2020, following the successful preleasing of The Boardwalk and Callan Ridge campuses in the Torrey Pines submarket. In March, Healthpeak said it was planning to nearly double the current leasable space at its Callan Ridge campus by replacing an outmoded 90,000-square-foot building with two new Class A buildings totaling about 185,000 square feet. Callan Ridge is within Healthpeak's 20-acre-plus Torrey Pines Science Park. On Monday, Healthpeak announced Turning Point Therapeutics Inc. had signed a long-term lease for the entire Callan Ridge project. The firm will be locating its headquarters at Callan Ridge at the end of 2022, upon completion of construction.
The Boardwalk, a 195,000-square-foot Class A lab and office campus in Torrey Pines, is also fully leased and slated for initial occupancy in the fourth quarter. Healthpeak began construction on the three-building campus in January 2020. The Boardwalk will have 110,000 square feet of ground-up development on both sides of an existing 85,000-square-foot property, which is being redeveloped.
The San Diego news comes several months after Healthpeak began construction of a five-story Class A lab sciences laboratory facility in South San Francisco, Calif. The Nexus on Grand development will total about 141,000 square feet, plus an adjacent parking structure.