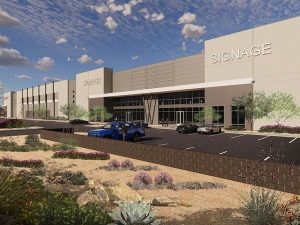 Trammell Crow has closed on a 68-acre site in Greater Phoenix where a 975,000-square-foot logistics campus will soon rise. The firm acquired the site in Goodyear to complete the last component of the 156-acre Cotton Lane Commerce Park. Cohen Asset Management sold the parcel for $16.6 million, according to Maricopa County records. Groundbreaking is planned in the third quarter of 2022.
Situated at the intersection of Elwood Street and South Cotton Lane, the development will comprise two buildings with 36- to 40-foot clear heights and both cross-dock and rear-load doors. The rail-served site will also include ample trailer and auto parking. CBRE's Rusty Kennedy and Pat Feeney will be the project's leasing agents.
The property is roughly 25 miles southwest of downtown Phoenix and 5 miles southwest of downtown Goodyear, adjacent to the Huhtamaki factory at 4320 S. Cotton Lane. The immediate area also houses an Amazon fulfillment center and Macy's distribution hub. Goodyear AirPark, LPC's 585-acre site that will house up to 7 million square feet of industrial space at full buildout, is also nearby.
TCC in The Valley
The Cotton Lane Commerce Park project is TCC's first in Goodyear, but only one of the firm's many developments that are underway in The Valley.
In September, TCC acquired a 40-acre site in Mesa, Ariz., to develop a logistics park dubbed Elliot Gateway. The four-building, 516,601-square-foot project is slated for completion by the fourth quarter of 2022.
The month of August saw TCC's decision to expand Park Aldea industrial development in Phoenix. Phase II would add four warehouses totaling 570,600 square feet to the existing four-building, 356,000-square-foot campus. Delivery is expected in Q3 2022.
In March, the firm joined forces with Clarion Partners for Tolleson 107 Logistics Center, a 332,075-square-foot facility in Tolleson, Ariz. The development took shape one mile from TCC's Cowden Logistics Center, a 285,131-square-foot warehouse that was completed in the third quarter of 2021.
TCC's construction activity across Greater Phoenix is once more a testament of the metro's unparalleled industrial boom. According to a recent CommercialEdge report, Greater Phoenix had 29.7 million square feet of industrial space in the pipeline as of November, representing 10.8 percent of stock. The value is three times the national average of 3.4 percent.