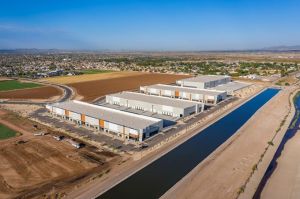 Having experienced quite a positive response to its one-year-old Park Aldea industrial development in Phoenix, Trammell Crow Co. has just revealed plans to introduce a second phase of the in-fill project.
TCC will commence construction of Park Aldea Phase 2 in the fourth quarter of 2021, adding four Class A buildings totaling 570,600 square feet to the existing four-building, 356,000-square-foot Park Aldea campus.
---
READ ALSO: Why Industrial Space Demand Exceeds Expectations
---
Located in Phoenix's burgeoning West Valley submarket along West Loop 101 freeway, Park Aldea sits within 20 miles of the central business district and Phoenix Sky Harbor International Airport. The initial phase of Park Aldea has been well received and is now home to several tenants, including Green Worldwide Shipping, which had preleased an entire 87,300-square-foot building before construction reached completion in 2020.
"Seeing the early success of the first Phase of Park Aldea, we began working on our second phase in December of 2020," a spokesperson for Trammell Crow Co. told Commercial Property Executive. "We designed the buildings to accommodate the sweet spot of tenants that we saw in the market for Phase 1, which consisted of manufacturers, industrial showrooms and logistics companies looking for spaces ranging in size from 50,000 square feet to 250,000 square feet."
Phase 2 will feature the 138,200-square-foot Building A, the 90,300-square-foot Building B and the 90,500-square-foot Building C, all of which will be rear-loaded facilities designed to accommodate multiple users or a single tenant. Building D, a cross-dock structure, will feature 251,600 square feet of space for multi-tenant use.
CBRE's Cooper Fratt and Tanner Ferrandi, who spearheaded the lease-up of Phase 1, are charged with overseeing leasing for Phase 2. The expansion of Park Aldea is on schedule to reach completion in the third quarter of 2022.
Firing on all cylinders
TCC's success at Park Aldea and its decision to expand the campus are a reflection of a market that is performing at its best. "This is the most robust and diversified industrial demand for space that we have seen in the last few years," the spokesperson said. "We are seeing more companies expand, which is being driven by the in-migration to Phoenix and new companies relocating to the area to benefit from the pro-business climate that Arizona offers."
The Phoenix industrial vacancy rate dropped to a record low of 4.7 percent in the second quarter of 2021, and net absorption reached nearly 6.4 million square feet, the highest since the fourth quarter of 2013, according to a CBRE report. Currently, 17 million square feet of users are on the hunt for space and experts expect that the market will only tighten. Phoenix continues to outpace other metros on fundamentals such as job growth, population and affordability, which will continue to attract users from outside the market and spur expansions.
TCC is primed to capitalize on the current market conditions. "We are continuing to look for additional industrial sites across the Greater Phoenix metro as the demand for industrial space continues to accelerate," the spokesperson added. "Right now, we are preparing to close on land in the Southeast Valley for another development of 500,000 square feet that will break ground later this year."