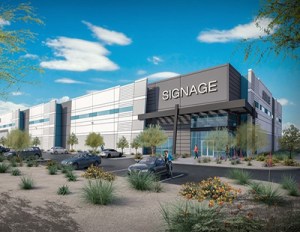 Trammell Crow Co. has acquired 40 acres of land in Mesa, Ariz., to develop a new logistics park. Dubbed Elliot Gateway, the project will feature four single-story buildings totaling 516,601 square feet of Class A industrial space. Construction is slated to begin in November and will be completed by the fourth quarter of 2022.
---
READ ALSO: Phoenix is Thriving. Here's Why
---
Building A will offer 151,239 square feet, Building B will be 124,611 square feet, Building C will comprise 186,111 square feet and Building D will feature 54,640 square feet. Each building will include car parking, 32-foot clear heights and truck courts. Four acres will be set aside for retail use and will be available for purchase.
Located at 9020 E. Elliot Road, the property is situated at the center of the Elliot Technology Corridor, as well as 10 minutes from the Phoenix Mesa Gateway Airport and 25 minutes from the Phoenix Sky Harbor International Airport.
Leasing and marketing for Elliot Gateway will be handled by Evan Koplan and Serena Wedlich of CBRE.
The Growth of Phoenix Industrial
Ryan Norris, vice president at Trammell Crow Co. Phoenix, said in prepared remarks that this is the firm's first project in the city of Mesa. He noted that the Phoenix Mesa Gateway submarket has seen an increase in homebuilding, which has driven up demand for high-end industrial space to accommodate industrial users looking to expand their footprint.
Phoenix has been boasting with industrial activity over the past year. Earlier this month, Lincoln Property Co. sold Phase I of its Park 303 project in Glendale, Ariz. In addition, CapRock Partners began development of a 3.4 million-square-foot logistics complex in Phoenix that will occupy a 183-acre infill site near downtown. BKM Capital Partners also recently closed on a $261 million recapitalization of a portfolio of industrial properties, five of which are located in Arizona.